Mark Simpson: featured composer in Trondheim
(August 2020)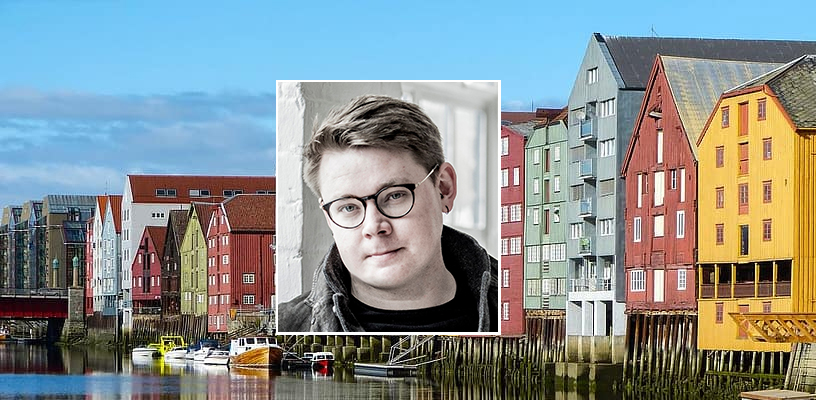 September sees Mark Simpson travelling to Norway for a special feature at the Trondheim Chamber Music Festival, both as composer and performer. Highlights include Norwegian premieres of his ensemble works Straw Dogs and Geysir.
Mark Simpson is featured at the Trondheim Chamber Music Festival between 20 and 27 September, including a collection of Norwegian premieres of his works, and concerts where he appears as clarinettist or conductor. Eight Simpson works are performed with a socially distanced audience, featuring chamber groups, the Trondheim Sinfonietta and the Trondheim Symphony Orchestra. This is the largest Norwegian focus on the British composer's music to date.
Mark Simpson writes about his participation in the Trondheim concerts:
"During a time of unprecedented global uncertainty and instability in the arts I feel a sense of deep gratitude and happiness that I'm able to travel to Trondheim to partake in the Trondheim Chamber Music Festival as Composer in Residence as planned. I'm very much looking forward to working with all the brilliant musicians involved in the festival to present my music in Norway for the first time! From chamber music, to ensemble and orchestral music, it's going to be a fantastic week filled with new collaborations and brilliant music making. I feel very lucky and honoured to be featured and I can't wait to be there!"
On 23 September the entire programme is devoted to Mark Simpson's works including Lethe for trombone and ensemble, Darkness Moves for clarinet solo, the piano trio After Avedon which depicts four images by the iconic photographer, and the composer's work for 14 instrumentalists Straw Dogs, conducted by Simpson. The latter score contrasts the reverence and destruction applied to the straw dog offerings in ancient Chinese rituals, worshipped and then tossed aside, and considers in musical terms how this might be applied to humanity as a whole: "long, yearning melodies set against turbulent textural passages characterise the first half of the piece whilst the second half is more reflective and leads towards a destructive climax".
The wind ensemble is the central focus for the concert on 24 September combining Mozart's Gran Partita with Simpson's Geysir, with the composer directing from the clarinet. The title of the new work is Icelandic for 'to gush' and the composer creates musical parallels to the bubblings and sudden explosions of geysers in Iceland and America. Simpson created Geysir as a companion to Mozart's remarkable score for twelve wind instruments and double bass and "spent a long time thinking about what my relationship to this great work was, having performed and conducted it several times, and how I could possibly reflect the beautiful sonorities, perfect voicings, endless invention and emotional directness. I was also interested in the unusual combination of wind instruments, including basset horns." The coupling of Geysir and Mozart's Gran Partita will be heard again in a new recording for Orchid Classics, featuring Simpson and due for release this autumn.
For the concert on 26 September, the festival's featured artists come together, with tenor Mark Padmore singing Simpson's Three Verlaine Settings and the composer as clarinettist in his Hommage á Kurtág for trio, written as a tribute to the Hungarian composer on his 90th birthday. At a 'Meet the Festival Composer' talk, Simpson will be interviewed and his works will be performed by music students from the Norwegian University of Science and Technology based in Trondheim.
> View the Trondheim Chamber Music Festival feature
Mark Simpson is currently composing a violin concerto for Nicola Benedetti, due for premiere with the London Symphony Orchestra at the Barbican in April 2021 conducted by Gianandrea Noseda. The work is co-commissioned by the LSO, WDR Sinfonieorchester, Royal Scottish National Orchestra and a US orchestra to be announced, with further performances scheduled in Edinburgh, Glasgow and Cologne next spring, all featuring Nicola Benedetti as soloist.
> Further information on Work: Straw Dogs
Photo: Sim Canetty-Clarke

Boosey & Hawkes Composer News