Mark Simpson: reviews of new Violin Concerto with Nicola Benedetti
(May 2021)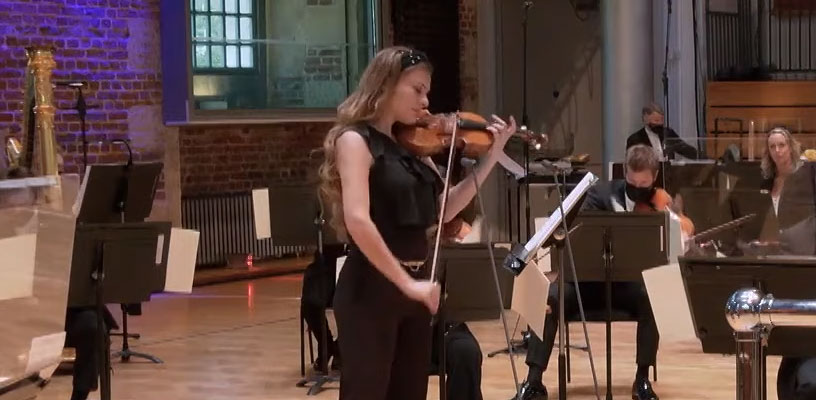 The first performance of Mark Simpson's new Violin Concerto appeared in April as a streamed premiere with Nicola Benedetti and the London Symphony Orchestra, prompting a host of reviews acclaiming its passion and charged lyricism.
"This was a terrific premiere". So wrote The Times praising the powerful first performance on 29 April of Mark Simpson's new concerto for violinist Nicola Benedetti. Lockdown necessitated a stream without audience on Marquee TV by the London Symphony Orchestra conducted by Gianandrea Noseda but, due to a scheduling change, the orchestra has been able to provide an additional live performance at the Barbican on 13 June conducted by Ryan Wigglesworth. The streamed premiere, as The Times noted, offered an intense viewing experience:
"Mark Simpson's new Violin Concerto deserves audiences far and wide. Not only the unseen online viewers on their sofas at home, but people in a concert hall, close enough to feel this music's thrilling pulse and soak up its visceral energy. A real crowd that will no doubt clap long and loud when they hear this piece, which, even streamed, left me reeling.
"Opening with a lament in B flat minor, darkness lurks throughout. Nevertheless, this is not sombre music. It's full of rogue fireworks, firing off at all angles to create a brilliant, exhilarating, unexpected display. It explodes with all those feelings — frustration, anger, restlessness, confusion, uncertainty — that have had nowhere to go during the lockdowns. And it's that emotional weight that makes Simpson's music memorable and, I suspect, durable."
The Times
"Simpson conjures an extraordinary sound-world, massive and shimmering at once, like the spray around a huge waterfall. His piece is ostensibly cast in a five-movement form, with a yearning introduction and a mad dance leading to a central slow movement and florid solo cadenza, capped finally by a hectic finale."
Daily Telegraph
"This is a full-on, big-hearted concerto… there's hardly a moment where Simpson's writing does not seem like a delirious outpouring of multiple passions… Benedetti's belief in it is a winning factor. The boiling intensity of the opening Lamentoso, a cocktail of mercurial exotica and big rhapsodic gestures, turns to wild abandon in the ensuing dance. Then there's a heated love song, not without euphoric tantrums, a vigorous rhetorical cadenza, and a frantic whirlwind finale"
The Scotsman
"Written in five movements, the concerto is a veritable pentathlon for the violin, testing speed, agility, concentration and stamina, all without a break. Simpson prefaces it with a quotation from Robert Browning: "A man's reach should exceed his grasp, or what's a heaven for?" There is a big, traditional violin concerto at root here, as Simpson exults in virtuosity and a glittering orchestral background… this is a concerto that will blow the mind."
Financial Times
"Nicola Benedetti dazzles in this performance of Mark Simpson's Violin Concerto… The piece is 40 minutes of adrenaline – a mixture of that charged lyricism we saw in Simpson's Cello Concerto, big rhythmic grooves and the kind of fidgety, furious virtuosity that could give a soloist sleepless nights… There's a pervasive melancholy; modal scales nod to middle-Europe and beyond, poured out in song-like lines and yelping slides that bring the best out of Benedetti – a storyteller whose opening lament comes wrapped in little shivers of gong, bluesy muted trumpets and whispering strings… It's electrifying viewing – both a performance and a concerto that are here to stay."
The Independent
> View the premiere on Marquee TV (available to subscribers)
> View an excerpt from the stream on The Violin Channel (free to all)
The new concerto was commissioned by the London Symphony Orchestra (with the support of the Ernst von Siemens Music Foundation), WDR Symphony Orchestra, Cincinnati Symphony Orchestra and Royal Scottish National Orchestra. The German premiere is announced for 25 June in Cologne with Nicola Benedetti and the WDR Symphony Orchestra conducted by Cristian Macelaru. Future performances with Benedetti are planned for the 2021/22 season in Cincinnati and on tour in Scotland.
In the lead-up to the premiere Mark Simpson and Nicola Benedetti were filmed discussing the new concerto and its creation:
> Interview Part One
> Interview Part Two
> Interview Part Three
> Further information on Work: Violin Concerto
Photo: London Symphony Orchestra

Boosey & Hawkes Composer News