Meredith Monk: Her Life and Music
(March 2020)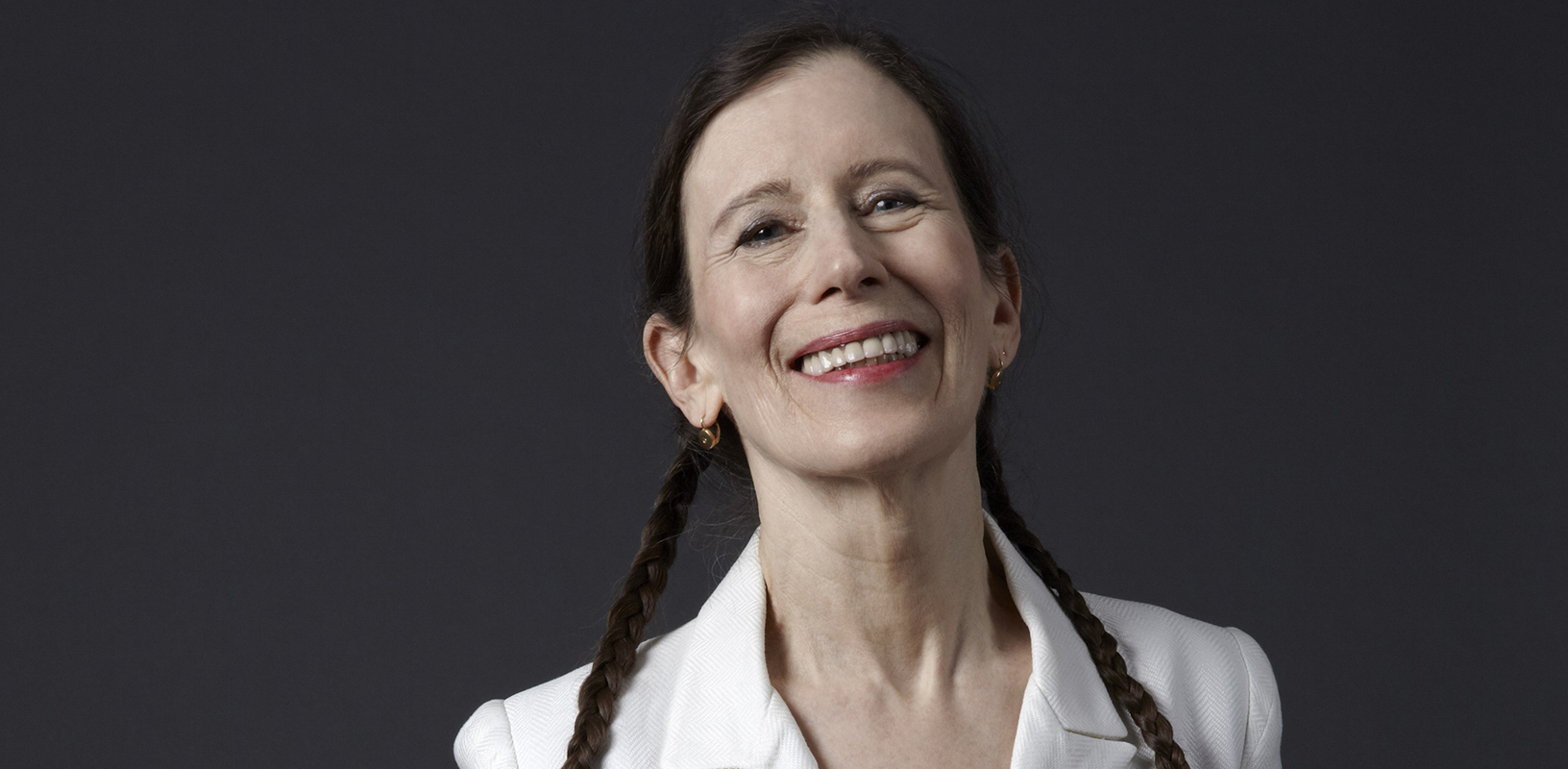 Meredith Monk is a living legend, celebrated for pioneering an entire genre of musical expression through the human voice. Read about how she came to revolutionize live performance in the '60s and '70s through to today, and her influence on an entire generation of music makers. Part of a weekly series throughout March—Women's History Month—in which we explore the lives, music, and inspirations of extraordinary composers from around the world.
Her Story
Who is Meredith Monk? Composer, singer, director, choreographer, filmmaker—Monk is a living legend, whose six-decade body of work seamlessly integrates music, movement, and visuals in deeply poignant performances. She's celebrated for pioneering an entire genre of musical expression through the human voice.
Music is in Monk's blood—her mother was a well-known singer on variety shows and in jingles on the radio, and her grandfather was a professional bass-baritone. At age three, she began studying piano and Dalcroze Eurhythmics (which teaches musical expression, rhythm, and structure through physical movement); music and movement have since been completely linked for Monk.
After studying music and dance at Sarah Lawrence College, Monk moved to New York City in the fall of 1964—the New York of John Cage, Andy Warhol, and the Fluxus artists, and a time of rich artistic experimentation. She began creating work in galleries and other non-traditional performance spaces, and became the first artist to create live art in the rotunda of the Solomon R. Guggenheim Museum (Juice: a theatre cantata in three installments, 1969).
In 1965, Monk had a revelation about the voice, and began composing solo works, pioneering what has become known as extended vocal technique. She released her first album, KEY, in 1971. In 1978, she founded Meredith Monk & Vocal Ensemble to expand her musical textures and forms, touring worldwide and creating numerous recordings on the ECM label, from Dolmen Music (1981) to On Behalf of Nature (2016) and the GRAMMY-nominated impermanence (2007). Among Monk's operas, Quarry (1976) and ATLAS (1991) propelled her career forward as her music broadened its influence, inspiring pop artists like Björk and appearing in films by Jean-Luc Godard and the Coen brothers.
Today, Monk is the recipient of three Obie Awards, a MacArthur Fellowship, Officier of the Ordre des Arts et des Lettres, the Dorothy and Lillian Gish Prize, the John Cage Award, and the 2015 National Medal of Arts from President Barack Obama. In 2019, she was inducted into the American Academy of Arts and Letters. Her works for orchestra, chamber ensembles, and solo instruments have been commissioned by Carnegie Hall, the Los Angeles Philharmonic, San Francisco Symphony, New World Symphony, Kronos Quartet, St. Louis Symphony Orchestra, and Los Angeles Master Chorale.
Top Tracks
1. "Panda Chant II" from The Games / LISTEN
2. ATLAS an opera in three parts / LISTEN
3. Railroad (Travel Song) / LISTEN
4. "Hocket" from Facing North / LISTEN
5. "Gotham Lullaby" from Dolmen Music / LISTEN
CLICK HERE to listen to more music by Meredith Monk.
Her Voice
"Monk's music sounds like folk music from another planet." —Christian Science Monitor
Monk creates entire sound worlds in her music, complete with their own syntax and history; her music is often described as sounding simultaneously ancient, as if it had always existed, and extremely modern. The majority of her compositions are vocally focused and wordless—Monk explains that "words are pointy" and can limit the message of the music: "The language of the voice on its own doesn't need text—the music is already saying enough." Instead, she focuses on communicating emotion through an extraordinary range of extended vocal techniques—from birdlike microtones and robust yodels to whispers and dusky chants—as well as drones, repetition, and modal harmonies to create a signature sound.
It's difficult to separate Monk's music from the artist herself, so integral is her performance to what you hear. Her Buddhist practice has also become a primary element of her identity as an artist, and much of her work embodies a sense of spirituality without eschewing theatricality. She states, "Stillness, silence, fluidity of time and space, and presence are central in my work."
Her Creative Work
Monk's music embraces connection—weaving different artforms together, and also connecting with performers by involving them at various stages of the creative process. When developing a new piece, she spends long periods of time alone composing musical material that she brings in (often recorded on a four-track tape player) to workshop sessions with her artists, building and shaping it over time into a fully formed composition.
Vocal Ensemble member Theo Bleckmann stated, "She works like a sculptor—sometimes she comes in knowing exactly what she wants, and it's a whole piece; sometimes she brings in a snippet and carves away what she doesn't want." This process of workshopping with artists in real time is rooted in her artistic philosophy of communion, community, and interaction.
Until very recently, Monk has always been the primary performer and director of her own work. Last year, for the first time, she made the bold step of entrusting the theatrical production of her opera, ATLAS: an opera in three parts (1991), to another artist to direct: Yuval Sharon, who staged the opera for Los Angeles Philharmonic with a new cast of performers in June 2019.
Currently, Monk is developing Indra's Net (working title), a new music theater piece for voices and chamber orchestra.
"One day in 1965 as I was working at the piano, I had a revelation that the voice could be like an instrument and that within it were limitless dimensions of sound, landscape, character, color, texture and range. That moment marked the beginning of my lifelong exploration of the human voice." —Meredith Monk
Photo: Julieta Cervantes

Boosey & Hawkes Composer News