Michel van der Aa: The Book of Water premiere at Venice Biennale
(August 2022)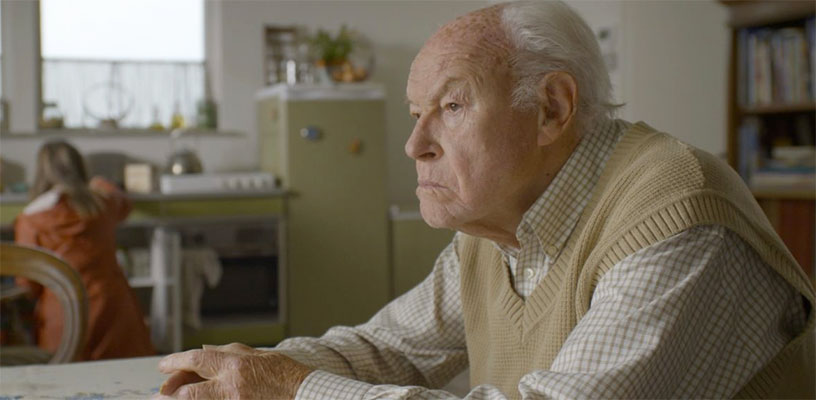 The aqueous, eroding environment of Venice provides the perfect launch city for Michel van der Aa's new chamber music theatre work on 19 September. The Book of Water features actors Samuel West and Timothy West, soprano Mary Bevan and a string quartet from Ensemble Modern.
The Venice Biennale's International Festival of Contemporary Music presents the world premiere of Michel van der Aa's The Book of Water at the Teatro Goldoni on 19 September. Combining live theatre and music, with film and recorded soundtrack, the compact hour-long score is ideal for touring, with one actor and live string quartet on stage, plus actor and soprano on film. Following its Venice premiere, the new work travels to Germany, the Netherlands and Belgium in November.
> Visit the Venice Biennale website
For all performances the cast is headed by actor Samuel West on stage, with his father Timothy West and soprano Mary Bevan on film. Production and film are directed by Michel van der Aa and the live string quartet is provided by Ensemble Modern in Venice (19 Sep) and Frankfurt (8 Nov), and by the Amsterdam Sinfonietta in Amsterdam (11 Nov), Antwerp (12 Nov) and on a Dutch tour visiting Den Bosch, Rotterdam, Utrecht, Enschede and Leiden (13-18 Nov).
The Book of Water, composed by Michel van der Aa in 2021-22, was commissioned by Venice Biennale, Ensemble Modern, Muziekgebouw aan 't IJ, Amsterdam Sinfonietta, November Music, Philharmonie Cologne. It was created with support from Ammodo, Prins Bernhard Cultuurfonds, Cultuurfonds Bank Nederlandse Gemeenten, Ernst von Siemens Musikstiftung, stichting Reinbert de Leeuw, and Société Gavigniès and produced by the doubleAFoundation which is supported by Performing Arts Fund NL
The libretto of The Book of Water was created by Michel van der Aa, drawing upon the novella Man in the Holocene by Max Frisch. It tells of a 73-year-old man, Mr Geiser, charting his desperate attempt to find his place in history and in the confusing and fragile world outside his window.
Mr. Geiser, an elderly man living in a remote village, is cut off from the outside world. Incessant rains in August have caused a landslide, and he wonders if the village will be wiped out by the rising water. Geiser is afraid he is losing his memory. He writes things down on bits of paper and tacks them to the wall. He is particularly interested in the subject of water, the manifestations of thunder, and defining the place of mankind in the history of the earth. He begins ordering the things he knows by cutting out entries from encyclopaedias, along with passages from the Bible and other books, until what he knows becomes a jumble of only semi-coherent ideas. His daughter arrives, after days of trying to get hold of him on the phone. The last clipping describes the symptoms of a stroke.
Other Van der Aa highlights in the coming season include the Dutch premiere of his ensemble work Shades of Red performed by Asko|Schönberg in Amsterdam (10 Oct) and the US West Coast premiere of Blank Out with soprano Miah Persson at Cal Performances in Berkeley (28 Apr). From 15-17 September, the Ruhr-Universität in Bochum, Germany will host a symposium on the work of Michel van der Aa in its Institut für Theaterwissenschaft.


Performances of The Book of Water:
19 September 2022
Teatro Goldoni, Venice (world premiere)
8 November 2022
Bockenheimer Depot, Frankfurt (German premiere)
11 November 2022
Muziekgebouw aan 't IJ, Amsterdam (Dutch premiere)
12 November 2022
De Singel, Antwerp (Belgian premiere)
13 November 2022
November Music, Verkade Fabriek, Den Bosch
14 November 2022
De Doelen, Rotterdam
16 November 2022
Tivoli – grote zaal, Utrecht
17 November 2022
MuziekCentrum, Enschede
18 November 2022
Stadsgehoorzaal, Leiden
> Further information on Work: The Book of Water
Photo: Timothy West on film in The Book of Water

Boosey & Hawkes Composer News