Michel van der Aa: new Violin Concerto for Janine Jansen
(October 2014)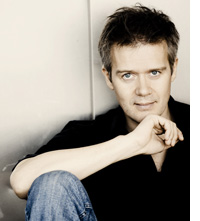 Janine Jansen premieres Michel van der Aa's new Violin Concerto with the Royal Concertgebouw Orchestra in Amsterdam and Essen, followed by a performance with the Bergen Philharmonic.
Michel van der Aa's new Violin Concerto for Janine Jansen is premiered by the Royal Concertgebouw Orchestra in Amsterdam on 6 November and travels with conductor Vladimir Jurowski for its German premiere in Essen on 8 November. The Norwegian premiere follows on 4 December with the Bergen Philharmonic and Andrew Litton. The commission forms part of van der Aa's long-term association with the RCO, following the premiere of Spaces of Blank with mezzo Christianne Stotijn in 2009 and anticipating a new work in collaboration with the Van Gogh Museum in 2016.

Van der Aa describes how "Janine Jansen and the Royal Concertgebouw is something of a dream team for me. I'm a great admirer of her artistry and have worked closely with her through the composition, testing the material. I've aimed to capture her 'up front' style of playing – she is always a magnetic protagonist on stage – which should lend a theatrical quality to a work which on first sight might appear to have its roots in the concerto tradition.

"The energy generated by the soloist feeds directly to the lead violin and cello in the orchestra and there is a prominent trio section in the middle movement. From the front of the orchestra the flow spreads to associated percussionists, string groups and harp, so there is often a visual counterpart to the musical process. The concerto plays with a contrast between pulsatile music with links to jazz and pop and more complex and modernist figurations. The three movements are distinct in character: the first is abstract, the second more direct and melodic, and the third fast and close to the edge."

Van der Aa is currently undertaking preparatory work for his next chamber opera Blank Out. The French premiere of Sunken Garden is staged by Opéra de Lyon in March 2015.
> Further information on Work: Violin Concerto
Photo: Marco Borggreve

Boosey & Hawkes Composer News