Michel van der Aa: reviews of Spaces of Blank
(June 2009)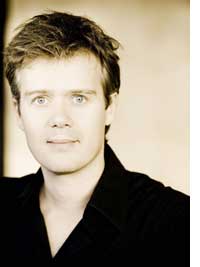 Michel van der Aa: Amsterdam reviews of Spaces of Blank
Michel van der Aa's new song cycle for mezzo, orchestra and electronics proved a success with audience and critics alike at its Amsterdam premiere in March, marking the young composer's progression from music theatre and ensemble scores into the orchestral sphere. Spaces of Blank was commissioned by the Royal Concertgebouw Orchestra, Radio France, Norddeutschen Rundfunk and the Fonds voor de Scheppende Toonkunst, and was premiered by rising star mezzo Christianne Stotijn with the Royal Concertgebouw Orchestra conducted by Ed Spanjaard.

Spaces of Blank sets texts by Emily Dickinson, Anne Carson and Rozalie Hirs linking themes of space and anxiety. The five poems, spread over three movements, prompt a virtual journey from an endless 'solitude of space' (Dickinson) to a closed 'garden of statues' (Hirs). The alternation between overwhelming expanses and claustrophobic intimacy is assisted by electronics that either expand or freeze the sound of the orchestra and manipulate the acoustics of the various spaces.

"Spaces of Blank revealed the lyrical side of the young composer... His harmonic language stands out among thousands, only here it was more sonorously orchestrated: in expansive soundscapes with a view of the sea, or in spasmodic moments that reduced the main hall of the Concertgebouw to just a few square metres. The use of electronics was refined as well, often indistinguishable from the instrumental sound from which it emanated. Exceptionally well thought out, and a poetic addition to the already rich orchestration...." De Trouw

"Christianne Stotijn, for whom the work was written, has – as a true muse should – roused the singer in Van der Aa. In an idiom that is at the same time dry and sumptuous, and absolutely coherent but seldom tonal, Van der Aa unfolds flexible sound combinations, cool chords à la Stravinsky, pumping Puccinian bass notes and driving repeated notes reminiscent of the most fearful song in the history of music, Schubert's Erlkönig."  De Volkskrant

"…poetic van der Aa and Stotijn touch the soul... Van der Aa translated the dizzying poetic potential of the texts into entirely satisfying music... His alternation of brass blocks, textures dominated by shadowy hues, hectic and static moments, and the use of electronics was tasteful, effective and vivid. This is modern music that warmly welcomes listeners, but that also takes them seriously… a beautiful piece."  Het Parool

Van der Aa's After Life, a sell-out hit at the 2006 Holland Festival, travels to the Netherlands Opera main house in September, appears at the Opéra de Lyon in March 2010, and is included in the Barbican's Present Volces series in London next May.
> Further information on Work: Spaces of Blank
Photo: Marco Borggreve

Boosey & Hawkes Composer News