Michel van der Aa: reviews of new Violin Concerto
(February 2015)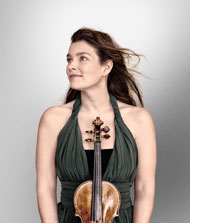 Michel van der Aa composes "unplugged" in his new Violin Concerto for Janine Jansen, premiered in November.
Michel van der Aa's new Violin Concerto for Janine Jansen received its first performance in November with the Royal Concertgebouw Orchestra and Vladimir Jurowski, as part of the composer's residency with the orchestra. Following the Amsterdam premiere, the performers travelled to Essen's Philharmonie, and Jansen played the work again in December with the Bergen Philharmonic and Andrew Litton.

The three movement score, rich in virtuosity and expressive power, shows van der Aa writing without recourse to electronics, film or music theatre:

"Do you recognize van der Aa if he's composing unplugged? Straight away! Sharp cutting sounds interrupt the brittle cantilena presented by the soloist accompanied by harp and winds. There's a built-in nervous energy. Van der Aa's enthusiastic reception by the young audience afterwards belied the serious, dark side of his writing – with recurring lamento passages for Jansen's violin… The third movement is a virtuoso showpiece for Jansen and the percussion section, an area where van der Aa's writing excels."
NRC Handelsblad

"It's a real concerto; a musical duel between the soloist and the orchestra with challenging music for both partners. The skill of van der Aa's writing and his musical approach is in a word 'sensational' with an immediately recognizable personal style."
De Trouw

"It combines lyricism, drama and virtuosity."
Ruhr Nachrichten

Michel van der Aa's 3D opera Sunken Garden, to a libretto by novelist David Mitchell, receives its French premiere by Opéra de Lyon on 15 March in the composer's production conducted by Etienne Siebens. Van der Aa's music is featured at the Zagreb Music Biennale in April, including the Croatian premiere of Spaces of Blank.
> Further information on Work: Violin Concerto
Photo: Janine Jansen, soloist in Michel van der Aa's Violin Concerto (Harald Hoffman)

Boosey & Hawkes Composer News