Ned Rorem's opera visits 'Our Town'
(August 2008)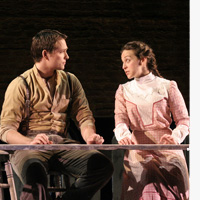 Ned Rorem's Our Town has traveled through numerous American towns since its 2006 world premiere at Indiana University, with a recent production at the Juilliard Opera Center in New York City. This chamber opera, according to Musical America, has "emerged as one of those rare new operas that seem destined to survive."

Musical America continues: "Here the extra dimension that music can bring to spoken drama is just one more forceful reminder of why composers still write operas. All the characters, in fact -- their tiny quirks, homely situations, occasional wise observations, their silliest moments -- are depicted in hundreds of telling strokes in this deeply musical score, one that will surely reveal fresh discoveries at each rehearing."

Says The New York Sun: "Mr. Rorem's score is intimate, sincere, and economical — economical without being thin. Much of it is gently rocking, even seesawing. Mr. Rorem obviously knows how to write for voices, whether singly or together. …

"He employs traditional hymns, mixing them with dissonance…. And he does the common trick of using dissonance to suggest anxiety, or dire things to come. Usually, the music sounds like the text, or conforms to the text: Smoke goes up a chimney, and the music goes up too; a boy scrambles down the stairs, and the music scrambles down too. …

"Throughout the opera, he calls on various American traditions. Act 1 has what I might term a barbershop trio. Along the way, he quotes Handel's "Largo" and Mendelssohn's "Wedding March," to enjoyable effect. The scene at the soda fountain, where the young couple, George and Emily, confess their love, is marvelously tender. Later, their declarations in church are both intimate and stirring.

"This is a shortish opera — about two hours — and Mr. Rorem paces it nicely. What seems his affection for the story stands out. …"

Following the 2006 world premiere The New York Times applauded Rorem as the best possible composer for Our Town "not only because he wrote an intimate chamber opera to match the play's spareness. Our Town opens with a hymn, and Rorem retained and refracted the familiar melody… as if the music were heard through the lens of nostalgia that turned it sepia…. Deftly matching the character of the play, Rorem's music is accessible, singable, and full of integrity."

> Further information on Work: Our Town
Photo: Peter Schaaf

Boosey & Hawkes Composer News