Neuwirth's Lost Highway to be staged in Graz
(October 2003)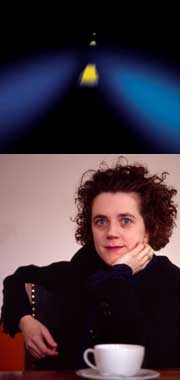 Olga Neuwirth's journey along David Lynch's Lost Highway is revealed in Graz on 31 October



As one of the highlights of Graz's tenure as European Capital of Culture, the Styrian Autumn festival presents the world premiere of Olga Neuwirth's new music theatre work on 31 October with further performances on 1, 6, 7 and 8 November. Scored for 5 singers, 6 actors, 6 instrumental soloists, ensemble and live electronics, Lost Highway's multi-media staging is directed by Joachim Schlömer and Johannes Kalitzke conducts Klangforum Wien, continuing the group's close association with Neuwirth's work.

Neuwirth's musical language can be perceived as a disturbed search for orientation in a labyrinth of possible meanings, making her the ideal artist to tackle a project based on David Lynch's cult film Lost Highway. The movie is a blend of thriller and mystery, tinged with eroticism and violence. Its highly original use of colliding narratives, at once disjunct yet with subtle links, defies conventional reality, yet all is carried forward by Lynch's remarkable visual imagery and driving energy.

Neuwirth's sense of artistic kinship with Lynch was a driving force for her new music theatre project: "While looking for possible libretti I thought about one of my favourite filmmakers, David Lynch, whose 'world' is very close to mine. His films feel under constant pressure, he creates conditions of oppression and anxiety, and there is always a vortex from which nobody can escape. It's like a world between Kafka, The Wizard of Oz and Francis Bacon! I dared asking Lynch and later his co-author Barry Gifford to give me the rights for their amazing, thrilling, frightening and bewildering film Lost Highway. I still can't believe it, but they agreed."

Neuwirth adapted the film screenplay into a libretto with her frequent theatrical collaborator, Elfriede Jelinek, sticking closely to the text, but making changes where the action, such as a car chase, could not be effectively realised on the stage. Aware that it would be futile to add to the visual perfection of the film, Neuwirth and Jelinek suggest instead that the video element should capture "one part of the whole as a computer construct" as if the original cinematic images are alienated into screen stills via an 'amateurish' blurring.

The turning point of the film is when saxophonist Fred Madison, imprisoned for the inexplicable murder of his wife, is mysteriously metamorphosed into a totally different person, the garage mechanic Pete. This transformation provides the gear change in Neuwirth's theatrical journey. The earlier part of the 95-minute work employs actors, speech and little singing, whereas the second part accelerates with multiple layering of voices and distorted sounds on tape taking over from the live music.

Forthcoming Neuwirth highlights include the US premiere of both versions of Locus...doublure...solus. On 22 January Franz Welser-Möst conducts the Cleveland Orchestra with pianist Marino Formenti in the orchestral version, and on 6 February the Sospeso Ensemble performs the ensemble version in New York with pianist Stephen Gosling and conductor Rand Steiger. This Neuwirth portrait concert at Miller Theater also features the US premiere of torsion: transparent variation. Chamber events in the coming season include the German premiere of Verfremdung/Entfremdung for flute, piano and electronics in Munich on 30 November, and the first performance of a new piano work for Thomas Larcher next July.
> Further information on Work: Lost Highway
Photos: Still from David Lynch's Lost Highway / Neuwirth photo by Priska Ketterer

Boosey & Hawkes Composer News