Neuwirth's "...ce qui arrive..." to Brussels and Amsterdam
(February 2005)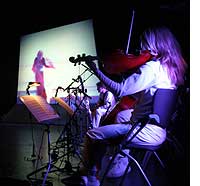 Olga Neuwirth's "...ce qui arrive..." tours to Brussels and Amsterdam
Olga Neuwirth's latest multimedia work, "...ce qui arrive..." is touring extensively this season, including performances next month at Ars Musica in Brussels (16 March), Frankfurt (18 March) and Amsterdam (30 March).



The title refers to a Paul Virilio exhibition and Neuwirth's score, commissioned by the European Concert Halls Organistion, similarly explores the subject of coincidence. Associated elements in the 55-minute work include ensemble music, recitation by Paul Auster, and video footage of chanteuse Georgette Dee on the Venetian shoreline. In addition to the ongoing tour the work is featured at the Bregenz Festival in July and will travel to Carnegie Hall in New York in December.

"Neuwirth's "...ce qui arrive..." combines a taped autobiographical monologue spoken by Paul Auster with an orchestral soundscape (performed by the awesome Ensemble Modern) augmented by electronic samples and an amazingly synchronised video [by Dominique Gonzalez-Foerster] of the transgendered chanteuse Georgette Dee... Somewhere over the rainbow of Auster's banal-sounding fables... the work becomes inexplicably profound... Neuwirth's music is not easy, but rarely is an intellectual challenge so enjoyable. Her dazzling sonic combinations strike nerves and funny bones." Financial Times

"Olga Neuwirth has for a long time been Austria's best, most curious and consequential composer... Paul Auster's murmurs came from all directions, a recitation virtually on one note that melted again and again blissfully with the sounds of the Ensemble Modern... Neuwirth creates out of Andrew Patner's poetry three songs à la Kurt Weill in the swell of her rich primeval music... On the video Georgette Dee scrambles in front of the screen, sings, plays with veils, and mutates into a man. Whatever colour appears is overlaid upon the image of the coast that subsequently plunges into darkness. But Olga Neuwirth continually counterpoints the video performer and the suspicion of the cultured person, leading towards the never resting powers of nature..." Suddeutsche Zeitung

In addition to the Styrian Autumn Festival in Graz, where "...ce qui arrive..." was premiered, the autumn brought Neuwirth features at Musica in Strasbourg, the Venice Biennale, and a comprehensive portrait at Wien Modern ranging from her early chamber works to recent multi-media projects. Other new works included Zefiro Aleggia ... nell'Infinito for bassoon and orchestra.
> Further information on Work: ... ce qui arrive...
Photo: Steirischer Herbst

Boosey & Hawkes Composer News