New Deutsch CD includes Mad Dog and Dr Futurity
(May 2015)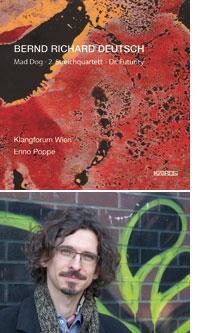 A new Kairos disc of music by young Viennese composer Bernd Richard Deutsch features Klangforum Wien in Mad Dog, String Quartet No.2 and Dr Futurity.
A new portrait disc of music by Bernd Richard Deutsch (Kairos 0013352) introduces listeners to the madcap virtuosity of this young Austrian composer who has won major prizes and already enjoyed a focus at the Wien Modern festival. The three featured works were written for Ensemble 'die reihe', the Arditti Quartet and Klangforum Wien in close succession between 2011 and 2013, and the triptych can be viewed as a unified creative statement.

Deutsch employs an approach to material and timbre that is constantly surprising and ear-catching, as if a succession of sudden images or situations is burned onto the retina. As Gerhard Koch explains in the CD notes: "numerous quasi-crypto-dramatic mini-scenes or even brief character motifs appear as virtuosic gestural kaleidoscopes. They sometimes recall surrealist and Dadaist picture-puzzles – not to be made out clearly, of course, but always revealing exceptional fantasies of agility that occasionally approach maximum playable speed…"

Mad Dog for ensemble may at one level depict a canine day, starting under the heat of the noonday sun, moving through evening and dreamtime, to the irritation of the new morning. But the surface of the music is in constant flux with underlying zoomorphic transformations as Deutsch notes: "Man likes to humanize the dog. Or is it rather the dog who 'dogisizes' the man?" The strangeness of the animal world also plays its part in String Quartet No.2 in which the four players leave their natural habitats to take on percussive roles.

The ensemble work Dr Futurity is named after the science fiction novel by Philip K. Dick and the author's visionary worlds and dystopias provide a context for viewing our own planet, such as in the opening …trip – from Mars to here. The central Chimaera has an eerie calm, while the final Red Alert signals a calamity in which a frantic accordion adds to the horror. Impressive performances on the Kairos disc are by Klangforum Wien conducted by Enno Poppe.

Deutsch is currently completing an Organ Concerto for premiere at the Musikverein in November by Wolfgang Kogert and the Radio-Symphonieorchester Wien under Stefan Asbury. His new 'twin' for Bartók's Sonata for Two Pianos and Percussion, is unveiled at the Schleswig-Holstein Music Festival in August.
> Further information on Work: Mad Dog
Photo: Boosey & Hawkes

Boosey & Hawkes Composer News