New Golijov String Quartet Suite Premieres in Boston
(September 2021)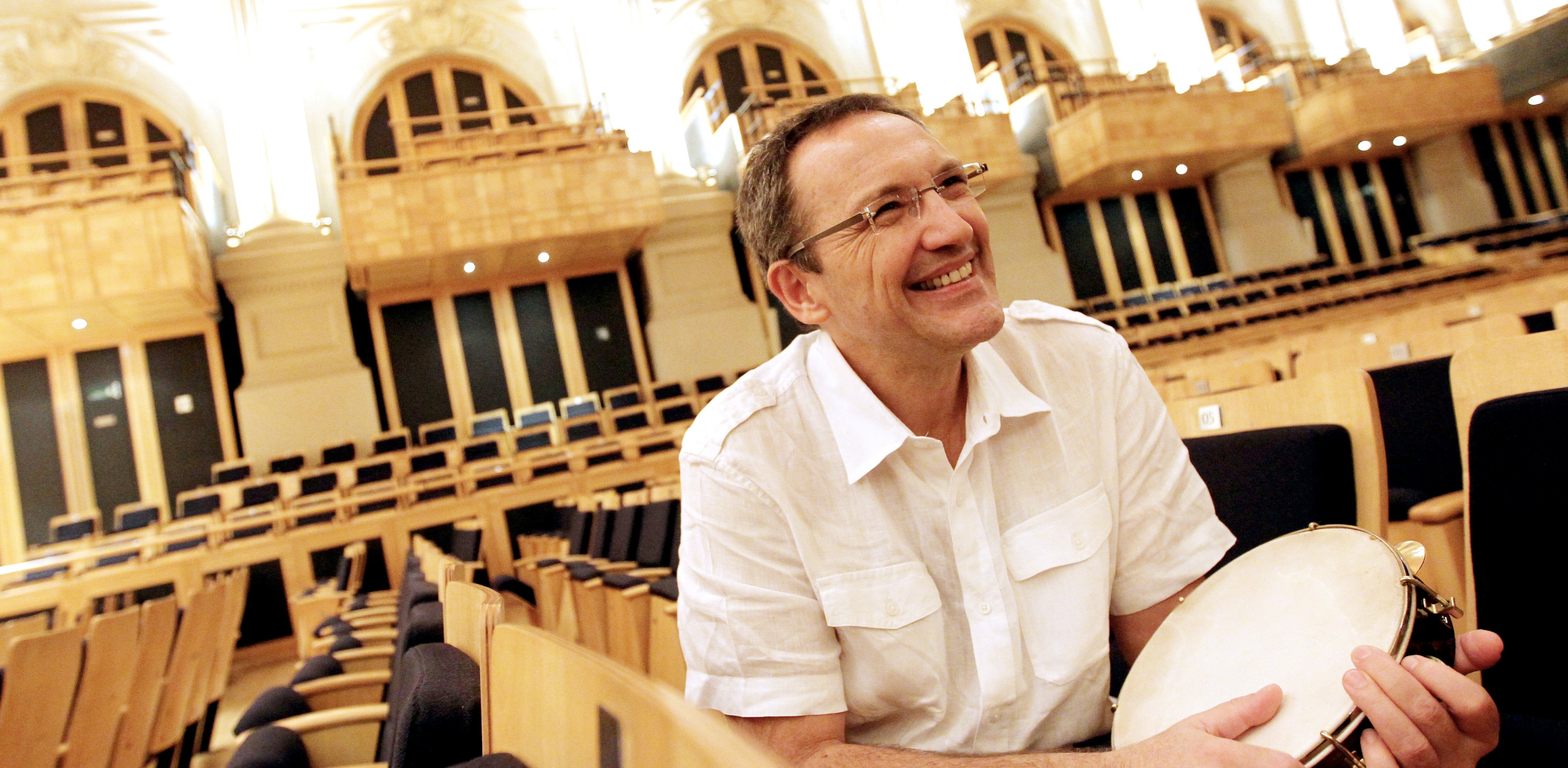 Acclaimed string quartet Brooklyn Rider unveils Osvaldo Golijov's Um Día Bom on October 7, presented by the Celebrity Series of Boston.
Following last autumn's momentous debut of Falling Out of Time, Osvaldo Golijov reveals a new string quartet, Um Día Bom (A Good Day), written for the acclaimed ensemble Brooklyn Rider. The piece receives its world premiere on October 7, presented by the Celebrity Series of Boston.
> October 7: Um Día Bom (world premiere); Brooklyn Rider at Celebrity Series of Boston
Upon completing Falling Out of Time—a tone poem based on a novel by Israeli writer David Grossman about a father grieving his dead son—Golijov turned his attention towards more uplifting themes. Using a large whiteboard next to his piano, he outlined a list of guiding principles for a new piece: Clarity, Line, Light, Elegance, Grace, Delight, Rhythm, Air in the Harmonies, Counterpoint, Make Believe (Representation), Child Wonder. Golijov explains that the resulting five-movement string quartet, Um Día Bom, depicts "a life from morning to midnight and beyond, but as if told to children."
The opening movement, "Pairando no Berço" ("Hovering in the Cradle"), paints the infinite potential in the eyes of a newborn child—Golijov pictures a fairy hovering over the child. The second movement, "Mentre la Pioggia" ("…while the rain…"), draws inspiration from the poem that Vivaldi wrote to accompany the second movement of "Winter" in the Four Seasons: "To spend content and quiet days near the fire, while, outside, the rain soaks hundreds." The sound of rain is heard throughout the movement, while a dancing couple glides on the marble floors of an Italian palazzo.
"Arum Dem Fayer" ("Around the Fire") is based on a traditional Yiddish song that appears and disappears, woven with Schubert's motif from the slow movement of Death and the Maiden. The fourth movement, "Cavalgando Com a Morte" ("Riding with Death"), is based on the late Basquiat painting of the same name, depicting a horse carrying a skeletal Death Rider. The viola and cello portray the galloping horse, and the violins paint the sparse sketch of the Rider. "Plim" ("Feather"), the closing movement, describes a graceful, endless fall of a feather from the sky. Golijov explains this movement's connection to Chick Corea, who passed while he was writing this quartet.
The individual movements draw on personal experiences of the composer. "Pairando no Berço" was written after Golijov first learned he would be a grandfather. "Mentre la Pioggia" was written for the marriage of his eldest daughter Talia, and "Arum Dem Fayer" is a lament composed in memory of his friend Guillermo Limonic who loved singing in Yiddish, and who died of Covid in the early days of the pandemic.
Golijov speaks of being personally inspired by Brooklyn Rider as musicians:
"What I love above all about Brooklyn Rider's performances—of any music they play—is the bubble of time, or time-as-space, that they create, enveloping the music and us, the listeners. No matter how much is happening at any given moment, we always find room to hear everything with clarity and space to breathe. It's an experience perfectly described by Borges in The Aleph, and illustrated in the bullet scene in The Matrix. Two of my favorite soccer players, Andres Iniesta and Zinedine Zidane, also have that superpower. And Mozart's music, too, happens always in that 'bubble of no time,' as does Chick Corea's, whose presence I felt while writing Um Dia Bom. It is a quality to which I've always aspired in my music, and rarely achieved. Sooner or later, pathos takes over. No complaints; as the scorpion would say, 'It's in my nature.'
Photo: Robson Fernandjes

Boosey & Hawkes Composer News