New Kashperova edition releases two major cello sonatas and a piano suite
(August 2021)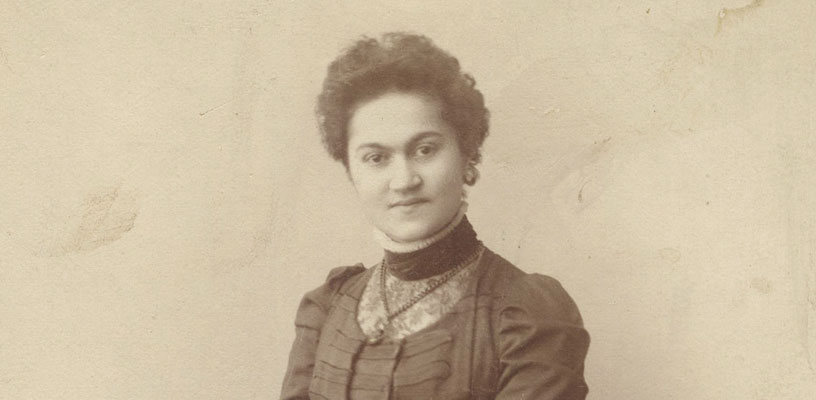 The new Kashperova Edition, published by Boosey & Hawkes and edited by Dr Graham Griffiths, is launched with publications of the rediscovered Russian composer's two cello sonatas op.1 and her piano suite In the midst of nature.
The rediscovery of Russian composer Leokadiya Kashperova (1872-1940) continues apace with new publications of three works launching Boosey & Hawkes's Kashperova Edition. Two major cello sonatas date from the mid-1890s while her suite for piano In the midst of nature was composed in 1910, all demonstrating her rich romantic style and impressive compositional maturity.
> Buy Cello Sonata No.1
> Buy Cello Sonata No.2
> Buy In the midst of nature
Kashperova composed the two cello sonatas between 1895 and 1896, following her graduation from the St Petersburg Conservatoire. They together provide an assured op.1 for a composer in her early 20s, both encompassing four expansive movements spanning 35 minutes, and each demonstrating virtuosity with a rich colour palette and subtle harmonic shifts. The cello parts were written for the cello professor at the Conservatoire, Aleksandr Verzhbilovich, who was clearly happy to perform the works with the talented young pianist and composer and to show the scores to Rimsky-Korsakov and Lyadov.
The 17-minute piano suite In the midst of nature finds Kashperova seeking to recapture the landscape of her childhood - the meadows, river banks and forests of the Yaroslavl district - where she returned every summer as an adult. The six movements bear descriptive titles: Two Roses, Two Autumn Leaves, the Murmuring of the Rye and The Threshing of the Wheat, and the progressive levels of difficulty through the suite indicate that she may have used the work as material for her piano pupils. The suite as a whole is ideal for professional recitals, with its pictorial Russian idiom, while the early movements are also within the reach of talented younger players, so should appeal to piano teachers looking for engaging repertoire beyond the usual circle of keyboard composers.
The researches of Dr Graham Griffiths at the Russian National Museum of Music in Moscow have led to a major reappraisal of Kashperova. Whereas her reputation was originally centred on her role as Stravinsky's piano teacher between 1899 and 1901, she is now regarded as an important virtuoso performer and Russia's first female composer of significance. Griffiths, who is General Editor of the Boosey & Hawkes Kashperova Edition, relates how "Kashperova was a respected figure in St Petersburg for two decades, giving piano recitals, appearing in chamber music series, hosting regular musical evenings at her apartment on Tuesdays in the manner of the more celebrated 'Korsakov's Wednesdays'; in 1907 she undertook concert tours to Berlin and London (twice). Her music was well-known to concert audiences in Russia and beyond. But, inescapably, her life was upended by the Revolution of 1917. Thereafter, the accumulated impact of civil strife, two world wars and the constantly shifting sands of Soviet cultural policy condemned her to becoming a neglected footnote to Russia's musical history."
Following its first performance at a BBC Lunchtime Concert in Cardiff last December, Kashperova's Piano Trio in A minor has enjoyed further performances by the Gould Piano Trio, including recently at the Edinburgh International Festival, as reviewed by Seen and Heard International:
"…a very impressive discovery... The dark, swirling strings of the opening over dark, rippling piano show this work to be what it is: important Russian music from the final throes of Romanticism. Kashperova must have had a huge lyrical gift. Her trio has a compelling line and a persuasive sense of development, and she is unafraid to write great, arching melodies. In fact, every movement is full of them, from the urgent opening to the lullaby-like slow movement with its gorgeous, singing string solos. The filigree scherzo gives way to a dark, dramatic finale that's full of curt lines and abrupt resolutions."
Future releases in the Kashperova Edition include her Songs of Love: 12 Romances for soprano and piano. The coming season brings five performances of Kashperova's most significant large-scale work, her Symphony in B minor, in Bremerhaven (11-13 October) and in Biel (29/30 January).
Photo courtesy of Russian National Museum of Music, Moscow

Boosey & Hawkes Composer News