New Recording of Elliott Carter's Late Works: Interview with Virgil Blackwell
(August 2017)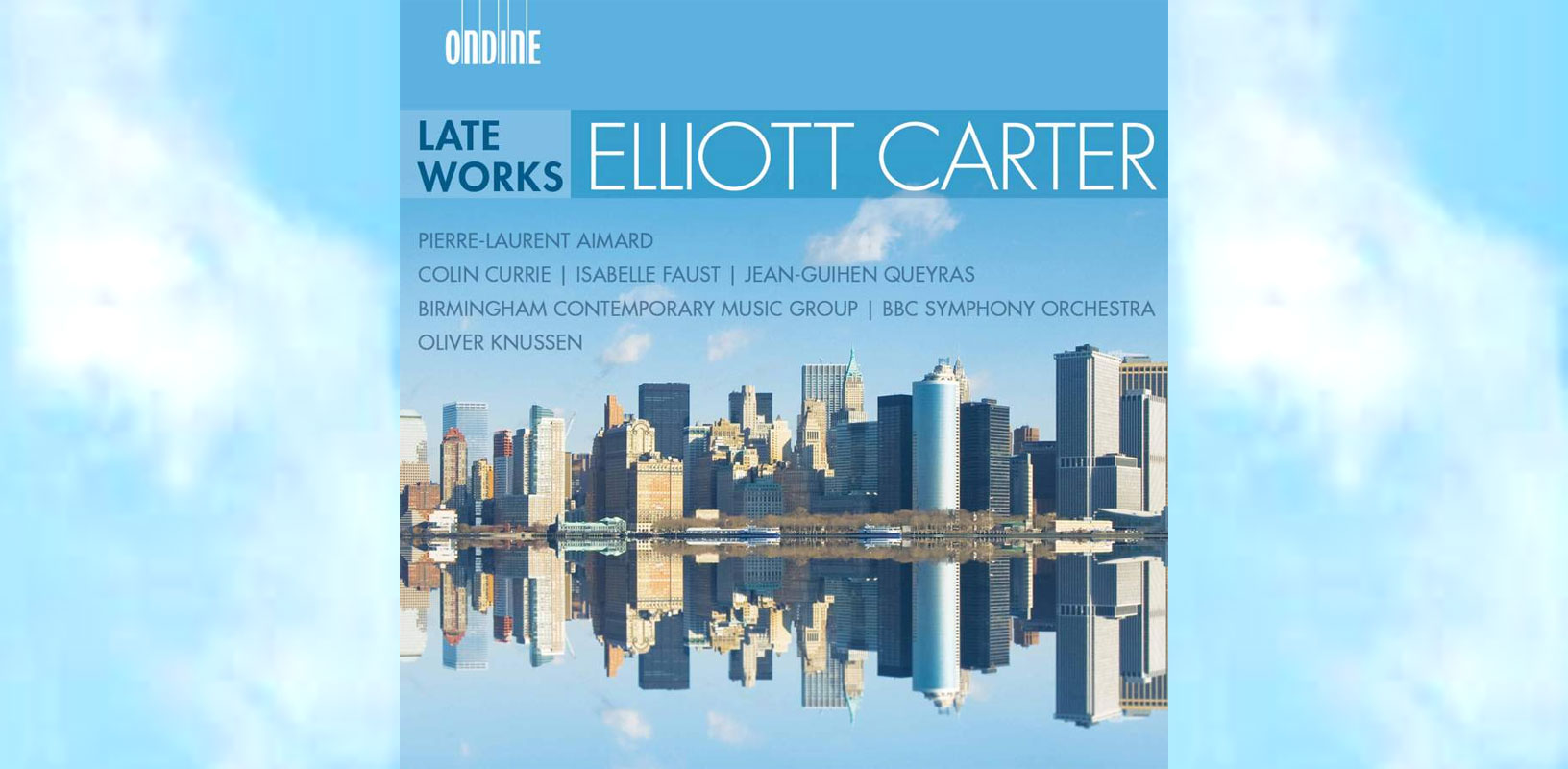 Virgil Blackwell, president of The Amphion Foundation, discusses a newly released album of Elliott Carter's late works on Ondine, including several world-premiere recordings.
An impressive cast of artists have joined together in this Ondine recording dedicated to the late works by iconic American composer Elliott Carter. Released on August 11, the album includes five premiere recordings, including Carter's final work Epigrams (2012) for piano trio, featuring Pierre-Laurent Aimard, Isabelle Faust and Jean-Guihen Queyras. The album also features percussionist Colin Currie joined together with the Birmingham Contemporary Music Group and the BBC Symphony Orchestra conducted by Oliver Knussen.

Virgil Blackwell, president of The Amphion Foundation (an organization founded by Carter in 1987 to support contemporary music that is now also dedicated to the promotion of his music) who also served as executive producer of the album, discusses the works and stellar line-up of artists of performers featured on the album.


Can you tell us about how this album came together?
This project was initiated by Pierre-Laurent Aimard and Oliver Knussen. The main idea was to assemble a recording of unrecorded works featuring the piano. We wanted to get these brilliant pieces out to the public so that they could be heard.

Can you describe some of the hallmarks of Carter's late works that are heard on the album?
As in all of Carter's works, conversation(s) or dialogue(s) between the performers is always a feature that is revealed musically in a wide variety of ways, as it is in all of the pieces on this recording. The clarity of the writing for the piano and the orchestration employed are perfect examples of Elliott's musical output, which are evident even before what we think of as his late musical period.

As world-premiere recordings of new works often become standard bearers for future performances, did this impact the approach to the recording process at all?
Yes, of course the hope is that these performances will encourage future performances and hopefully future recordings as well. The approach to any recording is always to reveal the composers intentions as truly as possible, which I think we have done here.

Would Carter get very involved in recordings of his works?
Elliott was usually present at recording sessions of his music, which had obvious benefits. His presence was always an asset. He was not physically present for these sessions, but he did place a great deal of confidence in Oliver, Pierre-Laurent, as well as Colin, the Birmingham Contemporary Music Group, and the BBC Symphony Orchestra, who have all had a rather long history of interpreting his music.

Epigrams for piano trio stands out on the album as the only chamber piece among orchestral works—but also because it was Carter's final composition. Can you describe the work and the significance of recording it for the first time?
Epigrams is divided up into 12 movements, each approximately one minute in duration. By definition, the word Epigram means a short, concise statement that can be both witty and terse, often ending with an ingenious turn of thought … All of these qualities can be found within each of the 12 movements. The writing for all the instruments, especially the strings, explores the total gamut of possibilities, both technically and dramatically. The fact that it was his last piece and that it also exemplified his late style of distillation and transparency made it a very fitting last piece on this recording.

Having been executive producer of multiple Carter discs and the DVD of What Next?—as well as performing on several Carter albums yourself—what was different or special about the process of recording this album?
It is always a pleasure to be able to work with old friends and colleagues like Oliver Knussen and Pierre-Laurent Aimard. It was my first time working with Isabelle Faust, Jean-Guihen Queyras and Colin Currie—all brilliant musicians—and to see them excited performing Elliott's music. That was an added treat.

> Purchase the new album on Amazon.

Boosey & Hawkes Composer News