New facsimile edition of Bartók's Sonata for Two Pianos and Percussion
(October 2018)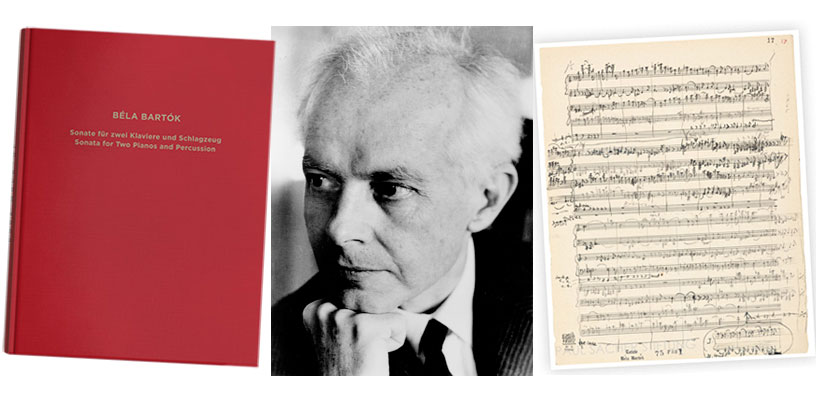 The Paul Sacher Stiftung and Boosey & Hawkes are pleased to announce a new facsimile edition of Bartók's classic Sonata for Two Pianos and Percussion, offering fresh insights into this modernist masterpiece.
Béla Bartók's Sonata for Two Pianos and Percussion, composed in summer 1937 on a commission from Paul Sacher and premiered in Basel in January 1938, is incontestably one of the supreme creations of modern music. This publication, with introductory essays by Felix Meyer, Robert W. Wason, Lászlo Vikárius, and Wolfgang Rathert, presents two major handwritten sources for this work from the holdings of the Paul Sacher Foundation: the draft score, which offers a fascinating glimpse into the sonata's genesis, and a "whiteprint" of the fair copy, which contains additions from Bartók and differs substantially from the definitive version at the end of the development section in movement 1.
The volume also contains, on an enclosed CD, the radio recording of 1940, with Bartók and his wife Ditta Pásztory on the piano parts, as well as a new recording of the sonata in its "original" form, played by the Bugallo-Williams Piano Duo with percussionists Matthias Würsch and Christian Dierstein.
In writing and sound, the volume leads readers to a closer acquaintance with Bartók's masterpiece and invites them to deepen their understanding of his compositional method, his revisions of the musical text, and his pianistic artistry.
Buy the facsimile edition from our Online Shop
> Further information on Work: Sonata for Two Pianos and Percussion

Boosey & Hawkes Composer News