Nonesuch Releases Reich and Adams Recording Projects
(June 2022)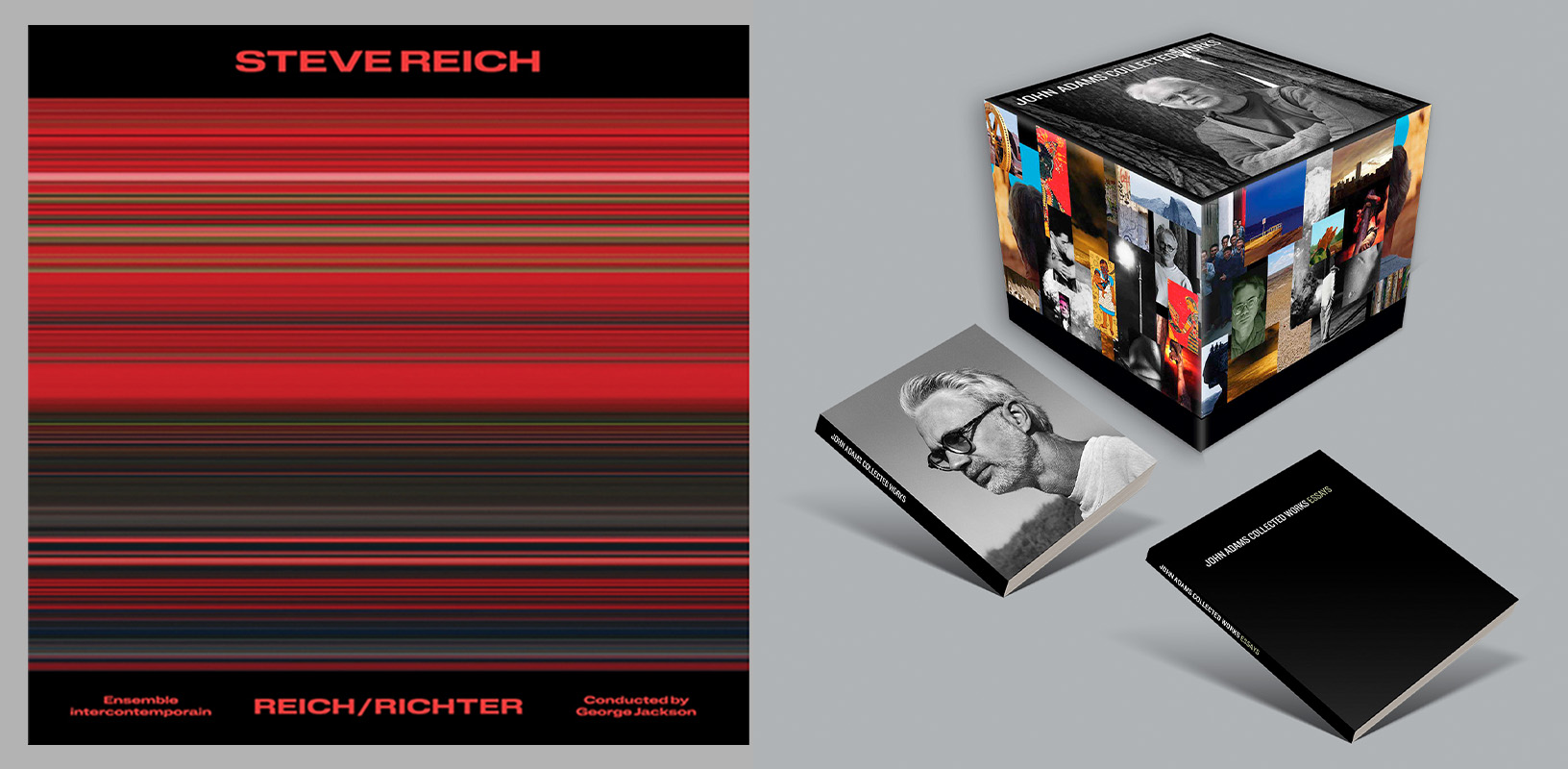 Nonesuch Records releases significant recording projects for two B&H composers this summer: the world premiere recording of Steve Reich's 2019 ensemble work Reich/Richter (June 10) and the John Adams Collected Works box set (July 1).
This summer Nonesuch Records releases major recording projects for composers Steve Reich and John Adams, who both have long relationships with the storied record label. On June 10, 2022, Nonesuch releases the world premiere recording of Steve Reich's Reich/Richter, performed by Ensemble intercontemporain and conducted by George Jackson (vinyl due August 5). On July 1, 2022, Nonesuch releases John Adams Collected Works, a 40-disc box set featuring recordings spanning more than four decades of the composer's career with the label.
Steve Reich's Reich/Richter was originally written to be performed with German visual artist Gerhard Richter and Corinna Belz's film Moving Picture (946-3). The film's visuals were based on Richter's Patterns book, which transforms an abstract painting through a process of division and mirroring, so that it becomes of series of increasingly dense patterns, and then eventually solid bands of colors. Reich replicates this visual process in his music, using an oscillating two-note patterns that progresses to four notes, then eight, and 16, and eventually slows down in tempo to reflect the increasingly abstract nature of the film.
After more than 100 performances of Reich/Richter at The Shed in New York in 2019, it was performed in London at the Barbican by the Britten Sinfonia conducted by Colin Currie, and then in Paris at the Philharmonie, where this debut recording was made. The piece will be performed in Austria (Sep 8), Minnesota (Mar 23), and Los Angeles (Apr 1) next season.
Nonesuch has recorded every new piece of music by Steve Reich since 1985, beginning with The Desert Music and continuing through 2018's Pulse/Quartet, resulting in 22 albums and the two box sets Phases in 2006 and Works: 1965-1995 in 1997. The label will put out a collection of his complete works in 2023.
> Order the album here: https://stevereich.lnk.to/ReichRichter
> Watch Reich discuss Reich/Richter here: https://youtu.be/l2-KxAT2iDs
Nonesuch Records releases the 40-disc John Adams Collected Works, a box set of recordings spanning more than four decades of the composer's career with the label. It includes two extensive booklets with new essays and notes by Timo Andres, Julia Bullock, Robert Hurwitz, Nico Muhly, and Jake Wilder-Smith. Every recording was either conducted by John, or made under his close supervision.
Nonesuch made its first record with John Adams in 1985. He was signed exclusively to the label that year, and since then the company has released 42 first recordings and 31 all-Adams albums, of which six are full-length operas, oratorios, or staged theatrical presentations. Four of Adams's Nonesuch records have won GRAMMY awards, among other honors.
The Collected Works boxset includes 35 Nonesuch recordings and five recordings from other labels, including the Los Angeles Philharmonic's recordings of The Gospel According to the Other Mary and Must the Devil Have All the Good Tunes? with Yuja Wang, on Deutsche Grammophon; a recording by Christina and Michelle Naughton of Roll Over Beethoven on Warner Classics; and the San Francisco Symphony's recordings of Absolute Jest and Grand Pianola Music. The Berlin Philharmonic's recording of Harmonielehre, conducted by Adams, is the final CD in the set, serving as the bookend to the piece's first recording, by the San Francisco Symphony led by Edo de Waart on Nonesuch that is the first disc of the set.
> Order the box set here: https://www.nonesuch.com/albums/collected-works
Images courtesy of Nonesuch Records

Boosey & Hawkes Composer News