Olga Neuwirth: new viola concerto and string quartet travel
(January 2010)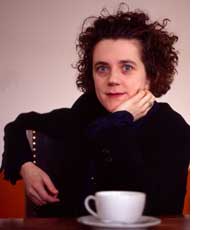 Following its first performances in Graz and Vienna last Autumn, Olga Neuwirth's new viola concerto is currently travelling through Germany with young French violist Antoine Tamestit, with performances in Berlin on 31 January and Wiesbaden on 17 February, before heading to Japan in May.

The concerto's title, Remnants of Songs … an Amphigory refers to a book by Ulrich Baer which investigates the traumatic influence of historical events on creativity and cultural memory, and contrasts it with the term 'amphigory', a designation for nonsense poems or illogical verse. These two poles of seriousness and playful lightness provide the arena for the acting out of the character pieces that make up the concerto.

Musical America viewed the new concerto, dedicated to the late patroness of the arts Betty Freeman, as a high point of the Wien Modern festival: "Remnants is essentially a 20-minute, five-movement concerto for viola and orchestra with a fiendishly difficult solo part, breathtaking in its virtuosic range… The work is entirely original, astoundingly complex and, ultimately, gloriously rewarding and uplifting."

Neuwirth's new ensemble work Un posto nell'acqua, was commissioned by Klangforum Wien for its 25th anniversary and by record company Kairos, and was first performed in Amsterdam and Vienna in December. The score is a sea-borne study for the composer's forthcoming Melville-based stagework and the Wiener Zeitung described how "Olga Neuwirth plays with auditory expectations… Distorted scraps of memory shimmer through sound."

The composer's third string quartet, in the realms of the unreal, was premiered by the Arditti Quartet at Cité de la Musique in Paris last month, with further performances planned by co-commissioners the Berlin Festival/MaerzMusik, Musikprotokoll in Graz and Casa da música in Porto.
> Further information on Work: Remnants of songs... an Amphigory
Photo: Priska Ketterer

Boosey & Hawkes Composer News