Olga Neuwirth's new double concerto parallels Jasper Johns painting
(July 2022)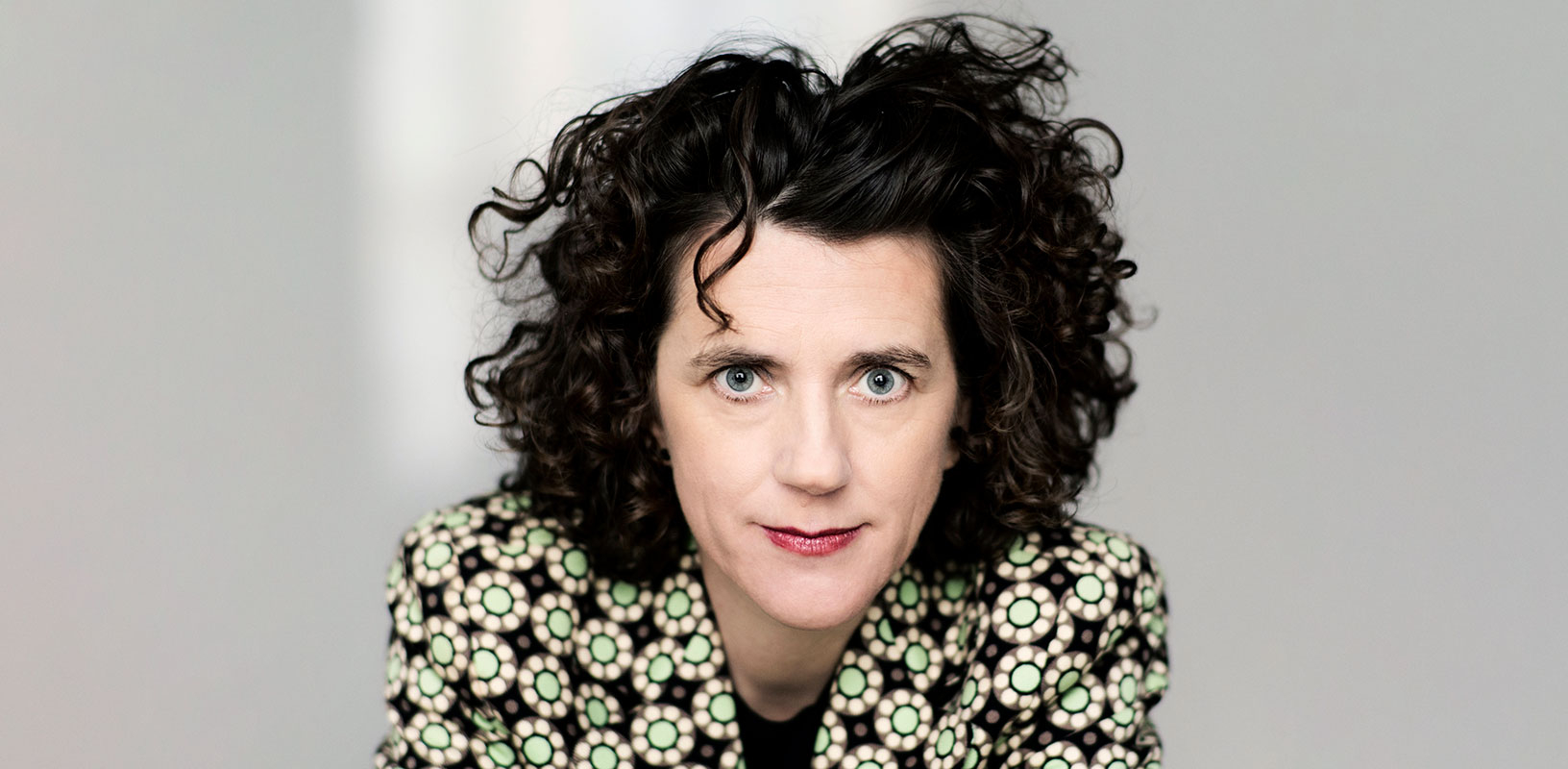 According to What, Olga Neuwirth's new double concerto for cello, percussion and chamber orchestra, is premiered by the Trondheim Symphony Orchestra on 22 September, travelling on to Musikprotokoll in Graz in October, Orebro in January, and Cité de la Musique in Paris next April.
The Trondheim Symphony Orchestra unveils Olga Neuwirth's latest work, According to What, on 22 September at the Olavshallen as part of the Trondheim Chamber Music Festival where Neuwirth is this year's featured composer. Baldur Bronnimann conducts the premiere with soloists cellist Tanja Tetzlaff and percussionist Hans Kristian Kjos Sørensen. The 20-minute work creates musical parallels for the interaction of diverse elements and materials the composer has observed in an expansive painting by American artist Jasper Johns, According to What, 1964.
The new score takes the form of a double concerto for the unlikely combination of cello and percussion with chamber orchestra and was commissioned by the Trondheim Symphony Orchestra, the Vienna Radio Symphony Orchestra, L'Orchestre Chambre de Paris and the Swedish Chamber Orchestra. After the Trondheim premiere further performances take place with the same duo of soloists at the Musikprotokoll festival in Graz on 7 October conducted by Yalda Zamani, with the Swedish Chamber Orchestra under Thierry Fischer on 26 January, and at the Cité de la Musique in Paris on 23 April conducted by Lars Vogt.
The composer describes how "the title of the double concerto, According to What, refers to a large painting by Jasper Johns which is made of several canvases, references some of his own earlier works and includes various found objects. The main idea for my double concerto therefore is that these two heterogeneous solo instruments, cello and percussion mainly comprised of ('tuned') found objects, should create a constant shifting in focus. This takes place through multiple rhythmical and harmonic fragments which re-occur in different musical contexts by promoting a playful approach. The music unfolds its elements in a chain exerting an unrelenting pressure across the broad and discontinuous façade: a 'camp' soundworld with its love of the unnatural, of artifice and exaggeration, which focuses on the note D."
> Trondheim Symphony Orchestra
This autumn brings a major Neuwirth feature at the Konserthuset's Tonsättarfestival in Stockholm across the long weekend from 24 to 27 November. The four concerts include the Swedish premiere of her recent orchestral work Dreydl with the Royal Stockholm Philharmonic Orchestra conducted by Baldur Brönnimann, the piano concerto locus…doublure…solus with soloist Nicolas Hodges and conductor Stefan Asbury, and her third string quartet in the realms of the unreal with the Quatuor Diotoma.
> Further information on Work: According to What
Photo: Harald Hoffmann

Boosey & Hawkes Composer News