Operatic plans for reopening theatres with reduced forces
(June 2020)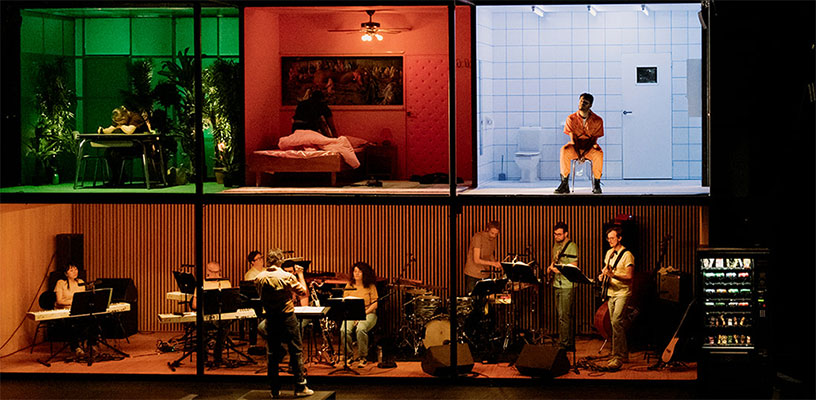 Opera companies have seen theatres closed due to the COVID-19 crisis, with streamed performances offering a lifeline to audiences in lockdown. Now international companies are planning ahead towards gradual reopening with chamber opera repertoire.
As the lights progressively went out in theatres around the world, opera companies have had to reinvent themselves for lockdown, discovering new ways to connect with their audiences and maintain vital musical contact. Singers and orchestral musicians have recorded concert items from home on Zoom and video, and programmes of streamed opera performances from the archive have been developed by opera houses ranging from the Met in New York, to Dutch National Opera in Amsterdam, the Komische Oper in Berlin and the Bavarian State Opera in Munich.
The next phase is planning for reopening of theatres during the 2020/21 season, presenting chamber operas with reduced forces in the pit and spaced audience seating, observing local social distancing requirements. To help with this task, Boosey & Hawkes has drawn up selected repertoire lists, either with a large ensemble of up to 20 players or a chamber-scale group up to 10 players.
> Visit our Distanced Opera listings
Explore our chamber operas with large or small ensemble, operas with piano, music theatre works, monodramas and dramatic vocal works. Classic repertoire includes Tchaikovsky's Eugene Onegin with an ensemble of 10 instrumentalists, Britten's Albert Herring, The Rape of Lucretia and The Turn of the Screw. Reduced versions are available for Beeson's Lizzie Borden, Bernstein's Trouble in Tahiti and Prokofieff's The Fiery Angel.
Highlights of the contemporary catalogue include Van der Aa's Blank Out, Birtwistle's The Io Passion, Little's Dog Days and Turnage's Coraline. Compact music theatre works with a single voice include Argento's A Water Bird Talk, Gruber's Frankenstein!!, and Maxwell Davies's Eight Songs for a Mad King.
> Listen to our YouTube playlists of chamber operas and monodramas
As we emerge carefully from the pandemic, new productions will adapt to the extraordinary conditions, reflecting on the human experiences during the crisis and drawing on the spatial opportunities for special theatrical configurations or new venues. Over the summer months, many opera stagings are planned for the open air, whether on car parking decks in Berlin, drive-thru in London parks, or in city squares in Italy with smaller audiences where necessary.
Productions may downscale existing stagings, adopt statuesque dramatic styles to protect singers, use sets built from lockdown units, or interweave live and video-recorded vocal performance. With particularly small pits, creative solutions include relaying the orchestral sound into the theatre from larger rehearsal rooms, while singers occupy the enlarged stage. Theatrical flair and imagination will see opera companies overcoming the challenges to restore live performance to its critical place at the heart of our cultural existence.
> For full information on over 500 operas in the Boosey & Hawkes catalogue visit our Opera website
Photo: John Adams's I was looking at the ceiling and then I saw the sky presented by Lyon Opera Studio in February 2020 (photo: Opéra de Lyon/Blandine Soulage)

Boosey & Hawkes Composer News