Orchestras emerge from lockdown with 'distanced repertoire'
(June 2020)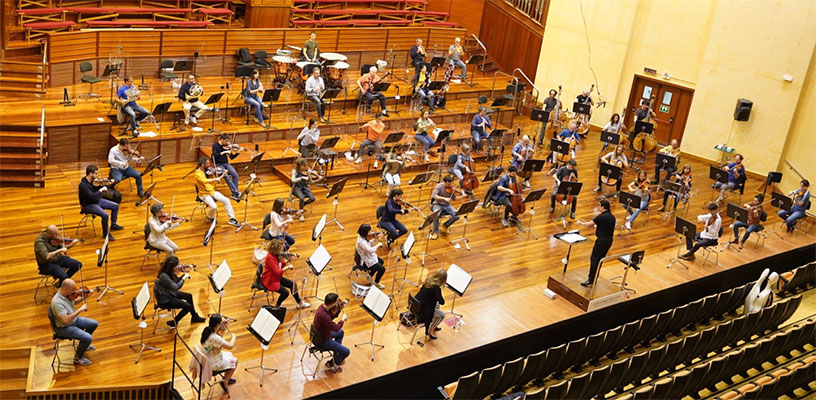 Around the globe, orchestras are seeking ways to return to the concert platform post-pandemic. Explore our repertoire for chamber orchestra or ensemble, with reduced forces allowing social distancing between players.
The orchestral world is planning for the coming season as the global pandemic gradually recedes, with amended 2020/21 programmes and repertoire for smaller forces jumping into the spotlight. Health requirements for safe social distancing are essential both for players in performing venues and for audiences, with scaling back necessary on both sides of the podium.
Boosey and Hawkes has curated a series of selected repertoire lists to meet the range of possible requirements, whether for less than 20, or less than 50 musicians on the concert platform. There are options to focus on orchestral sections, or on works with string orchestra or ensemble. With travel restrictions in force, concerts may feature local soloists or section leaders, and there are classic works with voice available for programming.
> Visit our Distanced Repertoire listings
Green shoots are thankfully emerging internationally, with the New Zealand Symphony completely back to the old normal, a first concert by the Shanghai Symphony appropriately featuring Stravinsky's The Rite of Spring, and hopes of a full spring season commencing in September for many orchestras in Australia. In Europe Scandinavia is leading the way with live streamed orchestral concerts having continued throughout the peak pandemic period in Sweden, and events with small audiences resuming in Norway including Grieg celebrations by the Bergen Philharmonic presented for key workers. The Basque National Orchestra in Spain was one of the first orchestras to programme a complete post-COVID mini-season, with eight concerts streamed from Bilbao.
In Germany over the last month, live streamed performances have featured Lindberg's Violin Concerto No.1 with the Elbphilharmonie in Hamburg with Pekka Kuusisto and Klaus Mäkelä and Panufnik's Violin Concerto at the Berlin Philharmonic's Digital Concert Hall with Daniel Strabawa. Brett Dean's recent nonet arrangement of Strauss's Till Eulenspiegel has appeared on a number of programmes including a streamed concert by the Deutsche Symphonie-Orchester in Berlin. In Paris the Orchestre Philharmonique de Radio France is live streaming Stravinsky's Apollo conducted by Daniel Harding and Britten's Les Illuminations with Barbara Hannigan singing and directing.
The summer offers options for safer outdoor open air concerts, with festival performances proceeding in Salzburg and Grafenegg in Austria with reduced capacity audiences and distancing restrictions. The Carinthian Summer festival includes Johannes Kalitzke's new score for Carl Dreyer's silent film classic The Passion of Joan of Arc. Confirmed events in Italy over coming months include the Ravenna Festival and the MiTo series in Milan and Turin. The BBC Proms in London is hoping for live performers to return to the Royal Albert Hall for its final two weeks in September. With the pandemic curve positioned a little later in the Americas, the rebirth of orchestral life there is eagerly awaited with conductors and administrators energetically engaged in planning.
Explore Boosey & Hawkes repertoire for:
> Orchestra or ensemble for 21-50 players
> Orchestra or ensemble for up to 20 players
> String orchestra or ensemble up to 20 or 50 players
> Arrangements of classic works for ensemble
Photo: Basque National Orchestra conducted by Robert Trevino

Boosey & Hawkes Composer News