Osvaldo Golijov Highlighted at Toronto's New Creations Festival
(February 2010)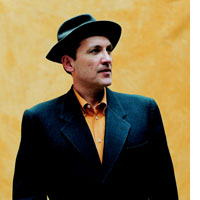 Osvaldo Golijov Highlighted at Toronto's New Creations Festival
Osvaldo Golijov joins the Toronto Symphony Orchestra (TSO), in collaboration with Soundstreams and the University of Toronto, for the annual New Creations Festival February 22 – March 3. This year highlights Golijov's works, including three Canadian premieres performed by the TSO led by Peter Oundjian at Roy Thomson Hall—Azul (2006) with cellist Alisa Weilerstein and Three Songs for Soprano and Orchestra (2002) with soprano Dawn Upshaw on February 25, and Suite sobre La Pasión según San Marcos (2000/2009) with piano duo Katia & Marielle Labéque on February 27 as well a performance of Last Round (1996) on March 3. Various Golijov works will be performed as part of a concert presented by Soundstreams, titled Ashes in the Wind, on February 24 at the Jane Mallet Theatre, St. Lawrence Centre for the Arts.

The New Creations Festival includes a number of ancillary events, including pre-concert performances, intermission chats, and post concert parties complete with tango dancing. The University of Toronto presents a master class led by Dawn Upshaw on February 22 and offers a Composers' Forum with Golijov on February 26. Golijov also joins Peter Oundjian for a special talk about contemporary classical music on February 23. For complete details on events surrounding the New Creations Festival, please visit http://www.newcreationsfestival.com.

Looking ahead, Robert Spano leads soprano Jessica Rivera and the Chicago Symphony Orchestra in performances of She Was Here and How Slow the Wind on March 10 – 11 in Chicago. María Guinand leads the Schola Cantorum de Venezuela, Orquesta La Pasión and mezzo-soprano Luciana Souza in La Pasión según San Marcos at Walt Disney Concert Hall in Los Angeles on April 24 – 25. On March 23, Deutsche Grammophon releases the first studio recording of the work since its world premiere in 2000, featuring Orquesta La Pasión led by María Guinand. The audio recording, on two CDs, is released in tandem with the DVD of a 2008 live performance from the Holland Festival conducted by Robert Spano.  More information about this recording including excerpts, listening guides, video trailer and tracklist can be found at www.deutschegrammophon.com/golijov-pasion.

Golijov is currently working on a commission for the Metropolitan Opera.

For scores, recordings or other materials please contact jessica.schmitz@boosey.com.
Photo Credit: John Sann

Boosey & Hawkes Composer News