Osvaldo Golijov Signs with Boosey & Hawkes
(July 2009)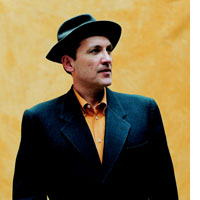 Osvaldo Golijov Signs with Boosey & Hawkes
Boosey & Hawkes is pleased to welcome Osvaldo Golijov to its formidable roster of distinguished composers. By exclusive agreement, Boosey & Hawkes now represents Golijov's exceptional existing catalog as well as all future works.

Upcoming projects include a commission honoring Henry Fogel to be performed by a consortium of 35 U.S. orchestras; a work for Emanuel Ax and long-time champion, Dawn Upshaw; a violin concerto for Leonidas Kavakos commissioned by the Los Angeles Philharmonic, the Berlin Philharmonic, and London's Barbican Centre; a new work for the St. Lawrence String Quartet; and a Metropolitan Opera commission for premiere in 2014. 

Osvaldo Golijov has become one of the most prominent and frequently performed living composers of our time. Born in 1960 to an Eastern European Jewish household in La Plata, Argentina, Golijov was surrounded by classical chamber music, Jewish liturgical and klezmer music, and the "new tango" of another Boosey & Hawkes composer, Astor Piazzolla. This amalgam of influences features prominently in Golijov's work, and the originality and creativity of his voice has earned him unique place in contemporary repertoire as well as numerous accolades, including a MacArthur 'Genius Grant' Fellowship. His rare voice is expressed clearly in Last Round (1996), written upon the passing of Piazzolla. The double string quartet and bass embody the essence of Argentine bandoneon with jagged rhythms, struts and sighs.

The New York Times called La Pasión según San Marcos (2000), a telling of St. Mark's passion from the South American perspective written to mark the 250th anniversary of J.S. Bach's death, "A millennial work of genius. A magnificent triumph." The CD of the premiere of this work received both GRAMMY and Latin GRAMMY nominations in 2002. Golijov's "ecstatically beautiful…but also radical and disorienting" (Alex Ross, The New Yorker) song cycle for Dawn Upshaw, Ayre (2004), received a GRAMMY nod in 2005. Ainadamar (2003), Golijov's opera based on the life of Federico García Lorca, won the GRAMMY for Best Classical Composition in 2006 and received more than 30 performances in the 2007-08 season, a striking number for any new work. Golijov's impact on the concert world was manifest in 2006, when Lincoln Center for the Performing Arts presented a sold out festival entitled "The Passion of Osvaldo Golijov," featuring multiple performances of his works over the course of two months. He also enjoys an ongoing relationship with Deutsche Grammophon, who released all three of the afore-mentioned albums. 

Golijov's output extends even beyond traditional concert forms. He has completed two film soundtracks for Francis Ford Coppola, Youth Without Youth (2007) and Tetro (2009). Yet he continues to work with the best artists in the world of contemporary music. Recent compositions include Azul (2006), a cello concerto for Yo-Yo Ma and the Boston Symphony Orchestra; Rose of the Winds (2007), premiered by the Silk Road Ensemble and the Chicago Symphony Orchestra under Miguel Harth-Bedoya; and She Was Here (2008), a work based on Schubert lieder premiered by Dawn Upshaw and the St. Paul Chamber Orchestra. Golijov is currently co-composer-in-residence at the Chicago Symphony Orchestra together with Marc-Anthony Turnage, who joined Boosey & Hawkes in 2002.

Other contemporary voices to join Boosey & Hawkes in the past few years include David Benoit, Enrico Chapela, Qigang Chen, Chick Corea, Sebastian Currier, Paquito D'Rivera, Michael Daugherty, Ami Maayani, Wynton Marsalis, Iris ter Schiphorst, as well as Emerging Composers Oscar Bettison, Anna Clyne, and Du Yun. 
Photo: John Sann/Deutsche Grammophon

Boosey & Hawkes Composer News