Osvaldo Golijov's Lorca homage Ainadamar returns
(November 2022)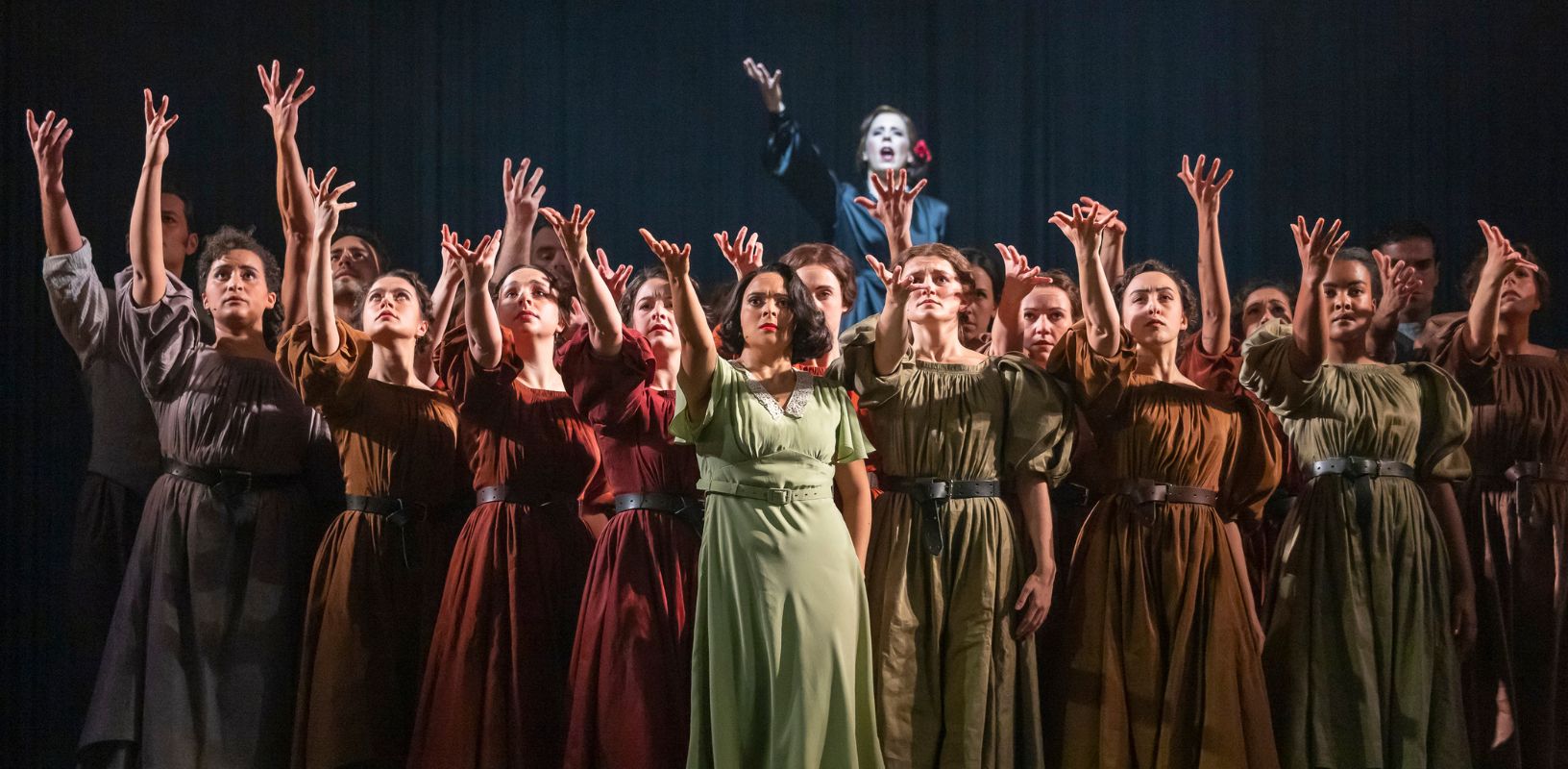 A new staging of Ainadamar, Osvaldo Golijov's powerful homage to Federico García Lorca, received excellent reviews at Scottish Opera and is set to travel to Detroit Opera, the Metropolitan Opera in New York and Welsh National Opera.
Ainadamar, the operatic collaboration between composer Osvaldo Golijov and librettist David Henry Hwang which first hit the headlines 20 years ago, received a thrilling UK premiere staging in Glasgow in October, attracting plaudits from press and public alike. The new Scottish Opera production was presented in collaboration with Opera Ventures and co-producers Detroit Opera, The Metropolitan Opera and Welsh National Opera. The staging by Brazilian choreographer Deborah Colker was conducted by Stuart Stratford with the female voices of Lauren Fagan as Lorca's muse Margarita Zirgu, Julieth Lozano as her student Nuria and Samantha Hankey as the poet.
"Ainadamar is that rarest of things: a 21st-century opera that has been genuinely successful, reaching two dozen productions worldwide since its 2003 premiere. This production by Scottish Opera and Opera Ventures here adds to that number with Ainadamar's first full UK staging, and it's a triumph. Much of that comes down to Golijov's foot-tapping, shoulder-swaying music. The opera deals with the execution of the playwright Federico García Lorca during the Spanish Civil War and his influence on the actress who brought his roles to life, so it is steeped in Spanish culture, and Golijov's score is full of flamenco rhythms and Spanish dances that crackle irresistibly with energy… At only 80 minutes long, it's a focused and gripping evening of music drama"
The Times
"Ainadamar ('fountain of tears') refers to an ancient well outside Granada where the poet Federico García Lorca is thought to have been executed by fascist forces at the start of the Spanish civil war… Golijov's score is a collage of influences, shifting fluidly from flamenco and electronic music to the classical language of 19th-century opera all soaked in the vibrant musical colour of Spain… In this production the musical language finds a mirror in Deborah Colker's striking staging. Dance rhythms are central to Ainadamar so having a director who is also a choreographer makes sense on many levels."
The Guardian
"It is no conventional opera but rather a series of vivid tableaux, almost a dramatic song-cycle in shape and form, with constant references to the purest form of flamenco in the cante jondo of Andalusia. Golijov's music is underpinned by the gritty, physical spirit of the dance, and it was a shrewd move on the part of Scottish Opera and Opera Ventures (who collaborated on this new staging) to entrust the direction to a choreographer. Deborah Colker has had her own dance company for 30 years but has never directed an opera. She demonstrates here an immediate feeling for the earthy expressiveness of Golijov's world, her well-marshalled singers and dancers interacting with both freedom and intense discipline."
Daily Telegraph
"…a simultaneous hit on all the senses, combining the noble passions of opera with the instant-fix adrenalin of a West End musical. The whole production is a spellbinding unification of opposites, with a musical vocabulary that throws together earthy chorus numbers, smokey rumbas and lavish Puccini-esque set pieces; flamenco dancers stamping and agitating to the orchestra's percussive engine room; and a singing ensemble at ease with Colker's edgy choreography."
The Scotsman
Deborah Colker's production of Ainadamar travels to Detroit Opera in April 2023 with three performances conducted by Paolo Bortolameolli. Further presentations of this staging are planned by the Metropolitan Opera in New York and Welsh National Opera in future seasons. New productions of Ainadamar early next year are seen at Indiana University from 3 February and at Opéra de Montréal opening on 18 March.
> Further information on Work: Ainadamar
Photo: James Glossop

Boosey & Hawkes Composer News