Premieren-Reigen mit Benjamin Britten
(February 2023)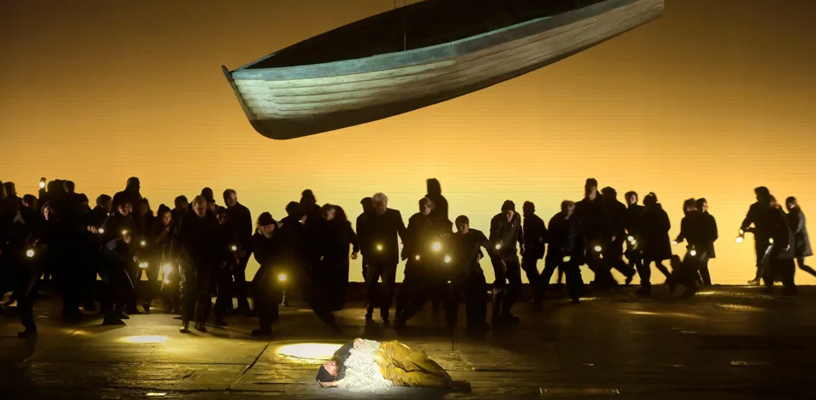 Benjamin Brittens facettenreiches Opernschaffen ist von den Bühnen in aller Welt nicht wegzudenken. Auch im deutschsprachigen Raum ist in der aktuellen Spielzeit wieder eine ganze Reihe von Inszenierungen zu erleben. Allein fünf haben in den kommenden Wochen Premiere.
International machte jüngst die Produktion von Peter Grimes an der Opéra national de Paris Furore, dort auf dem Spielplan von Ende Januar bis Ende Februar 2023. Unter der musikalischen Leitung von Joana Mallwitz sang eine herausragenden Besetzung mit Allan Clayton, Maria Bengtsson und Simon Keenlyside in den Hauptrollen. Es inszenierte, erstmals an der Pariser Oper, Deborah Warner – die Arbeit der britischen Top-Regisseurin entstand 2021 am Teatro Real in Madrid und wurde 2022 ans Royal Opera House Covent Garden in London übernommen. Weiterer Kooperationspartner ist das Teatro dell'Opera in Rom. Tenor Allan Clayton, der wie Warner und Mallwitz nun am Pariser Haus debütierte, kann als einer der herausragenden Grimes-Darsteller der Gegenwart gelten; so verkörperte er die ambivalent-tiefgründige Rolle zuletzt an der New Yorker MET, als das Haus Ende 2022 die vor einer guten Dekade enstandene Inszenierung von John Doyle wieder aufnahm.
Auf Bühnen im deutschsprachigen Raum sind in der laufenden Saison nicht weniger als 13 Produktionen zu vermelden, gewidmet fünf sehr unterschiedlichen Opern sowie der interdisziplinär angelegten Inszenierung des eigentlich konzertanten War Requiems durch Lorenzo Fioroni, mit der die Oper Graz im September 2022 ihre Spielzeit eröffnete. Weitere bereits vergangene Aufführungsserien waren am Theater Vorpommern A Midsummer Night's Dream (Regie Wolfgang Berthold) sowie an der Salzburger Universität Mozarteum Albert Herring und The Turn of the Screw (Regie Alexander von Pfeil bzw. Florentine Klepper) gewidmet.
Noch auf dem Spielplan stehen aktuell: A Midsummer Night's Dream am Stadttheater Gießen (Regie Magdalena Fuchsberger | Mus. Ltg. Andreas Schüller, Premiere am 11.02.2023) und am Opernhaus Halle (Walter Sutcliffe | Michael Wendeberg, Premiere am 18.09.2021), The Turn of the Screw an der Staatsoper Hannover (Immo Karaman | Maxim Böckelmann, Premiere am 23.04.2021) sowie Peter Grimes am Staatstheater Augsburg (Dirk Schmeding | Domonkos Héja, Premiere am 29.05.2022).
Hinzu kommen in den nächsten Wochen weitere fünf Britten-Premieren in Deutschland:
Albert Herring
Theater Lübeck, Premiere am 10.03.2023
Regie: Stephen Lawless | Mus. Ltg.: Takahiro Nagasaki
Billy Budd
Musiktheater im Revier, Premiere am 25.03.2023
Regie: Michael Schulz| Mus. Ltg.: Rasmus Baumann
A Midsummer Night's Dream
Nordharzer Städtebundtheater, Premiere am 25.03.2023
Regie: Oliver Klöter | Mus. Ltg.: Johannes Rieger
Peter Grimes
Theater Trier, Premiere am 01.04.2023
Regie: Frédéric Roels | Mus. Ltg.: Jochem Hochstenbach
Peter Grimes
Oper Leipzig, Premiere am 13.05.2023
Regie: Kay Link | Mus. Ltg.: Christoph Gedschold
Mehr zu Benjamin Brittens Opernschaffen bei Boosey & Hawkes finden Sie auf unserer Website www.boosey.com/Oper. Im Vorfeld von Brittens 100. Geburstag 2013 gab die Britten-Pears-Foundation gemeinsam mit den Verlagen des Komponisten, Boosey & Hawkes und Faber Music, eine englischsprache, reich bebilderte Sonderpublikation heraus, die sämtliche Bühnenwerke detailliert vorstellt und hier zur Online-Lektüre verfügbar ist.
 
Bild: Szene mit Alan Clayton als Peter Grimes in Paris (© Vincent Pontet / OnP)

Boosey & Hawkes Composer News