Ralph Vaughan Williams: música para Scott de la Antártida
(May 2021)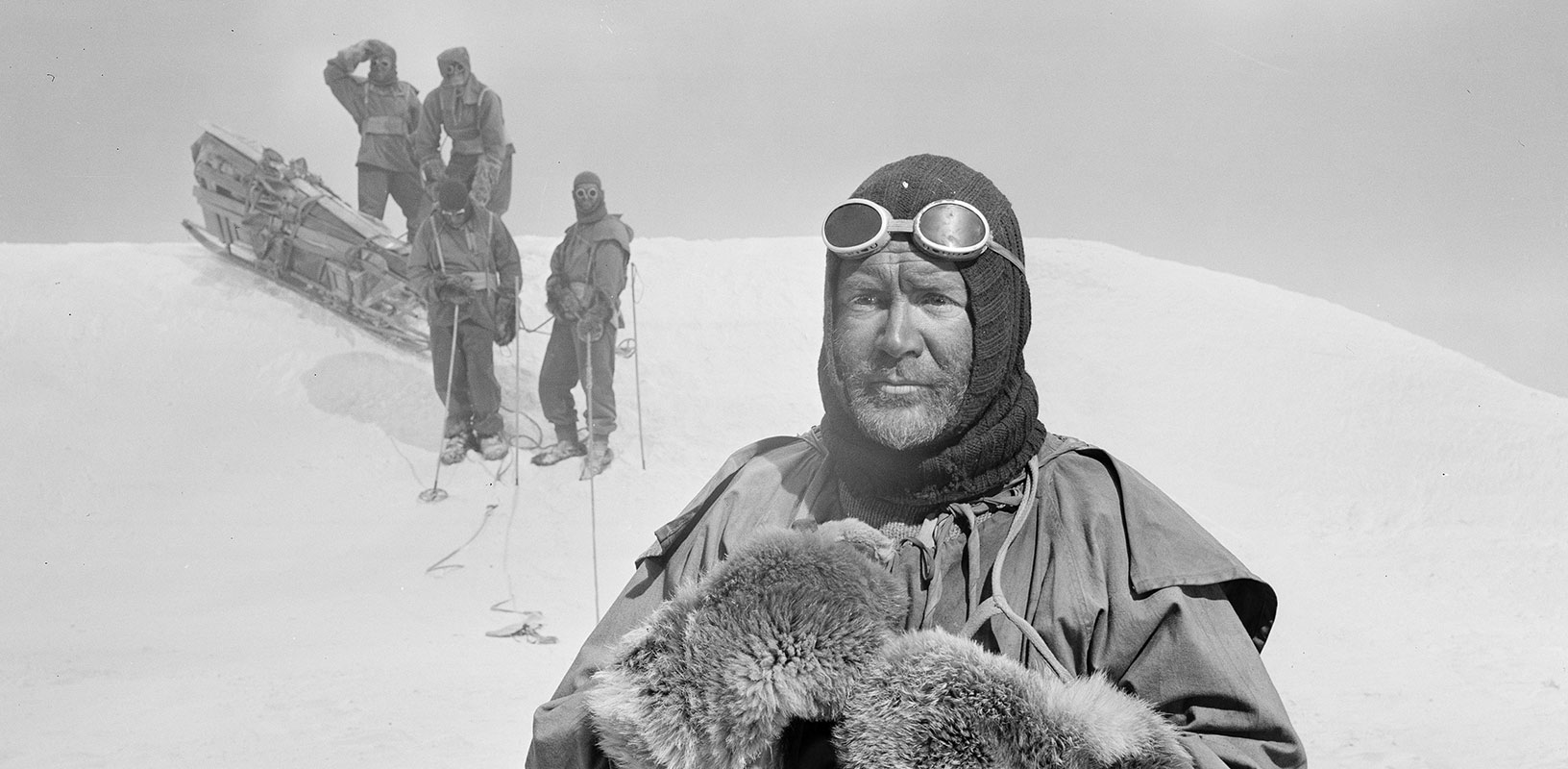 El 150 aniversario del nacimiento de Ralph Vaughan Williams el 12 de octubre de 2022 ofrece oportunidades para explorar la notable música que escribió para la película Scott of the Antarctic: la partitura original completa del compositor ya está disponible, la versión de película editada se puede proyectar con orquesta en vivo, mientras que su Sinfonía Antártica se puede programar en series de conciertos celebrando el aniversario.
La música de Ralph Vaughan Williams publicada por Oxford University Press se promociona aquí bajo licencia de Boosey & Hawkes.
La película Scott of the Antarctic fue producida por Ealing Studios y lanzada en 1948. Cuenta la historia de la desafortunada segunda expedición de Robert Falcon Scott a la Antártida en 1910-13. La película es bien conocida por su partitura de Ralph Vaughan Williams, que luego fue reelaborada para crear la Sinfonía Antártica, su séptima sinfonía.
Scott of the Antarctic: música de película completa
La partitura original de Vaughan Williams para la película se editó en gran medida en el estudio y se redujo a la mitad para crear la edición final. Ahora es presentada por Oxford University Press en su forma completa de 80 minutos gracias a las investigaciones y la edición reciente de Martin Yates, lo que permite a los oyentes en la sala de conciertos escuchar por primera vez la grandeza de la composición original del compositor. La primera grabación completa se lanzó en 2017 en el sello Dutton Epoch, con la Royal Scottish National Orchestra dirigida por Martin Yates.
Simon Wright de OUP señala que "Vaughan Williams compuso sustancialmente más material paraScott que finalmente se usó (música para veintiocho secuencias en total). Había concebido gran parte de la música antes incluso de ver el guión o las prisas de la película. Cuando supo que iba a ser el compositor, leyó sobre el tema lo más ampliamente que pudo, y ya tenía firmemente en mente los materiales que usaría. El manuscrito, ahora en la Biblioteca Británica, muestra los títulos evocadores de las distintas escenas: "Heroism", "Ice floes", "Penguins", "Pony march and blizzard", "Amundsen's flag at the Pole", "Death of Oates", "Only 11 miles". El tema coincidía con temas que recorrieron el trabajo de toda la vida de Vaughan Williams, particularmente su noción de un hombre dentro del progreso de un peregrino, una búsqueda espiritual de por vida para la redención y la gloria a través de la prueba y la adversidad".
Scott of the Antarctic: película con orquesta en vivo
Como evento audiovisual especial, el Composer's Cut de Scott of the Antarctic, que comprende los 42 minutos de música editada para la banda sonora, puede ser interpretada por una orquesta en vivo en sincronía con la película de 110 minutos. Los materiales de OUP también incluyen una obertura de 10 minutos especialmente creada de música nunca antes escuchada escrita para la película, extraída de la partitura completa sin editar. Scott of the Antarctic es una de las mejores películas británicas de la década de 1940. Protagonizada por Sir John Mills como el gran explorador Capitán Scott, y con un elenco de apoyo que incluye a Derek Bond, James Robertson Justice y Kenneth More, la película cuenta la historia del intento fallido de Scott en 1912 de ser el primero en llegar al Polo Sur. Acompañando la acción épica, heroica y, en última instancia, trágica, se encuentra la extraordinaria música de Ralph Vaughan Williams, un hito en la música cinematográfica británica.
Big Screen Live, en asociación con Studio Canal y OUP, se enorgullecen de presentar las primeras interpretaciones de la partitura original de Vaughan Williams interpretada en vivo en sincronía con la película, un momento enormemente significativo en la apreciación continua del trabajo del compositor a medida que nos acercamos al 150 aniversario de su nacimiento en 2022. Para obtener más información y solicitar un rider técnico, comuníquese con Tommy Pearson de Big Screen Live en [email protected].
Sinfonía Antártica (Sinfonía n.° 7)
La versión sinfónica reelaborada conocida, Sinfonía Antártica, fue creada por Vaughan Williams en 1952, cinco años después de su banda sonora. Partitura para un solo de soprano, coro SSA y orquesta, la sinfonía evoca hábilmente la escasa belleza y la grandeza del paisaje con una gran sección de orquesta y percusión, que incluye, como es sabido, una máquina de viento, para crear una obra de gran poder e intensidad.
Simon Wright de OUP señala: "La forma de cinco movimientos dada por Vaughan Williams a su sinfonía impone una arquitectura musical sobre el material que se originó en la narrativa seccional y la pintura del estado de ánimo inherente a la música de cine. La sinfonía no es un mosaico cosido a partir de la banda sonora de la película, sino un reordenamiento y en muchos casos una recomposición del material original. La intención filosófica y objetiva del compositor está subrayada por la inclusión de sobrescripciones poéticas en cada uno de los movimientos (impresos en la partitura, pero no recitados en la interpretación). Una cita de los diarios de Scott ("No me arrepiento de este viaje... Tomamos riesgos, sabíamos que los asumimos; han salido cosas en nuestra contra y, por tanto, no tenemos motivo de queja"). reemplazó una cita del Eclesiástico ("Sus cuerpos están enterrados en paz, pero su nombre vive para siempre") para el movimiento final en el momento de la publicación. El resultado es una reflexión gigantesca (cuarenta minutos) sobre el aislamiento y la vulnerabilidad última del hombre dentro de la naturaleza salvaje extrema".
Otras partituras listas para ser descubiertas durante las celebraciones del aniversario incluyen la Suite Fat Knight extraído de la ópera de Vaughan Williams Sir John enamorado, la fantasía sinfónica A Road All Paved with Stars basado en temas de la ópera The Poisoned Kiss, una nueva edición de orquesta de cámara de su Cuatro últimas canciones para mezzo o barítono con orquestación de Anthony Payne, y Rapsodia de Norfolk n.° 2 perfecto para combinar con el famoso First Rhapsody.
Las adiciones recientes al catálogo incluyen la ópera shakesperiana de Vaughan Williams Sir John on Love en una nueva edición completa de David Lloyd-Jones, que se basa en todas las fuentes disponibles y proporciona una partitura completa autorizada con comentarios críticos, y el nuevo arreglo de David Childs de la siempre popular Tuba Concerto para tuba tenor o bombardino.
> Para obtener información completa, consulte el folleto de Oxford University Press
> Escuche música orquestal de Vaughan Williams en la lista de reproducción de Spotify de OUP
Foto de Studio Canal ©

Boosey & Hawkes Composer News