Reich's 'Rock' Debut: 2x5 in Manchester
(June 2009)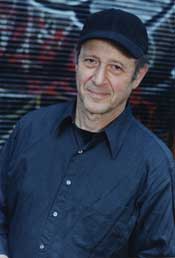 Reich's 'Rock' Debut: 2x5 in Manchester
Steve Reich's latest creation, 2x5, premieres July 2 on a double bill with pioneering German electronic music group, Kraftwerk.

The sold out concert falls on opening night of the 2009 Manchester International Festival (MIF), where Reich will be present in the crowd of 5,000 at the Manchester Velodrome. Commissioned by MIF in association with Casa da Música (Porto), 2x5 is scored for standard rock band set-up and will be performed by Bang On A Can (BOAC) with Reich in the sound booth.

In 2x5, Reich returns to the heavier rhythmic forms of his early days but expands his palate with rock instrumentation. Scored for two sets of five instruments (hence "2x5"), this 21-minute piece calls for a total of ten musicians: four electric guitars, two pianos, two bass guitars, and two drum sets. Performers can either play the piece all-live with ten musicians or with five live musicians against a pre-recorded tape, as BOAC will do for the premiere.

In this regard Reich builds on the framework of his 2009 Pulitzer Prize-winning work, Double Sextet (2007), written for two sets of six instruments. Commissioned by eighth blackbird, Double Sextet has enjoyed an international tour of performances with the ensemble since its world premiere on March 26, 2008. As with 2x5, the world premiere of Double Sextet involved pre-recorded tape. A number of all-live performances have since been presented, most recently at the Ojai Music Festival and at New York City's underground music venue, Le Poisson Rouge, as part of a Pulitzer celebration in honor of Reich's achievement.

A recording of 2x5, Double Sextet, and a forthcoming work for percussion is expected for release on Nonesuch in the 2010-11 season.

Boosey & Hawkes Composer News