Remembering Christopher Rouse, American symphonist, New Romanticist, and progressive educator
(September 2019)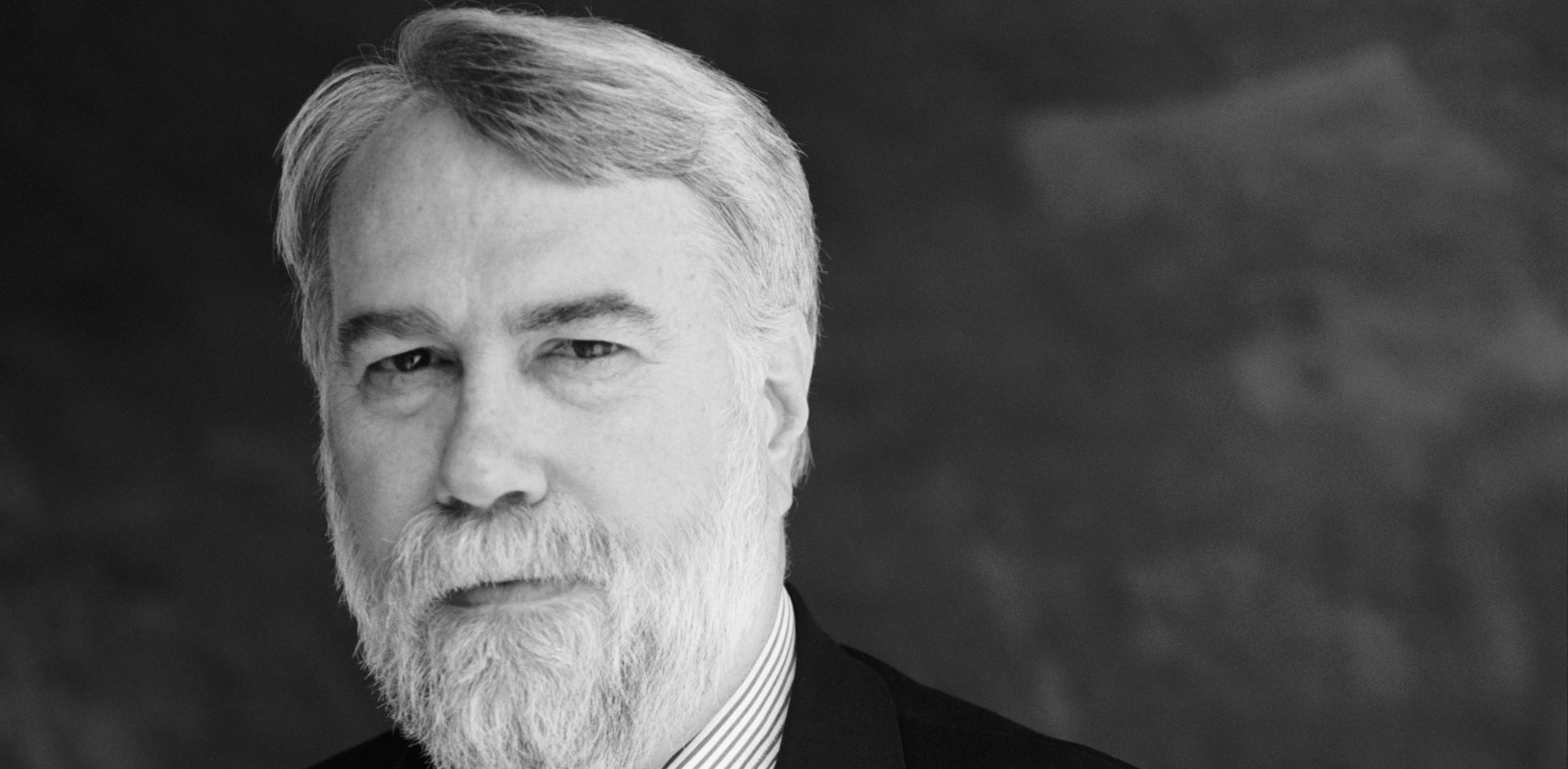 Boosey & Hawkes is sad to announce the death of American composer Christopher Rouse, who passed away on Saturday, September 21, at age 70 in Baltimore, Maryland. His final work, Symphony No. 6, will have its world premiere on October 18-19 with the Cincinnati Symphony Orchestra and Louis Langrée.
Boosey & Hawkes is sad to announce the loss of American composer Christopher Rouse, who passed away on September 21 at age 70 in Baltimore, Maryland.
Throughout his life, Rouse ventured to reassert "expressiveness" as the pinnacle of music composition and devoted a majority of his time to teaching and mentoring young musicians and composers. He garnered public appreciation for his works during his lifetime, earning a GRAMMY Award in 2002 and a Pulitzer Prize in Music in 1993, and expanded the idea of what types of music should be taught in history classes.
"I believe the purpose of music is to convey something meaningful, nourishing, enlightening from the human spirit that speaks of the creator of the work to the listener, the viewer, the reader, to other human spirits about what it is to be alive. And I think how you organize your material is really just a means of making that expressive or emotive meaning coherent."
—Christopher Rouse
Born on February 15, 1949 in Baltimore, Maryland, Rouse heard his first musical sounds in infancy when his mother would turn on a recording of Grieg's Piano Concerto, triggering him to cry instantly. At age six, his mother placed a recording of Beethoven's Fifth Symphony on the turntable, and it was in this moment that Rouse decided to become a composer. He began writing music early in life and recalled: "I knew right from the start I wanted to be a composer, and I wrote a few little pieces when I was seven. Then I did nothing more—I just listened for years." Throughout his high school years, he absorbed the music of the Beatles, Jefferson Airplane, the Byrds, and other pop and rock groups of the Kennedy-Johnson era whose sounds burst through his developing mind.
Rouse studied composition with Richard Hoffmann at the Oberlin Conservatory of Music (B.M., 1971) and went on to study privately with the avant-gardist George Crumb, who was at the time conjuring his own Black Angels. Rouse then enrolled at Cornell University (M.F.A., D.M.A., 1977), where he studied with Karel Husa and Richard Palmer and won the BMI Student Composer Award twice, in 1972 and 1973.
His works pursue a simple goal in the spirit of—what he often referred to as—"new Romanticism." In his own words: "It's not a matter of whether it's minimalist or maximalist, or whether it's consonant or dissonant or whatever; it's whether it's expressive or not expressive." An American symphonist, Rouse composed six symphonies between 1986 and 2019. His Symphony No. 1 received the First Prize Kennedy Center Friedheim Award in 1988, and his last, Symphony No. 6, will receive its posthumous world premiere by Louis Langrée and the Cincinnati Symphony Orchestra on October 18, 2019.
He composed individual concertos for 12 different instruments and joked that the reason he wrote only one for each was because the soloist (frightened) never called back for a second. His Trombone Concerto (1991), dedicated in memoriam to the late Leonard Bernstein, was commissioned by the New York Philharmonic in honor of their sesquicentennial and won the Pulitzer Prize in Music in 1993. A recording of his Violoncello Concerto (1992–93) by Yo-Yo Ma and David Zinman with the Los Angeles Philharmonic won two GRAMMY Awards in 1997 and entered the Library of Congress's National Recording Registry in 2018.
His evocative style is especially emblematic in his compact concert openers like Phaethon (1986), Rapture (2000), Thunderstruck (2014), and Berceuse Infinie (2016). He also explored a variety of extramusical narratives in his programmatic symphonic works: Iscariot (1989), an intense and sorrowful autobiographical score, named after Judas Iscariot; Der gerettete Alberich (1998), which imagines what becomes of Alberich, the villainous dwarf in Wagner's Der Ring des Nibelungen; Odna Zhizn (2010), an emotional tribute to his wife Natasha and her life story; and Prospero's Rooms (2013), a portrayal of Edgar Allan Poe's "The Masque of the Red Death".
Rouse often described himself as a "summer composer", à la Mahler, and consciously focused his energy on teaching during the academic year. His courses defied the status quo "classical music" curriculum. He taught at the University of Michigan (1978–81) and the Eastman School of Music (1981–2002), where, after finding his students lacking knowledge of his favorite music period, he created the school's first fully accredited "history of rock music" course. He was on the faculty of the Juilliard School from 1997 to 2019 and taught the Aspen Music Festival Composition Master Class for nearly two decades (2000–19).
A friend of many orchestras, Rouse was Composer-in-Residence of the Baltimore Symphony Orchestra (1986–89), the New York Philharmonic (2012–15), Tanglewood Music Festival (1997), Helsinki Biennale (1997), and the Pacific Music Festival (1998). Additionally, he was awarded a Guggenheim Fellowship (1990), Musical America Composer of the Year (2009), and a Grammy Award for Best Classical Contemporary Composition (2002) for Concert de Gaudí (1999). He was inducted into the American Academy of Arts and Letters in 2002.
In closing, below is a final artistic statement from Christopher Rouse, which he intended to be released after his death:
Without music my life would have had no meaning. It has not only informed my life or enriched my life; it has GIVEN me life and a reason for living. I'll never be able to explain why these vibrating frequencies have the power to transport us to levels of consciousness that defy words - I simply accept the fact that music has this miraculous power for me and for myriad other people I have known.
My hope has been to do for my listeners what Beethoven and Berlioz and Bruckner and Ibert and all of those others who worked - and still do - for me. I've wished to "pay it forward" by inviting listeners to call on me to enter their hearts and their lives and to allow me the honor of accompanying them on their road through life. If summoned I will try to be of use: to sing you a song, to paint you a picture, to tell you a story. Perhaps we can take a journey together. A caveat: I may sometimes take you to a places you'll find it difficult to go, but my goal will always be at journey's end to provide you with solace and strength.
—Article by Jacob Slattery for Boosey & Hawkes
Sources
http://www.christopherrouse.com/
http://www.pytheasmusic.org/rouse.html
https://www.latimes.com/archives/la-xpm-1994-01-26-ca-15450-story.html
https://www.boosey.com/composer/Christopher+Rouse
http://www.bruceduffie.com/rouse.html
https://www.nashvillepublicradio.org/post/classically-speaking-1-composer-christopher-rouse#stream/0
https://news.stlpublicradio.org/post/st-louis-symphony-extra-interview-christopher-rouse#stream/0
https://artsfuse.org/141629/rethinking-the-repertoire-7-christopher-rouses-phantasmata/
https://www.insidephilanthropy.com/gates-keepers-archive/christopher-rouse-the-aaron-copland-fund-for-music.html
https://www.bsomusic.org/stories/a-conversation-with-composer-christopher-rouse/
https://kdhx.org/articles/classical/1338-symphony-preview-man-does-not-live-by-dread-alone-a-conversation-with-christopher-rouse
https://www.dallasnews.com/arts-entertainment/performing-arts/2017/02/07/no-longer-an-enfant-terrible-composer-christopher-rouse-gets-a-world-premiere-from-the-dallas-symphony/
http://www.classicalsource.com/db_control/db_concert_review.php?id=264
https://rbj.net/1999/12/24/christopher-rouse-a-master-in-the-classical-composers-trade/
Photo: Jeffrey Herman

Boosey & Hawkes Composer News