Roberto Gerhard 2020: dance and dramatic works
(June 2018)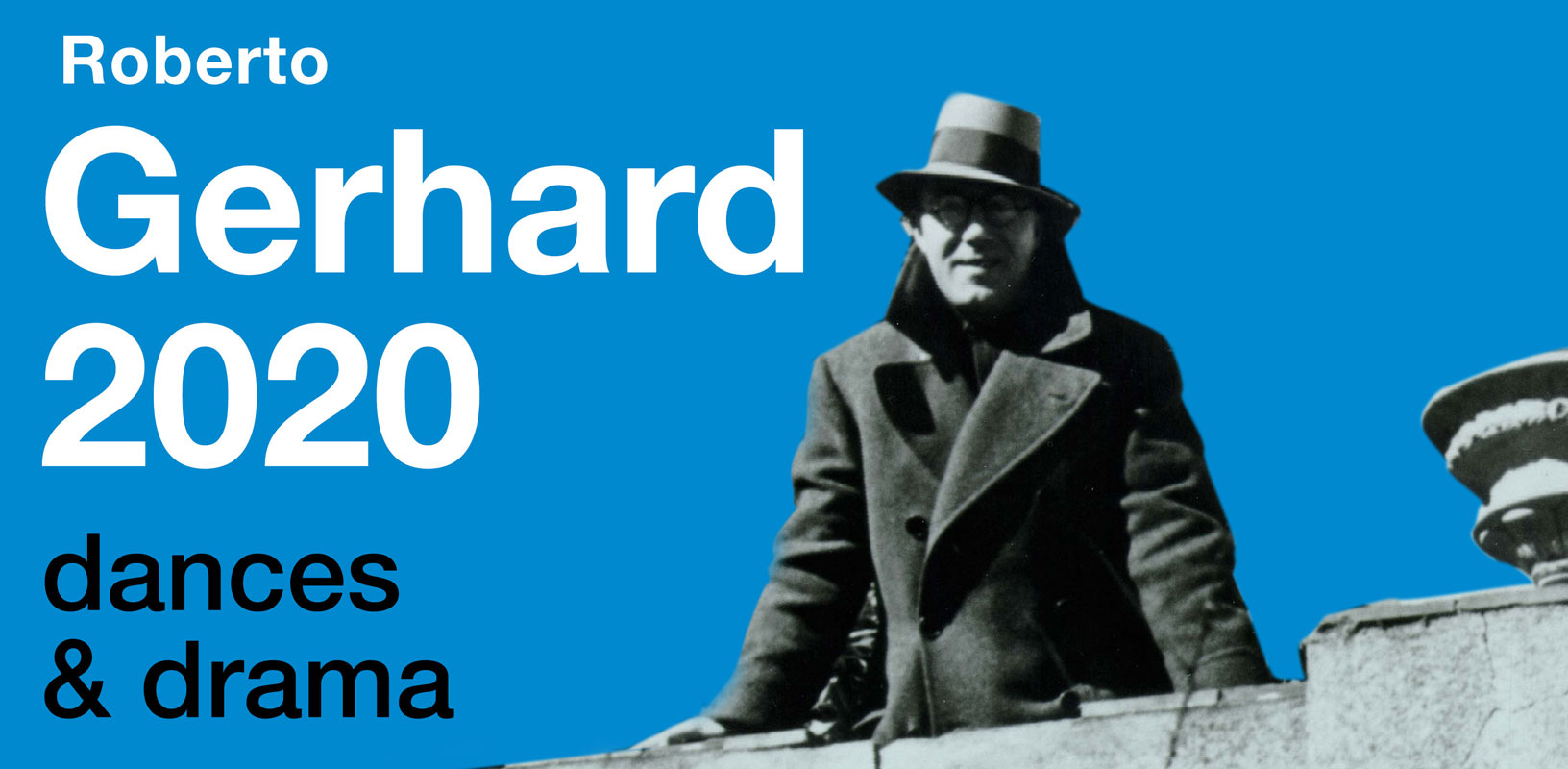 The run up to the 50th anniversary of the death of Roberto Gerhard in 2020 offers the opportunity to explore the Catalan composer's works inspired by dance and drama.
The 50th anniversary of Roberto Gerhard's death in 2020 offers the opportunity to explore the music of this 20th century master, rich in colour and invigorated by lively dance rhythms. His creative output succeeded in reconciling his Catalan roots with modernism, while his exile after the Spanish Civil War saw a long battle to renew his career. Gerhard can be viewed as an archetypal creative figure caught up in the struggles of the last century and capturing today's ongoing searches for identity.

Most familiar of Gerhard's orchestral works is Dances from Don Quixote, an attractive 15-minute suite drawn from his ballet premiered at the Royal Opera House in London in 1950. Renewed interest in the complete 50-minute ballet in the 1990s, through orchestral performances conducted by Simon Rattle, Antoni Ros Marba and Victor Pablo Perez,  revealed one of Gerhard's most significant and characteristic scores. Cervantes's knight errant had been a constant companion for the composer through the 1940s, via a small-scale dancework, a radio play and a series of suites. Gerhard's definitive version displays subtle characterisation, vivid colours, dancing impetus and tender pathos.

The roots of Gerhard's fascination with Spanish folk music can be traced back to his employment in the Catalan Library in the 1930s, continuing the researches of his mentor, the composer and scholar Felipe Pedrell. An early musical distillation of this activity is Albada, Interludi i Dansa, a three-movement suite for orchestra. Gerhard's beloved home city is the focus of his Soirées de Barcelone (1936-38), originally commissioned by the Ballet Russes de Monte Carlo under Leonid Massine. The folksongs and ritual dances are most frequently heard in a 20-minute suite arranged by David Atherton, while the full 55-minute ballet was restored in 1996 with editorial completions by Malcolm MacDonald.

With Franco's impending victory in the Spanish Civil War, Gerhard was forced into exile in 1939, emigrating first to Paris and finally Cambridge. Re-establishing his career in the UK was challenging during the Second World War, though he did succeed in attracting a pair of dance commissions. Alegrías for Ballet Rambert was an ironic flamenco divertissement, originally for two pianos and reworked into a 13-minute suite for chamber orchestra. Pandora for Ballet Jooss was a modern take on the Greek myth with the themes updated for a totalitarian age. Gerhard's score, infused with Catalan themes, can be heard in a 27-minute suite for small orchestra.

Gerhard's most ambitious stagework was The Duenna (1945-47), combining Spanish and English worlds through Sheridan's sparkling drama and, like Don Quixote, perfectly blending folk themes with modernist techniques. Written without a commission, the opera did not reach the stage until 1992, more than 20 years after Gerhard's death, thanks to the performing edition by David Drew. The acclaimed premiere production was shared between the Teatro Lirico Nacional in Madrid, the Gran Teatre del Liceu in Barcelona and Opera North in Leeds.

A powerful theatrical postscript is provided by Gerhard's Camus setting The Plague (published by OUP), part cantata and part radio play, which is being staged at the Teatro Real in Madrid in the run-up to the 50th anniversary year, conducted by Juanjo Mena.

To explore Gerhard's large-scale orchestral works for the concert hall visit our Symphonies and Concertos survey.

For further information on Roberto Gerhard, audio clips and a Spotify playlist, visit www.boosey.com/gerhard2020.
> Further information on Work: Dances from Don Quixote
Photo: Boosey & Hawkes

Boosey & Hawkes Composer News