Roberto Gerhard: 50th anniversary events in 2020
(November 2019)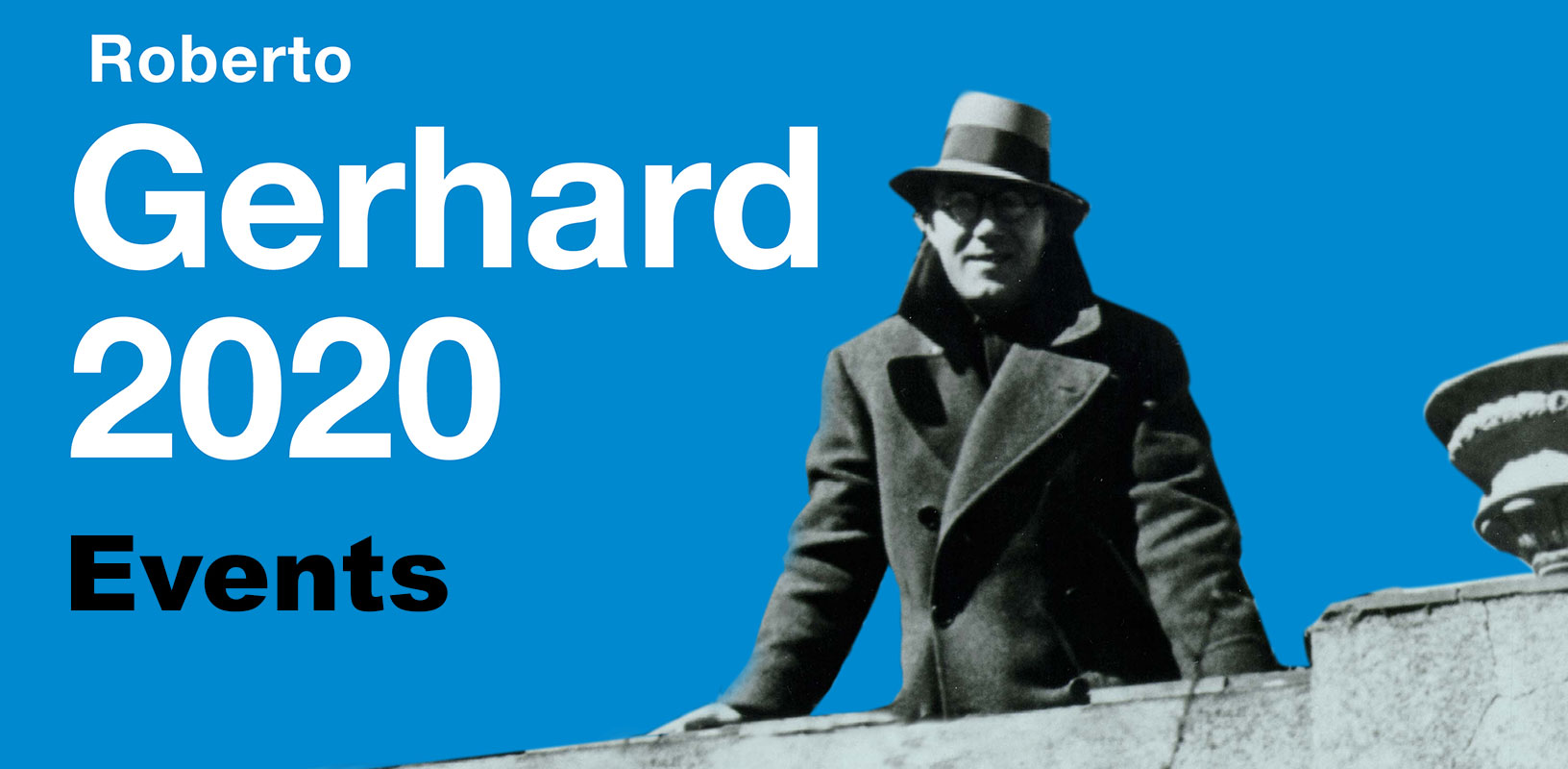 2020 is the 50th anniversary of the death of Roberto Gerhard, who fused Spanish folk influences with modernism to expand the horizons of contemporary music. Concert and academic events include those in his native Catalonia and his adoptive home in the UK.
Events are planned in 2020 to honour the 50th anniversary of the death of Roberto Gerhard (1896-1970), one of the most significant of 20th-century Spanish-born composers. His life succeeded in reconciling his Catalan nationalist roots with contemporary currents, while his exile after the Spanish Civil War saw a long battle in the UK to renew his career. Gerhard can be viewed as an archetypal creative figure caught up in the struggles of the last century and capturing today's ongoing searches for identity. His achievements include the ballet Don Quixote, the opera The Duenna and, in the 1950s and '60s, a sequence of orchestral, ensemble and electronic scores combining abstract modernism with vivid colouring.
Gerhard's home town of Valls, near Tarragona in Catalonia, presents a year-long celebration of his music, with talks and concerts at the Teatre Principal and Centre Cultural Municipal, planned by Gerhard champion Edmon Colomer. Highlights include the Harpsichord Concerto in March, the Pandora Suite in November and as finale the Cantata: L'Alta Naixença Del Rei En Jaume in January 2021, which fittingly combines Gerhard's music with poetry by his exact contemporary Josep Carner to create one of the earliest distinctively Catalan concert works.
Madrid plays host to an evening surveying Gerhard's keyboard music drawn from his ballet scores on 4 March at the Fundacion Juan March. Pianists Miquel Villalba and Jordi Masó perform the Flamenco-flavoured Alegrias and his Mirò collaboration Ariel, both in their two piano incarnations, joined by percussionist Antonio Martin Aranda in Pandora, Gerhard's anti-Fascist ballet composed in exile. The same programme will be recorded at L'Auditori in Barcelona for release on the FICTA label.
Other events in Spain include performances of the Harpsichord Concerto in February in Barcelona by the National Chamber Orchestra of Andorra and of the Pandora Suite in March by the University of Valladolid Youth Orchestra.
If the first half of Gerhard's creative life was centred on Barcelona, the second half was spent in the UK, living in Cambridge and rising in prominence thanks in large part to a sequence of BBC commissions. A major project in 2020 is the BBC Philharmonic's new recording of the complete 40-minute Don Quixote conducted by Juanjo Mena, part of Chandos's ongoing Spanish series with these artists. This is only the second recording of the complete ballet, widely regarded as one of Gerhard's most masterly scores.
The Chandos disc will see Don Quixote combined with Pedrelliana, Gerhard's memorial tribute to his teacher and mentor Felipe Pedrell, and the suite from Alegrias composed for Ballet Rambert. The BBC Philharmonic under Juanjo Mena presents the same programme in an all-Gerhard concert at MediaCityUK in Manchester on 1 April.
Elsewhere in the UK the Gerhard anniversary year begins in London with a focus by the Park Lane Group at the Southbank Centre with young performers featuring a range of the composer's chamber and instrumental works, across three programmes in February and March. Huddersfield University hosts a Gerhard conference on 7-8 July with support from the British Academy, titled Roberto Gerhard: Re-appraising a Musical Visionary. Leading scholars with a special interest in Gerhard will gather for a series of lectures and musical performances exploring themes of exile and cross-cultural collaboration.
If you are planning Gerhard performances later in 2020, please let us add them to our web calendar by emailing [email protected].
> View a list of Gerhard anniversary performances
> Explore Gerhard's life and music
> Listen to our Gerhard playlist on Spotify
> Further information on Work: Don Quixote

Boosey & Hawkes Composer News