Robin Holloway: premiere of Europa & the Bull in Liverpool
(September 2015)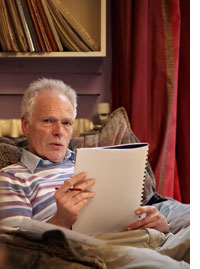 Robin Holloway's new work for tuba and orchestra, Europa & the Bull, is premiered in Liverpool on 8 October with further performances planned next season in San Francisco.
Europa & the Bull, Robin Holloway's new concertante work for tuba and orchestra, is premiered by the Royal Liverpool Philharmonic Orchestra under Andrew Manze on 8 October at Philharmonic Hall with soloist Robin Haggart. Co-commissioners the San Francisco Symphony and Michael Tilson Thomas will give the work's North American premiere next season. Europa & the Bull was commissioned with generous support from the Britten-Pears Foundation.

The composer describes how the new 20-minute work "was initially inspired by my love of the noble solo instrument that is usually confined to roaring or brooding at the bottom of the brass section, plus admiration for some outstanding players of it when a rare moment of exposure reveals, as well as sheer power, their powers of cantabile and eloquence.

"Perhaps the piece should be called a scena: its more immediate inspiration is the tale familiar from Ovid and other antique poets, then taken up by painters throughout the ages, of Jupiter's lustful hankering for the beautiful nymph Europa: his wooing her in the form of a bull, his plunging off with her into the turbulent ocean, his having his wicked way and gratifying her, willing or unwilling, and thus the foundation of the continent born of his incontinence."

A further Holloway work for solo instrument and orchestra, a new organ concerto entitled For Ever Singing as they Shine, will be premiered next April in Gelsenkirchen with soloist Bernhard Buttmann.

Holloway's orchestration of Debussy's songs, C'est l'extase, receives performances with Renée Fleming as soprano soloist in the work's UK premiere at the Barbican with the BBC Symphony Orchestra and Jiri Belohlavek on 5 February and its Swedish premiere with the Royal Stockholm Philharmonic Orchestra and Sakari Oramo on 10 February. Renée Fleming was the soloist when C'est l'extase was premiered in 2013, with the San Francisco Chronicle describing how "a beautiful and often imaginative treatment of familiar material offered a revelatory exploration of Debussy's musical style".
> Further information on Work: Europa & the Bull
Photo: Charlie Troman

Boosey & Hawkes Composer News