Robin Holloway: reviews of Fifth Concerto at BBC Proms
(September 2011)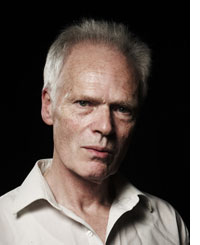 The Fifth Concerto for Orchestra by Robin Holloway was described as "lustrous and glitteringly orchestrated" (The Observer) at its BBC Proms premiere in August.
Robin Holloway's new Fifth Concerto for Orchestra received a resounding premiere at the BBC Proms on 4 August. Donald Runnicles conducted the BBC Scottish Symphony Orchestra in the 28-minute score, compact and densely concentrated in contrast to Holloway's often expansive scale. This links the work back to the composer's early constructivist output, embracing the First and Second Concertos.

Rather than telling stories or depicting places or events the five movements are abstract realisations of colour. As the Telegraph observed, this distinguishes the concerto "from the more narrative, often quotation-based structures that have become his hallmark."

"And colourful the piece certainly is, in the way it relishes orchestral textures, superimposing them in densely woven layers. Schoenberg's Five Orchestral Pieces are an acknowledged influence. But rather than the confrontationalism of that gritty masterpiece, the idiom is closer to the post-impressionism of Ravel, Zemlinsky and even Bax. That makes for five aurally beguiling studies …a richly rewarding set of orchestral tableaux, and a fine vehicle for the BBC Scottish to show its agility and refinement."
Daily Telegraph

"To enter Holloway's imaginative world is to delve into an encyclopaedia. There's a large (and acknowledged) debt to Schoenberg here, but also echoes of Strauss, Ligeti, even Holst. Similarly, the harmonic spectrum veers from dark atonality to perky major-chord endings."
The Times

"Holloway describes the Fifth Concerto as a kind of 'colour symphony' beginning with a black first movement and progressing through an airy green scherzo, brief adagio in rainbow shades, a limpid blue andante and ending with a pillar-box red finale. Texturally and harmonically, the music also moves from complexity to clarity, passing through some sumptuous and vividly evocative territory en route."
The Guardian

Robin Holloway retired this summer from Cambridge University, and a concert celebrating his 35 years of teaching and mentoring composers, including Judith Weir, Robert Saxton and Thomas Adès, takes place there on 12 November. For the programme Holloway has chosen his reworking of Bach for two pianos, Gilded Goldbergs, to be performed by ex-pupils Huw Watkins and Ryan Wigglesworth. The work's stylistic expansions, from baroque to post-modern, described as "intriguing, witty and wholly engaging" (Gramophone), offer a suitably grand summing-up of Holloway's wide-ranging skills and imagination.

View the Fifth Concerto for Orchestra in our Online Scores library.

> Further information on Work: Fifth Concerto for Orchestra
Photo: Charlie Troman

Boosey & Hawkes Composer News