Roderick Williams on Michel van der Aa's new opera Upload
(April 2022)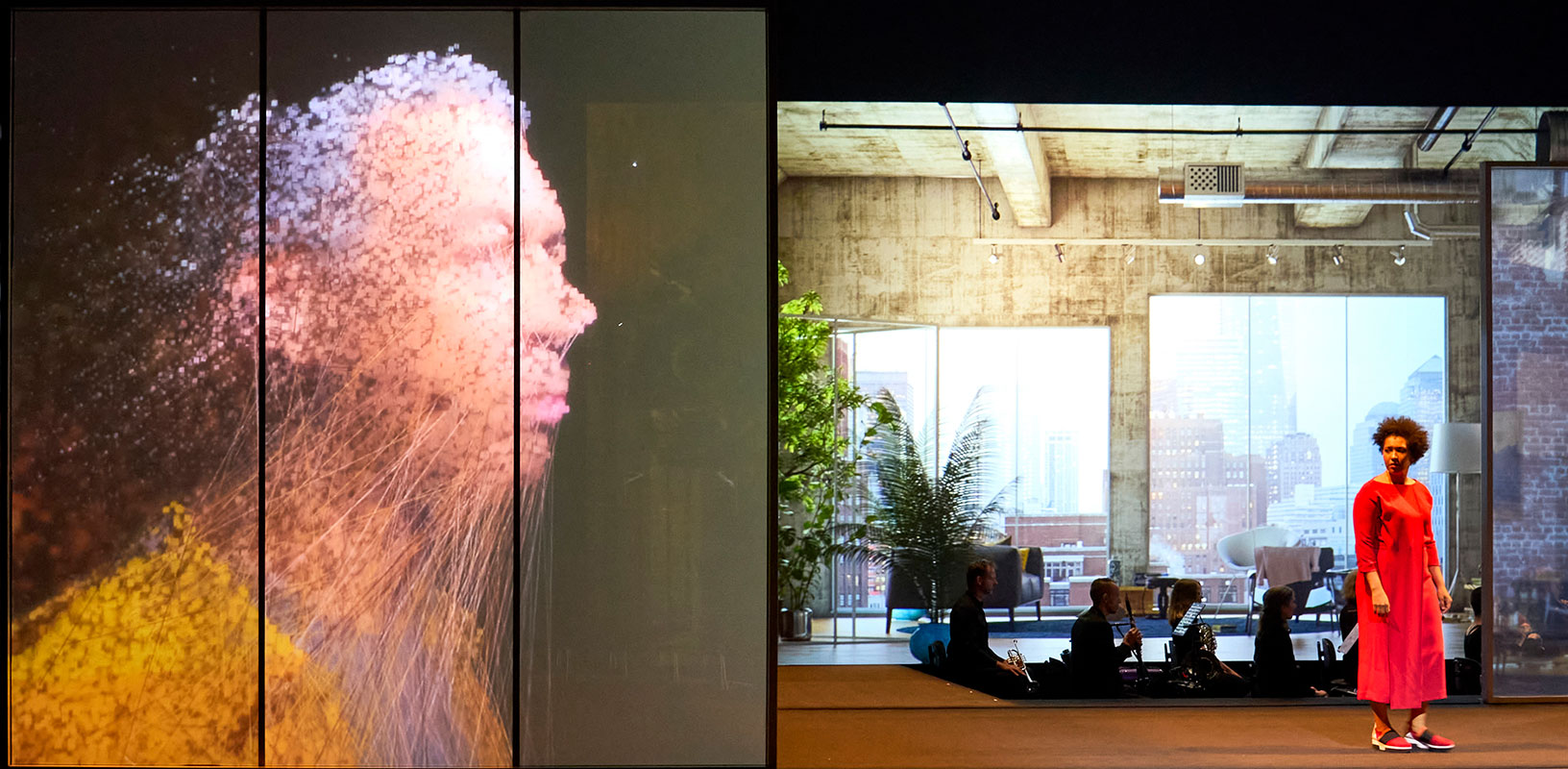 We sat down with singer Roderick Williams to discuss his role in Michel van der Aa's new multimedia opera Upload which receives its US premiere in New York this week.
Upload, the new film opera by Michel van der Aa, drew critical acclaim at its world premiere at the Bregenz Festival in Austria on July 29. The production has since travelled to Dutch National Opera, this week to Park Avenue Armory New York (23 March) and then onto Cologne Opera (18 April).
Internationally renowned baritone Roderick Williams stars in Michel van der Aa's modern drama centred on a father and daughter (played by Julia Bullock) who struggle to connect after the ailing father decides to upload his conscious mind into a digital version of himself. Williams spoke with us about being part of Michel's opera journey from the beginning, and the challenging process of learning this new opera from PDFs and the sound of 'singing cows'!
> Read Williams's "Performer Picks" interview, in which he discusses his favourite works in the Boosey catalogue.
Can you trace back the journey you've been on with Michel Van der Aa's operas?
My professional relationship with Michel Van der Aa goes back to 2006 when I worked with him on his first opera, After Life. This was a blend of 2D film and live action. He was interested in the interaction between stage and film and trying to blur the lines between the two. He then began work on his second opera, Sunken Garden, in which the film aspect was now in 3D, pushing the boundaries of what was possible. He explored this stage and film relationship more in Blank Out, for which I was pre-filmed rather than appearing live. This then built up to the experience of his most recent opera, Upload, because here I'm on screen as though filmed like Blank Out, but then also singing live on stage, interacting in the moment with Julia Bullock who plays my daughter.
Michel is fascinated by some really profound subjects, generally speaking, the nature of death, and whether there is an afterlife. There's some of this in Upload with my character being digitally uploaded and available in digital form for the rest of opera. This is a preoccupation of Michel's so consequently, a lot of his operas deal with deep personal trauma, which makes the performing of them quite tough from an emotional point of view. I've grown so used to Michel's music style; I really love his pulsing rhythms, really rich harmonies and the sounds he makes combing live instruments with electronics.
Working with Michel
His own compositional style is quite unique, I think maybe because he comes at it from a sort of sound engineering background. In multi-media projects like Upload, he's the composer, the filmmaker and the stage director. His ears are so acute; I remember there were times where he'd be giving us stage directions while the band was rehearsing next door, and he'd suddenly break off and go, "Oh no, the trumpet's sharp in that chord". Honestly, if Michel could sing as well, he wouldn't need me at all!
How did you go about learning your part in Upload?
As soon as he's written a scene he can send us the score in digital format first, as a PDF and with computer generated audio files. The audio can be a pretty faithful guide to how the mix of live orchestration and computer-generated track will sound (with the exception of the vocal lines which we all think sound like singing cows!) so it's really useful for our preparation. I learned Upload simply by repetition – look at the score, close my eyes, play the track and then see where I went wrong. Repeat that over and over again till it's correct! Learning Michel's music, which can be fairly complicated, can be about remembering how long the rests are in between your entries and counting every bar that changes time signature, and then you can just sing it back like Pavlovian dogs in a strange way. His sung rhythms often go across the conducted beats in a way that sounds very conversational, and very organic. However, if you look at the conductor and compare it to what you hear, you'll discover what we're singing bears little relation to the beats of the bar!
> Further information on Work: Upload
Photo: Bregenz Festival/Anja Koehler

Boosey & Hawkes Composer News