Rodney Friend Offers Advice to the Young Orchestral Violinist
(May 2006)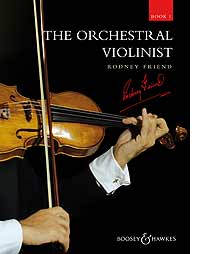 Rodney Friend Offers Advice to Young Orchestral Violinists
The most frequent refrain from members of an audition panel after auditions for an orchestral vacancy is without a doubt, "They play their concertos well enough, but for the excerpts, they didn't have a clue!"



Just as often, young players will say, "But I've never had the chance to play all of these excerpts in an orchestra; I don't know what to do with them!"

The first two volumes of new Orchestral Violinist series distil Rodney Friend's expertise by assembling extracts from each work as self-contained studies. Detailed fingerings have been applied, and workable bowings are reproduced in red solving all of the technical problems faced by the player. More than just a collection of difficult passages for the aspiring orchestral professional, these extracts from the classical romantic & 20th-century concert repertoire reveal the tricks of the trade.

"I am of the opinion that The Orchestral Violinist, as devised by Mr Rodney Friend, is the most valuable and inspirational guide and reference for any aspiring orchestral musician." —Ida Haendel

Rodney Friend is recognised internationally as one of the most outstanding English-born violinists. As a soloist, chamber musician, leader/concertmaster, director and teacher he has appeared worldwide with the greatest musicians of the last forty years.
> Further information on Orchestral Violinist 1

Boosey & Hawkes Composer News