Schostakowitsch und Fußball
(October 2019)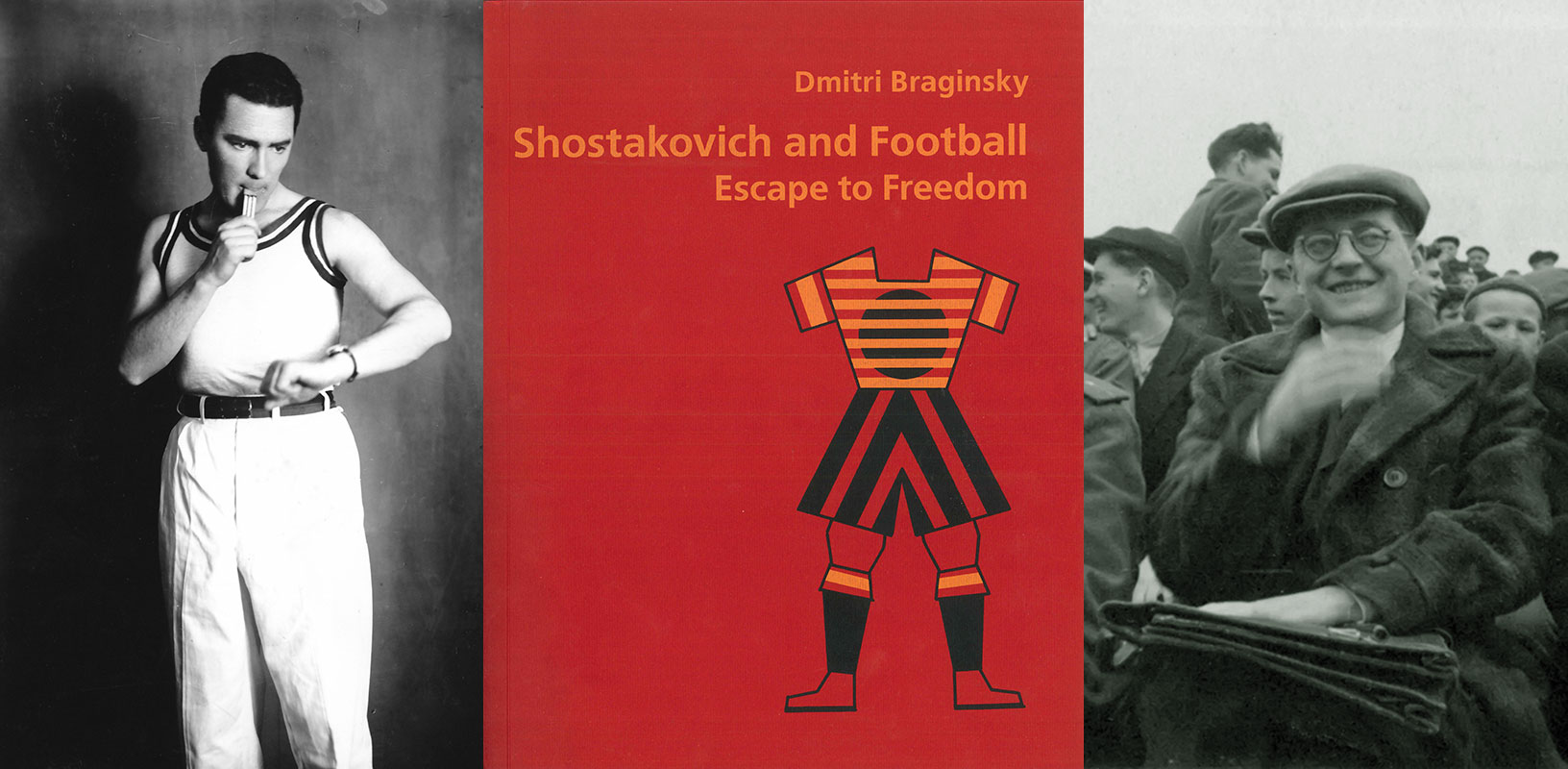 Eine bemerkenswerte neue Buchpublikation widmet sich der Sportbegeisterung des Komponisten.
Eine bislang eher weniger beachtete Facette Dmitri Schostakowitschs ist seine Leidenschaft für den Fußball. Im kompositorischen Schaffen hat sie sich vor allem im 1930 vollendeteten Ballett Das goldene Zeitalter niedergeschlagen. Dies handelt nicht nur von einer sowjetischen Fußballmannschaft, die in eine westliche Metropole eingeladen wird, was zu einem Widerstreit der Kulturen und Systeme führt. Vielmehr bildet – neben allerlei Verwicklungen, Liebeleien und Auseinandersetzungen rund um einzelne Figuren – ein aktionsreiches, musikalisch aufs Originellste ausgemaltes Match das Zentrum des Stücks. In seinem ursprünglich auf Russisch verfassten und nun auf Englisch vorliegenden Buch spürt der Autor Dmitri Braginsky anhand historischer Dokumente und vieler erstmals publizierter Fotos der lebenslangen Fußball-Begeisterung Schostakowitschs nach, die zu einem inneren Fluchtort für sein streng kontrolliertes Dasein wurde. Eine faszinierende Mischung aus Geschichtsschreibung und Biographik, Sport und Musik vor dem soziokulturellen Hintergrund sowjetischen Lebens von den 1920er bis zu den 1970er Jahren.
"Ein faszinierendes Buch ... Dank der Ermutigung und Unterstützung der Witwe des Komponisten erhielt Braginsky Zugang zum Schostakowitsch-Familienarchiv in Moskau, wo er eine Fülle von bisher unbekanntem Material entdeckte ... Schostakowitsch liebte das Spiel wie ein Experte, ein versierter Connaisseur, ein Gourmet." (BBC Music Magazine)
> Beispielseiten aus dem Buch ansehen*
> Das Feature zum Buch in der Moscow Times lesen
> Ein Radio-Interview mit dem Autor auf Classical MPR hören
Shostakovich and Football: Escape to Freedom
von Dmitri Braginsky
ISBN 978-5-900539-13-3
DSCH Publishers 2019
196 Seiten, kart.
> Im Boosey-Onlineshop bestellen
*aus "Shostakovich and Football: Escape to Freedom" von Dmitri Braginsky, aus dem Russischen übersetzt von Alison Yermolova, © DSCH Publishers, Moscow, 2018. © Dmitri Braginsky, Koncept, Text, Fotoauswahl, 2018. Verwendung mit freundlicher Genehmigung.
Abb.: Schiedsrichter in 'Das goldene Zeitaler' (GATOB 1930), Schostakowitsch im Fußballstadion (1940er Jahre)

Boosey & Hawkes Composer News