Sebastian Currier's Quanta Receives World Premiere in China
(March 2013)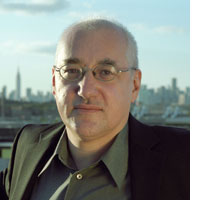 Works by distinguished composers outline concert in Beijing
The world premiere of Sebastian Currier's new orchestral work Quanta will take place at China's National Centre for the Performing Arts in Beijing on Sunday, March 17. Quanta was commissioned by the Centre for the "Composing China" project (2011–12) and will be performed by the China NCPA Orchestra in a star-studded concert that also features works by internationally renowned composers Robin Holloway, Kalevi Aho, Augusta Read Thomas, and Michael Gordon.


Currier describes Quanta as a "sonic analogue to a series of Chinese characters, but from an outsider's point of view. That is, they exhibit energy, gesture, form and emotion, but not meaning per se. Nearly the entire piece consists of a series of short fragments, each separated by a rest—the fragments are two measures long, the rest is one measure—thus, in my mind, simulating the graphic structure of a Chinese text, but in sound rather than image."


The UK premiere of Quanta will be performed by the BBC National Orchestra of Wales, conducted by Richard Baker, at the BBC Hoddinott Hall in Cardiff. Other upcoming performances of Sebastian Currier's works include Boston Musica Viva's presentation of Vocalissimus featuring soprano Zorana Sadiq at the Tsai Performance Center in Boston, MA on March 24 and the world premiere of Links performed by the Solstice Quartet at Fonmon Castle in Fonmon, United Kingdom on May 12—a program that also includes Quartet Set and Quiet Time, the latter a UK premiere.


> View the Online Score to Quanta.
> Further information on Work: Quanta
Photo: Jeffrey Herman

Boosey & Hawkes Composer News