Simon Rattle brings Rite of Spring to Berlin's children
(January 2003)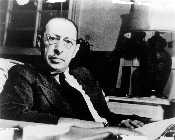 On January 28 the Berlin Philharmonic will present a very special staging of Stravinsky's Rite of Spring.  200 youngsters from diverse and disadvantaged Berlin communities have studied the work together with choreographer Royston Maldoom. Their presentation will be accompanied by the orchestra's live performance of Stravinsky's music under the direction of its Chief Conductor and Artistic Director Sir Simon Rattle.



On January 27, before the regular evening concert featuring The Rite of Spring, Sir Simon Rattle and members of the Berlin Philharmonic will  present the result of an education project, created with 100 secondary schools pupils from Berlin during the last months. Inspired by this key work of modern classical music and by Stravinsky's musical language and thinking in general, they have, in collaboration with musicians from the Berlin Philharmonic, created their own Rite of Spring.

Both projects belong to the orchestra's newly founded education program Zukunft@BPhil (future at the Berlin Philharmonic), a new initiative of Sir Simon Rattle, designed to bring the music of the Berlin Philharmonic to the widest possible community. As the conductor explains "music is not luxury at all, but a basic need and shall be a vital and essential part of everyone's life. Zukunft@Bphil shall create confidence within our society and encourage people to rely on their creativity".

 
> Further information on Rite Of Spring (Full score - Masterworks)

Boosey & Hawkes Composer News