Simpson's Israfel in Glasgow, The Immortal in Manchester
(June 2015)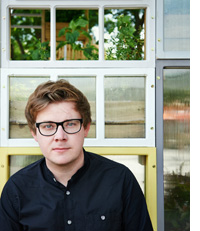 New works by young composer Mark Simpson include Israfel for orchestra, premiered in Glasgow in April, and The Immortal commissioned by Manchester International Festival for premiere on 4 July.
Mark Simpson's new orchestral concert-opener Israfel was premiered in April by the BBC Scottish Symphony Orchestra in Glasgow, conducted by Andrew Litton. The 10-minute score is named after the fiery angel of Koranic and Judeo-Christian scripture "whose heart-strings are a lute, and who has the sweetest voice of all God's creatures". This line from Edgar Allan Poe's poem Israfel (1831) chimed with the composer who "wanted to write a piece that sang, morphed, moved, moved us... something otherworldly, something transcendental – something to shake us".

"…there's something refreshing about Simpson's honesty. This music isn't shy; it doesn't play hard to get. It isn't trying to be anything but itself, and its blithe, uninhibited energy pays honour to Poe's "Israfel, who despisest an unimpassioned song".
The Guardian

"…a good piece, ambitious in its canvas, short, but of epic dimensions, wide-screen in its feel, but with a melodic spirit at its heart."
The Herald

The Manchester International Festival presents the world premiere of Simpson's largest-scale work to date, a 'modern-day oratorio' entitled The Immortal. The 30-minute score for orchestra and voices is performed at the Bridgewater Hall on 4 July by baritone Mark Stone, the choral voices of EXAUDI and the BBC Philharmonic, when Simpson's new Composer in Association role with the orchestra is launched by the baton of Chief Conductor Juanjo Mena. The new work was commissioned by Manchester International Festival with support from the MIF Commissioning Circle and Sky Arts Academy Scholarship in association with IdeasTap.

Inspired by John Gray's book, The Immortalization Commission, Simpson's work explores the obsession with death that lies at the heart of the human experience. For most of our history religion provided a clear explanation for life and the afterlife. But in the late 19th and early 20th centuries this framework came under relentless pressure as new ideas – from psychiatry to evolution to Communism – seemed to suggest that our fate was now in our own hands. The world premiere of The Immortal is paired in Manchester with Mozart's Requiem, a further reflection on death and the beyond.

> Listen to Podcast introduction to The Immortal from Manchester International Festival


The Immortal's text was written by Melanie Challenger who is librettist for Simpson's forthcoming opera Pleasure. The premiere production starring Lesley Garrett is staged for Opera North by Tim Albery, touring in April/May 2016 from Leeds to the composer's native city of Liverpool, then to Aldeburgh and the Lyric Hammersmith presented by The Royal Opera.
> Further information on Work: The Immortal
Photo: Kaupo Kikkas

Boosey & Hawkes Composer News