Sinfonische Premieren im September
(September 2022)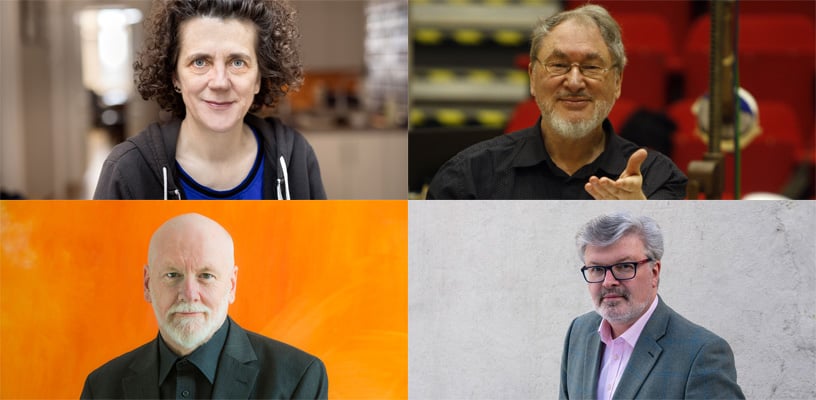 Die neue Spielzeit beginnt für unsere Komponistinnen und Komponisten mit einer Reihe von Uraufführungen. Im Konzert-Bereich heben prominente Klangkörper, Solist*innen und Dirigenten eine Reihe interessanter Werke aus der Taufe.
Bereits Anfang September bestritten Yo-Yo Ma und der Komponist selbst mit dem National Symphony Orchestra die Uraufführung von Paquito D'Rivera neuem Werk The Journey, einem Doppelkonzert für Violoncello, Klarinette und Orchester. Das Stück ist eine Hommage an die Freundschaft des Komponisten und Klarinettisten mit dem berühmten Cellosolisten, aber auch an seine Jugendzeit im kulturell vielfältigen Kuba. The Journey wurde zusammen mit The Elephant and the Clown, einem der populärsten Orchesterwerke D'Riveras.
Paquito D'Rivera:
The Journey (2020)
Konzert für Violoncello, Klarinette und Orchester
UA: 08.09.2022 Filene Center, Vienna, VA
Paquito D'Rivera / Yo-Yo Ma / National Symphony Orchestra, Washington / José Luis Gomez
> mehr über das Stück
*
Das Sinfonieeochester Trondheim stellt am 22. September Olga Neuwirths neues, von Jasper Johns inspiriertes Doppelkonzert mit dem Titel According to What vor. Weitere Aufführungen in dieser Saison folgen beim Musikprotokoll in Graz (7. Oktober), beim Schwedischen Kammerorchester (26. Januar) und beim Orchestre de chamabre de Paris (23. April). Die Grundidee des Werks ist, "dass diese beiden heterogenen Soloinstrumente, ein Cello und ein Set von Schlagwerkinstrumenten, das hauptsächlich aus ("gestimmten") Fundstücken besteht, eine ständige Verschiebung des Fokus durch multiple rhythmische und harmonische Fragmente bewirken sollen, die in verschiedenen musikalischen Kontexten wiederkehren und so einen spielerischen Ansatz unterstützen", so die Komponistin.
Olga Neuwirth:
According to What (2022)
für Violoncello, Percussion und Kammerorchester
UA 22.09.2022 Olavshallen, Trondheim
Tanja Tetzlaff / Hans Kristian Kjos Sørensen / Sinfonieorchester Trondheim / Baldur Brönnimann
> Konzertinfo Trondheim / Konzertinfo Stockholm
*
Am gleichen Tag bringt das Gewandhausorchester Leipzig unter der Leitung von Cristian Macelaru die _ Short Stories from the Vienna Woods (Symphonische Szenen aus der Oper "Geschichten aus dem Wiener Wald")_ erstmals vollständig zur Aufführung. Eine kürzere Suite von Sätzen aus Grubers erfolgreicher jüngster Oper, die auf dem bitterbösen Volksstück von Ödön von Horváth basiert, wurde bereits im Januar vom Boston Symphony Orchestra aufgeführt – "eine wunderbar reiche Schichtung von Wiener Musiktraditionen von Beethoven bis Berg, jede von ihnen verzerrt und dennoch lesbar ... der unverkennbare Witz des Komponisten durchdringt diese Partitur", urteilte der Boston Globe.
HK Gruber:
Short Stories from the Vienna Woods (2019)
für Orchester
vollst. UA: 22.09.2022 Gewandhaus, Leipzig
Gewandhausorchester / Cristian Macelaru
> Konzertinfo Leipzig
*
Brett Deans neue "Evolutionskantate" In This Brief Moment ist eine Auftragskomposition des City of Birmingham Symphony Orchestra zum hundertjährigen Bestehen des Orchesters. Sie wird am 24. September mit den zusätzlichen Kräften des CBSO Chorus und des Hallé Choir unter Nicholas Collon uraufgeführt. "In drei Sätzen und 45 Minuten Spieldauer gleitet In This Brief Moment mit den expressiven Möglichkeiten, die ein Symphonieorchester, zwei Chöre und zwei Solisten bieten, kühn durch viereinhalb Milliarden Jahre Geschichte, von der Entstehung des Planeten Erde über die ersten Einzeller, das vereinzelte Entstehen von Leben und Lebensformen, die sporadischen Zeiten des Aussterbens ... bis hin zum Auftreten des Homo sapiens und dem kurzen Moment in der Weltgeschichte, in dem das menschliche Leben offenbar seine eigene Zukunft und möglicherweise auch die der Erde selbst in die Hand nimmt", erklären die Autoren. Künftige Aufführungen sind unter anderem beim NDR Elbphilharmonie Orchester in Hamburg (2. Februar), dem Orchestre national de Lyon und den Sydney Philharmonia Choirs geplant.
Brett Dean:
In This Brief Moment (2020–21)
für Soli, Chor und Orchester
Text: Matthew Jocelyn, Charles Darwin, Gottfried van Swieten, 1. Buch Mose (engl.-dt.)
UA: 24.09.2022 Symphony Hall, Birmingham
Jennifer France, Sopran / Patrick Terry, Countertenor / City of Birmingham Symphony Orchestra & Chorus / Hallé Choir / Nicholas Collon
> Konzertinfo Birmingham
*
Nicola Benedetti ist Solistin des neuen Violinkonzerts von James MacMillan, das vom Scottish Chamber Orchestra unter Maxim Emelyanychev in Perth, Edinburgh und Glasgow (28. – 30. September) erstmals gespielt wird. Die Geigerin, die seit langem eine enge Beziehung zur Musik des Komponisten pflegt, geht mit dem Werk sodann auf internationale Tournee und tritt dabei mit der Dallas Symphony (17. November), der St. Louis Symphony (10. Februar) und dem Schwedischen Kammerorchester auf. Das einsätzige Stück umspannt etwa zwanzig Minuten, mit wechselnden Stimmungen und orchestralen Färbungen und reichem "Futter" für die Violine. Es ist der Uraufführungssolistin und Krzysztof Penderecki gewidmet, dem großen polnischen Komponisten, der 2020 verstarb.
28 September, Perth
James MacMillan:
Violin Concerto No.2 (2021)
für Violine und Kammerorchester
UA 28.09.2022 Concert Hall, Perth
Nicola Benedetti / Scottish Chamber Orchestra / Maxim Emelyanychev
> Konzertinfo Schottland
 
Photos: Archiv Boosey & Hawkes

Boosey & Hawkes Composer News