Sing Finzi Winners Announced
(May 2022)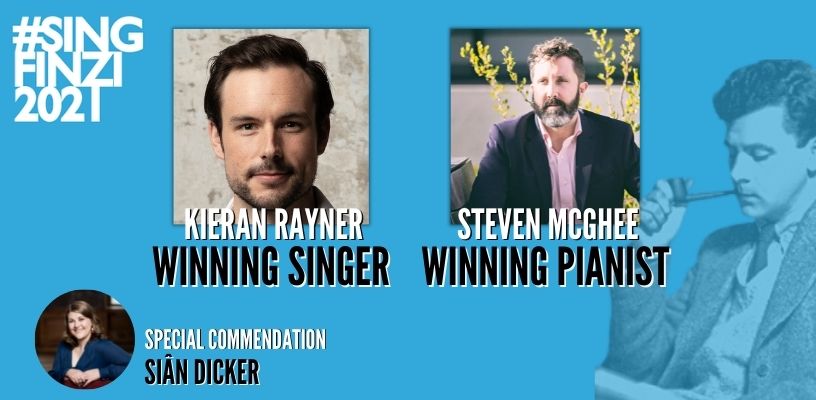 Boosey & Hawkes and the Finzi Trust are pleased to announce the winners of international singing competition Sing Finzi 2021. The winning singer is Kieran Rayner and winning pianist, Steven McGhee.
Launched in 2020 to celebrate Gerald Finzi's 120th birthday year, Sing Finzi 2021 is an online singing competition giving performers the opportunity to perform for a renowned panel and win a cash prize of £5000 for first place singer and £2000 for first place pianist.
The esteemed jury included celebrated singers Anne Schwanewilms, Eric Owens and Roderick Williams, leading pianists Iain Burnside and Joseph Middleton, and industry professionals Helen Lewis (Executive Producer at Decca Classics) and Michelle Williams (Head of Casting at English National Opera).
Entrants were asked to submit videos of themselves performing one or more pieces by Finzi on YouTube. We received over 100 entries which were whittled down to 20 stellar finalists (15 singers and 5 pianists).
> Watch the singer finalists here
> Watch the pianist finalists here
From the 20 finalists, we can now announce Kieran Rayner, baritone, as the winning singer and Dr. Steven McGhee as the winning pianist.
> Watch Rayner's winning entry
> Watch McGhee's winning entry
Kieran Rayner is a London-based New Zealand operatic baritone. He is a Britten Pears Young Artist 2021-22, and was an Independent Opera Fellow 2019-20, a Garsington Opera Alvarez Young Artist 2018-19 and 2021, a Verbier Festival Atélier Lyrique Artist 2018, a Samling Artist, an Internationale Meistersinger Akademie Artist, and was a 2012-13 Freemasons Dame Malvina Major Emerging Artist with New Zealand Opera.
Dr. Steven McGhee works in the genres of art song and opera as a coach, collaborative pianist and conductor. He is the artistic director and principal conductor for Opera MODO, and Department Collaborative Pianist at the Department of Music at Wayne State University.
The panel and competition organisers would also like to give a special mention to soprano Siân Dicker for an exceptional vocal submission.
Finzi's music is rooted in the tradition of Elgar, Parry, Vaughan Williams and those composers in the opening decades of the twentieth century for whom, like Ivor Gurney, song writing was a principal means of expression. About two thirds of his music is vocal and this gives the clue to the most individual characteristic of Finzi's art – his response to words – which results in music that seems inevitably, and effortlessly, to be at one with the poet's thought. This bonding with the authors he set arose out of his remarkable knowledge of English literature, especially poetry. In his teens and as a young man he was introspective and solitary: books were his companions, and in authors like Hardy, Traherne and Wordsworth, he found kinship that shaped the ethos for his own life – Andrew Burn.
The main objective of the competition was to encourage a new generation of international singers to learn and perform Finzi's music. In doing this, Boosey & Hawkes and the Finzi Trust hoped Finzi to be central to repertoire planning going forwards. The online submission process allowed for a truly international competition with full access in all territories. The result was, over 100 entries across 13 different countries, and over 50 towns/cities. Sing Finzi became a major lockdown initiative, amidst a global pandemic, encouraging creative thinking and musical collaboration, and has led to YouTube being populated with hundreds of new performances of Gerald Finzi's songs for people to enjoy internationally. We hope this inspires emerging singers and accompanists to perform and celebrate his music for many years to come.
Sing Finzi 2021 finalists:
Singers
Blake Denson
Siân Dicker
Jonathan Eyers
Emily Gray
Sandeep Gurrapadi
Jamie W. Hall
Joanna Harries
Feride Buyukdenktas
Elinor Rolfe Johnson
Marieke de Koker
Michael Lafferty
Olivia Moss
Kieran Rayner
William Smith
Maximilian Vogler
Pianists
Stefano Cascioli
Gamal Khamis
Esther Knight
Steven McGhee
Karolina Strongowska

Boosey & Hawkes Composer News