Sing James MacMillan with The Sixteen
(April 2020)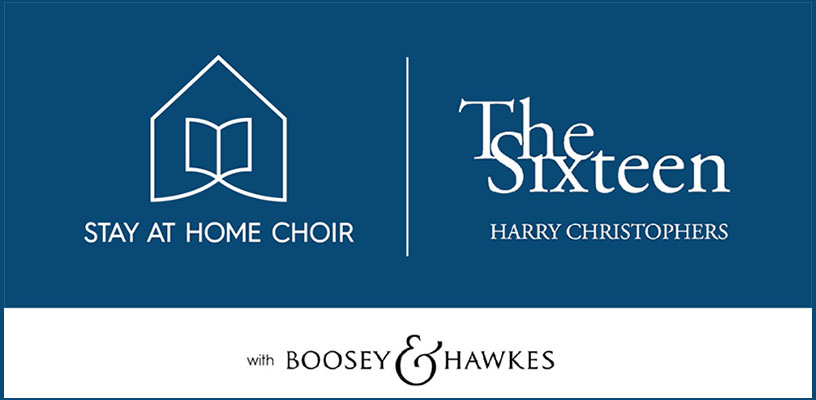 The latest project with the Stay At Home Choir is the opportunity to sing and record James MacMillan's O Radiant Dawn with The Sixteen.
The Stay at Home Choir has announced its third project since the Covid-19 lockdown. The online community of choral singers – both professional and amateur – will have the opportunity to sing and record James MacMillan's popular 'Strathclyde Motet' O Radiant Dawn with The Sixteen. Over 5000 singers have signed up to The Stay at Home Choir, attracted to sing in digital performances from the safety of their home. All that is needed is a PC or laptop, mobile phone, headphones, and a warmed-up voice.
Webinar rehearsals have been set up on Zoom for subscribers to meet James MacMillan online, hear about O Radiant Dawn and interact with singers from The Sixteen in sectional rehearsals. The composer has recorded a web introduction to the project from his Ayrshire home. Performance materials are being made available via the Stay At Home Choir platform and the project is presented in association with Boosey & Hawkes, James MacMillan's publisher.
The Stay At Home Choir is an online platform set up by Tori Longdon and Jamie Wright to keep our musical communities connected at a time when choirs and orchestras can't meet to rehearse. The first two projects have been a recording of the opening chorus of Vivaldi's Gloria with members of the Royal Philharmonic Orchestra and a collaboration with the King's Singers. Beyond the MacMillan digital recording, future projects are planned to feature other Boosey & Hawkes choral composers.
O Radiant Dawn is James MacMillan's most popular choral work, performed in concert and liturgical settings by choirs around the world. It is one of 28 communion pieces assembled into two volumes of Strathclyde Motets, composed between 2005-10. Most of the pieces in the collection are unaccompanied, scored for mixed voices, often with divisi part-writing. O Radiant Dawn is one of the 'Great O' Advent antiphons used in church services on the seven days approaching Christmas but its text is universal and appropriate throughout the calendar.
> O Radiant Dawn
> Strathclyde Motets: Set 1
> Strathclyde Motets: Set 2
The Sixteen has a special relationship with James MacMillan, having created many of his works including Miserere, Stabat Mater and Symphony No.5: Le grand Inconnu, just released on the Coro label. The choir under the direction of Harry Christophers has given close to 300 performances of MacMillan's works to date, with memorable events including his Stabat Mater at the Vatican – the first ever performance to be live streamed from the Sistine Chapel.
> Read Paul Spicer's survey of James MacMillan's choral music

Boosey & Hawkes Composer News