Sofia Gubaidulina: Her Life and Music
(March 2020)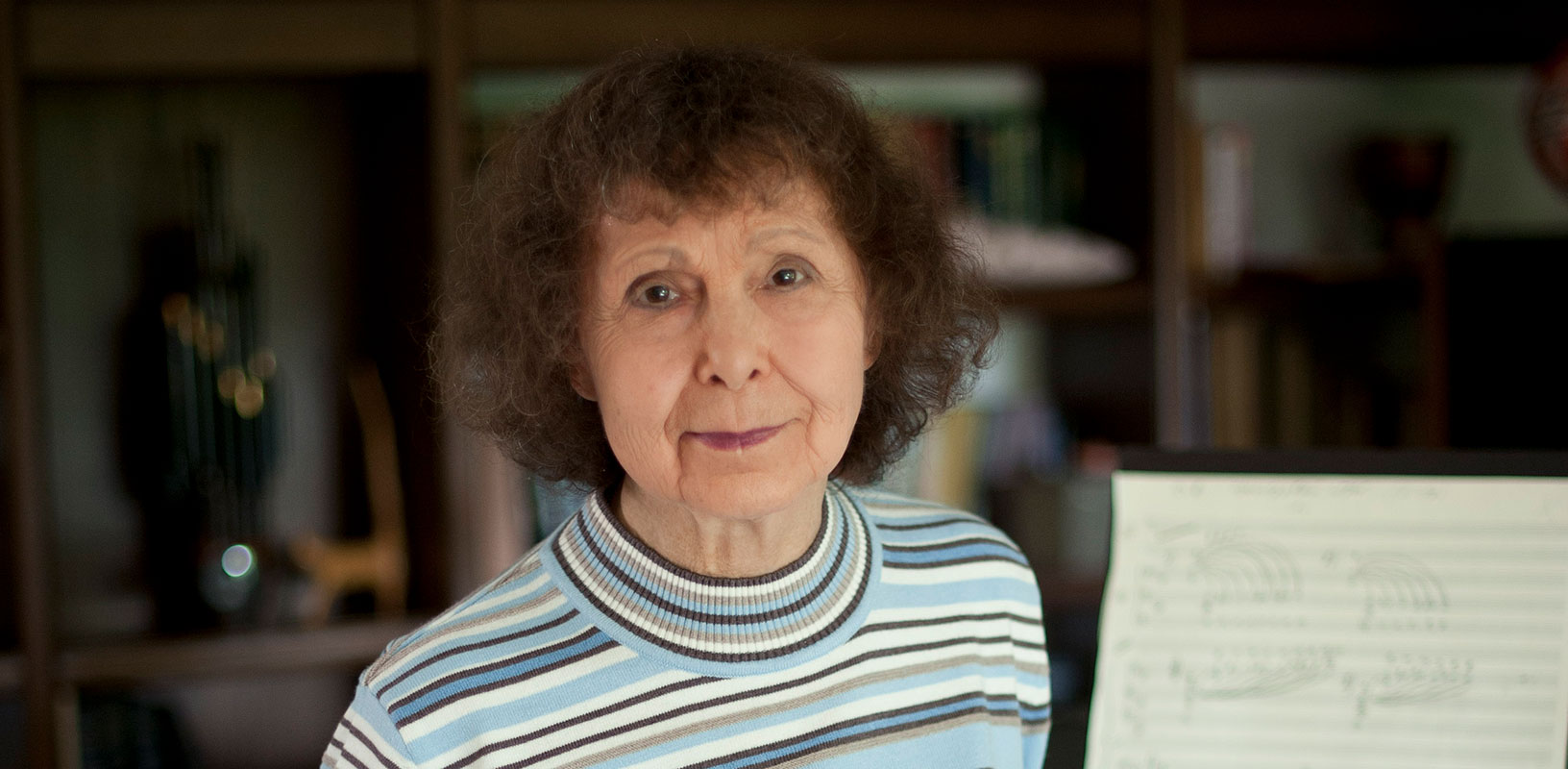 Learn about Sofia Gubaidulina [published by Sikorski], the celebrated Russian composer whose highly individual music has explored humanity's relationship with the divine for over 50 years. Part of a profile series throughout March—Women's History Month—in which we explore the lives, music, and inspirations of extraordinary composers from around the world.
Her Story
Sofia Gubaidulina was born on 24 October 1931 in Chistopol, situated in the Tatar Soviet Socialist Republic. She grew up in the nearby city of Kazan in a mixed Tartar-Russian family, attended the Children's Music School studying piano, graduated from Kazan University, and studied composition with Vissarion Shebalin in Moscow. She collaborated with fellow students Viktor Suslin and Vyacheslav Artyomov to form the trio Astraea, experimenting with improvisation on a collection of folk instruments.
Her student compositions soon attracted attention: Shostakovich encouraged her to follow her own 'incorrect' way. But her avant-garde approach, seeking to emulate the advances of the Western modernists, soon collided with the musico-political establishment. In 1979 she was one of a group of composers, along with Schnittke and Denisov, whose music was denounced and effectively banned from performance.
This might have signalled the end of her career, but her new violin concerto Offertorium was smuggled out of the USSR for Gidon Kremer to premiere in Vienna in 1981. This remarkable blend of Bach's Musical Offering, Webernian concision and Russian sensibility established her name in the West, resulting in a series of prestigious commissions which continues to this day.
Following the collapse of the Soviet Union, Gubaidulina emigrated in 1992 and settled in Germany, leading a quiet composing life in a village near Hamburg, punctuated with travel to premieres and performances around the globe. Celebrating her 90th birthday during the 2021-2022 season, Gubaidulina is today regarded as the senior stateswoman of composition, holding true for 50 years to her singular vision of creativity.
Top Tracks
1. Offertorium
for violin and orchestra / LISTEN
2. Hour of the Soul
for solo percussion, mezzo-soprano and orchestra / LISTEN
3. Seven Words
for cello, bayan and strings / LISTEN
4. Canticle of the Sun
for cello, choir and percussion / LISTEN
5. On Love and Hatred
Oratorio for soloists, 2 choirs and orchestra / LISTEN
CLICK HERE to listen to more music by Sofia Gubaidulina.
Her Inspiration
Sofia Gubaidulina views herself as a gardener rather than an architect: "There are composers who construct their works very consciously; I am one of those who 'cultivate' them. And, for this reason, everything I have assimilated resembles the roots of a tree, and the work its branches and leaves. One can describe them as being new, but they are leaves nonetheless, and seen in this way they are always traditional and old."
In terms of other composers, "Dmitri Shostakovich and Anton Webern have had the greatest influence on my work. Although my music bears no apparent traces of it, these two composers taught me the most important lesson of all: to be myself." It is this rugged independence that has seen Gubaidulina forge her individual approach to composition.
Sofia Gubaidulina draws inspiration from a wide range of literature and philosophy, much of it exploring themes of humanity's relationship with the divine. The settings in her works range from ancient Biblical or liturgical texts, through poetry by St Francis of Assissi, to modern writers such as Rainer Maria Rilke, TS Eliot, Marina Tsvetayeva and Gennadi Aigi.
Her unique blend of ancient and contemporary reaches back to her childhood awareness of music evolving from silence: "I hear the world sounding within me and I want to put this into a musical form and fix it in notes - in the way the prehistoric human wanted to record what had been seen and experienced on the walls of the cave."
Her Collaborations
Sofia Gubaidulina's output includes numerous collaborative works, particularly concertos and ensemble works which often focus on string soloists or the bayan, a distinctive Russian accordion. Her experimentation to create new instrumental sonorities is combined with the traditions of improvisation from her Tartar roots, creating vivid works that occupy a ritualistic or spiritual space.
Violinist Anne-Sophie Mutter, who premiered her second violin concerto In tempus praesans, comments: "Gubaidulina manages to intoxicate the listener immediately, so one is not amazed by the structure, but simply has the feeling: 'It hits you right between the eyes'." Cellist Ivan Monighetti writes of how her music "shows us the way out of the representational world into the sphere of immaterial values. In this sense, all her music is spiritual".
Conductors who have championed Gubaidulina's music have ranged from Gennadi Rozhdestvensky, who first performed the extraordinary cadenza for conductor in her Symphony: Stimmen… Verstummen, to current figures including Simon Rattle, Valery Gergiev and Andris Nelsons. Kent Nagano describes conducting Gubaidulina's works: "She has a very personal aesthetic and understanding of how her music should sound. The inner rhythmic arc in a piece develops its own liveliness of time. As an interpreter of Gubaidulina's music, dealing with this well and carefully is a special challenge."
In November 2021, her powerful new orchestral work The Wrath of God achieved its belated premiere as a highlight at the Wien Modern festival. Other recent works have seen the composer collaborating in her third violin concerto Dialogue: You and I with violinist Vadim Repin, and in her Triple Concerto with bayanist Elsbeth Moser, violinist Baiba Skride and cellist Harriet Krijgh. Her 90th birthday year in 2021 brings the release of a new documentary film titled On Love and Hatred, after her recent opus summum. The composer has collaborated with director Leila Monassypowa for this major biographical survey of her life and composing career.
Photo: Priska Ketterer

Boosey & Hawkes Composer News