Sofia Gubaidulina: Su vida y música
(April 2020)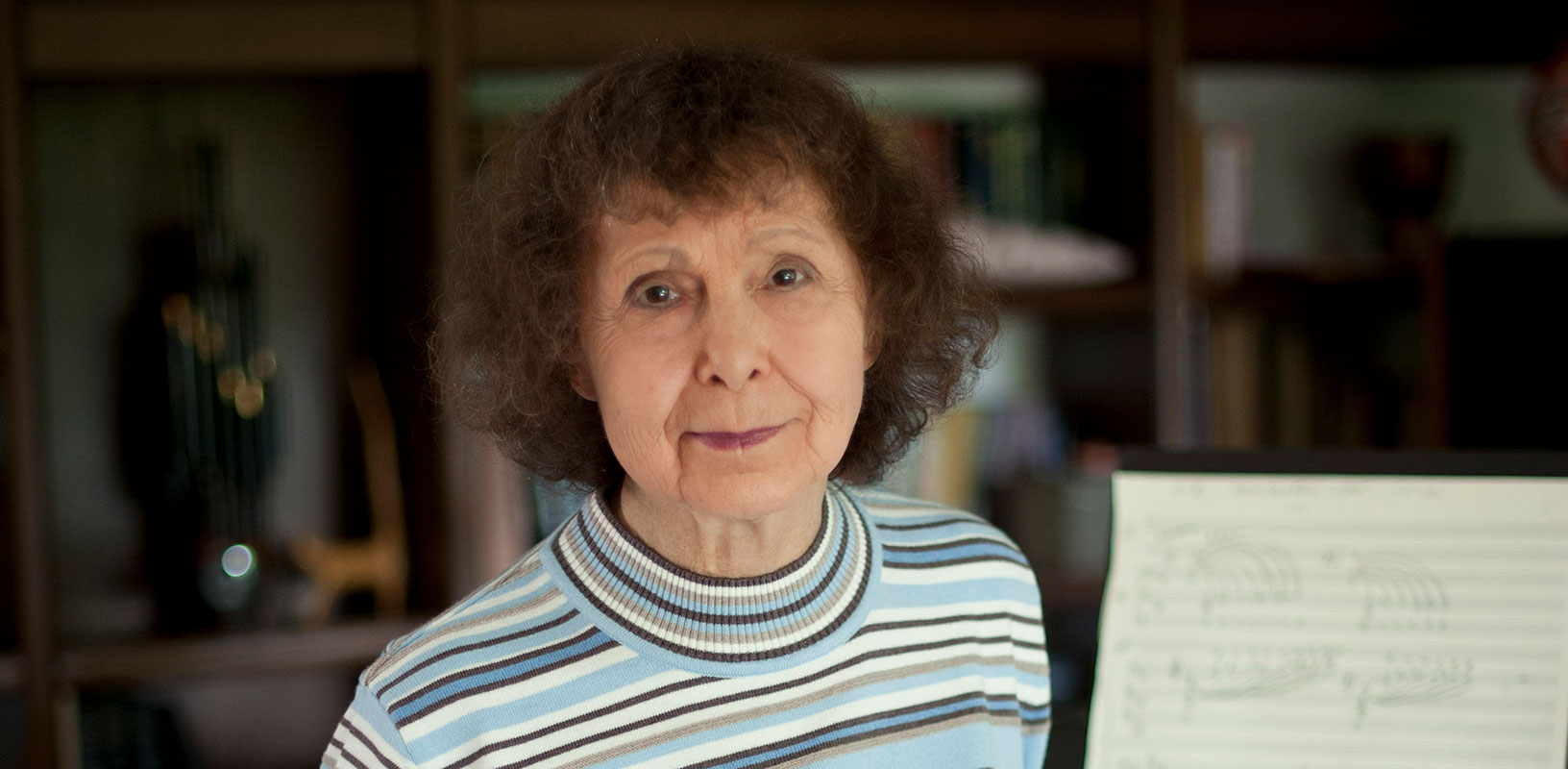 Conozca a Sofia Gubaidulina [publicado por Sikorski], la célebre compositora rusa cuya música altamente individual ha explorado la relación entre la humanidad y lo divino por más de 50 años. Parte de una serie de perfiles a lo largo de marzo, el Mes de la Historia de la Mujer, en la que exploramos las vidas, la música y las inspiraciones de extraordinarias compositoras de todo el mundo.
Su historia
Sofia Gubaidulina nació el 24 de octubre de 1931 en Chistopol, situada en la República Socialista Soviética de Tatar. Creció en la ciudad cercana de Kazán, en una familia mixta tártara-rusa, asistió a la Escuela Musical Infantil, donde estudió piano, se graduó de la Universidad de Kazán y estudió composición con Vissarion Shebalin en Moscú. Colaboró con sus compañeros de estudio Viktor Suslin y Vyacheslav Artyomov para formar el trío Astraea, experimentando una colección de instrumentos folclóricos con improvisación.
Sus composiciones estudiantiles no tardaron en llamar la atención: Shostakovich la alentó a seguir su propio camino "incorrecto". Pero su enfoque vanguardista, que buscaba emular los avances de los modernistas occidentales, pronto chocó con la élite político-musical dominante. En 1979 integró un grupo de compositores, junto con Schnittke y Denisov, cuya música fue denunciada y efectivamente prohibida de ser ejecutada.
Esto podría haber marcado el fin de su carrera, pero su nuevo concierto de violín Offertorium fue contrabandeado desde la URSS para que en 1981 Gidon Kremer la estrenase en Viena. Esta notable combinación de la Ofrenda Musical de Bach, la concisión weberiana y la sensibilidad rusa establecieron su nombre en Occidente, lo que resultó en una serie de prestigiosas comisiones que continúa hasta el día de hoy.
Tras el colapso de la Unión Soviética, Gubaidulina emigró en 1992 y se estableció en Alemania, llevando una vida tranquila y serena en un pueblo cerca de Hamburgo, salpicada de viajes a estrenos y presentaciones en todo el mundo. Con la proximidad de su 90.° cumpleaños en 2021, Gubaidulina es considerada en la actualidad como la estadista de alto rango de la composición, al haberse mantenido fiel durante 50 años a su singular visión de creatividad.
Sus piezas principales
1. Offertorium
para violín y orquesta / ESCUCHAR
2. Hour of the Soul (Hora del alma)
para percusión solista, mezzosoprano y orquesta / ESCUCHAR
3. Seven Words (Siete palabras)
para chelo, bayán y cuerdas / ESCUCHAR
4. Canticle of the Sun (Cántico del sol)
para chelo, coro y percusión / ESCUCHAR
5. On Love and Hatred (Sobre el amor y el odio)
oratorio para solistas, 2 coros y orquesta / ESCUCHAR
HAGA CLIC AQUÍ para escuchar más música de Sofia Gubaidulina.
Su inspiración
Sofia Gubaidulina se ve a sí misma como una jardinera más que como una arquitecta: "Hay compositores que construyen sus obras de manera muy consciente; yo soy uno de los que las 'cultiva'. Y, por esta razón, todo lo que he asimilado se parece a las raíces de un árbol, y la obra a sus ramas y hojas. Una puede describirlas como nuevas, pero aun así siguen siendo hojas; y visto de esta forma, siempre son tradicionales y antiguas".
En lo que respecta a otros compositores, "Dmitri Shostakovich y Anton Webern han tenido la mayor influencia en mi trabajo. Si bien mi música no lleva rastros visibles de ello, estos dos compositores me enseñaron la lección más importante de todas: ser yo misma". Es esta sólida independencia la que vio a Gubaidulina forjar su enfoque individual hacia la composición.
Sofia Gubaidulina obtiene inspiración de una amplia gama de literatura y filosofía, mucha de la cual explora temáticas de la relación de la humanidad con lo divino. Las adaptaciones de sus obras abarcan desde antiguos textos bíblicos o litúrgicos, pasando por la poesía de San Francisco de Asís, hasta escritores modernos como Rainer Maria Rilke, TS Eliot, Marina Tsvetayeva y Gennadi Aigi.
Su combinación única de lo antiguo con lo contemporáneo data de la percepción que tenía en la infancia sobre la música como algo que evolucionaba del silencio: "Escucho el mundo sonando dentro de mí y quiero ponerlo en formato musical y fijarlo en notas: de la misma forma en que el humano prehistórico quería grabar lo que había visto y experimentado en las paredes de la caverna".
Sus colaboraciones
Las realizaciones de Sofia Gubaidulina incluyen numerosas obras colaborativas, en particular conciertos y obras de ensemble, que a menudo se enfocan en solistas de cuerdas o en el bayán, un distintivo acordeón ruso. Su experimentación para crear nuevas sonoridades instrumentales se combina con las tradiciones de improvisación de sus raíces tártaras, creando obras vívidas que ocupan un espacio ritualista o espiritual.
La violinista Anne-Sophie Mutter, que estrenó su segundo concierto de violín In tempus praesans, comenta que "Gubaidulina logra embriagar al oyente de inmediato; a uno no lo asombra la estructura, sino que simplemente tiene la sensación: te golpea justo entre los ojos". El chelista Ivan Monighetti escribe sobre cómo su música "nos muestra la salida del mundo representativo y el ingreso a la esfera de los valores inmateriales. En este sentido, toda su música es espiritual".
Los directores de orquesta que han abogado por la música de Gubaidulina incluyeron desde a Gennadi Rozhdestvensky, el primero en interpretar la extraordinaria cadencia para el director en su Sinfonía: Stimmen… Verstummen, hasta figuras actuales como Simon Rattle, Valery Gergiev y Andris Nelsons. Kent Nagano describe así la dirección de las obras de Gubaidulina: "Tiene una estética y una comprensión muy personales de cómo debe sonar su música. El arco rítmico interno de una pieza desarrolla su propia vivacidad del tiempo. Como intérprete de la música de Gubaidulina, abordar esto de manera correcta y cuidadosa es un desafío especial".
En obras recientes, la compositora ha colaborado en su tercer concierto para violín Dialogue: You and I (Tú y Yo) con el violinista Vadim Repin, y en su Triple Concerto con la bayanista Elsbeth Moser, la violinista Baiba Skride y la chelista Harriet Krijgh. El año de su 90.° cumpleaños en 2021 llega con el lanzamiento de un nuevo documental llamado On Love and Hatred (Sobre el amor y el odio), tras su reciente opus summum. La compositora ha colaborado con la directora Leila Monassypowa para este importante estudio biográfico de su vida y carrera de composición.
> Lista de obras
> Escuchar
> Mirar
Foto: Priska Ketterer

Boosey & Hawkes Composer News