Steve Reich: Nonesuch disc of Double Sextet and 2x5
(September 2010)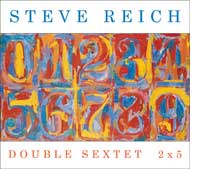 Nonesuch has released Steve Reich's latest disc, featuring Double Sextet and 2x5 performed by eighth blackbird and Bang on a Can.


Steve Reich's latest recording on the Nonesuch label combines two works which explore the interplay of double ensembles (524853). In similar fashion to Reich's Counterpoint series of works, both Double Sextet and 2x5 can be performed by an ensemble comprising a pair of identical chamber groups or by a smaller formation of live musicians playing against their pre-recorded twins.

Buy the new disc from our Online Shop.

Double Sextet was commissioned by eighth blackbird, premiered in 2008, and has been toured extensively by the group in the<?xml:namespace prefix = st1 ns = "urn:schemas-microsoft-com:office:smarttags" /><st1:country-region w:st="on">USA</st1:country-region>, Europe and <st1:place w:st="on"><st1:country-region w:st="on">Australia</st1:country-region></st1:place>. The BBC Music website review of the new disc describes how "Reich employs his beloved phasing techniques to generate a procession of dramatic syncopations, engineering a face-off between two duplicate chamber groups, each comprising of flute, clarinet, vibraphone, piano, violin and cello. As the pace of the playing shifts so too does the mood, alternating from anticipatory to frenetic as, all the while, a complex series of sub-melodies vie for attention. Identical instruments spar and interlock."

2x5 is described by the composer as a rare foray into the soundworld of rock music. Written for Bang on a Can and sharing the bill at its 2009 premiere with Kraftwerk at the Manchester Velodrome, 2x5 is scored for four electric guitars, two pianos, two bass guitars and a couple of drum kits. The Independent describes how the work "features Zappa-esque chordings, doubled slightly out of sync to produce a jerky vibrato effect, over which lines of guitar motifs are neatly stitched."

Reich at 75
Both works on the Nonesuch disc feature in the 75th celebrations for Reich in 2011, together with the recent Mallet Quartet and a new work for the Kronos Quartet. Major events include a two-day celebration in May at the Barbican Centre in London pairing Reich works with fellow minimalists and composers who have followed in his footsteps, a 75th birthday series at Carnegie Hall in New York, and concerts in Stockholm, Essen and Porto. The birthday month of October 2011 brings a Cité de la Musique series in <st1:city w:st="on"><st1:place w:st="on">Paris</st1:place> </st1:city>and an all-Reich concert by the London Symphony Orchestra.


> Further information on Work: Double Sextet

Boosey & Hawkes Composer News