Steve Reich: Radio Rewrite premieres in UK and US
(February 2013)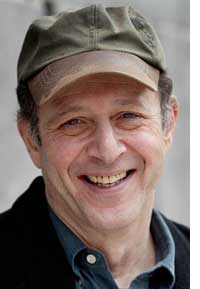 Steve Reich's new ensemble work, with first performances in the UK and US in March, draws inspiration from songs by Radiohead.
Radio Rewrite, Steve Reich's new ensemble work, is premiered at the Royal Festival Hall in London on 5 March, travelling with the London Sinfonietta to Birmingham, Brighton and Glasgow (6-9 March). The all-Reich programme opens with the composer in Clapping Music, and also includes Electric Counterpoint and recent works 2x5 and Double Sextet, conducted by Brad Lubman.

Radio Rewrite is co-commissioned by the London Sinfonietta and Alarm Will Sound, which gives the first US performances at Stanford Live (16 March) and in St Louis (18 March). The 20-minute work is scored for a classic Reich line-up of paired winds, vibes and pianos, plus string quartet and electric bass.

Reich describes how in Radio Rewrite he references songs by Radiohead, viewing this in the continuing tradition of composers using "pre-existing music (folk or classical) as material for new pieces of their own", from Renaissance settings of the L'homme armé song through to reworkings by Stravinsky. "It was not my intention to make anything like 'variations' on these songs, but rather to draw on their harmonies and sometimes melodic fragments and work them into my own piece. As to actually hearing the original songs, the truth is – sometimes you hear them and sometimes you don't."

Reich encountered the music of Radiohead following a performance by Jonny Greenwood of Electric Counterpoint at the Sacrum Profanum festival in Krakow: "It was a great performance and we began talking. I found his background as a violist and his present active role as a composer extremely interesting… When I returned home I made it a point to go on line and listen to Radiohead's music and two songs stuck in my head… The first, third and fifth movements of Radio Rewrite are fast and based on Jigsaw Falling into Place and the second and fourth are slow and based on Everything in its Right Place."

Reich continues to be a central composer for contemporary dance. Rosas performs Anne Teresa De Keersmaeker's choreography of Drumming more than 30 times this season including future dates in Berlin, Amsterdam, Paris and London with musicians from Ictus. Reich is composer in residence with the Dutch National Youth Orchestra this summer with repertoire including Music for 18 Musicians, Three Movements and Tehillim.
> Further information on Work: Radio Rewrite
Photo: Wonge Bergmann

Boosey & Hawkes Composer News