Steve Reich Releases New Book "Conversations"
(February 2022)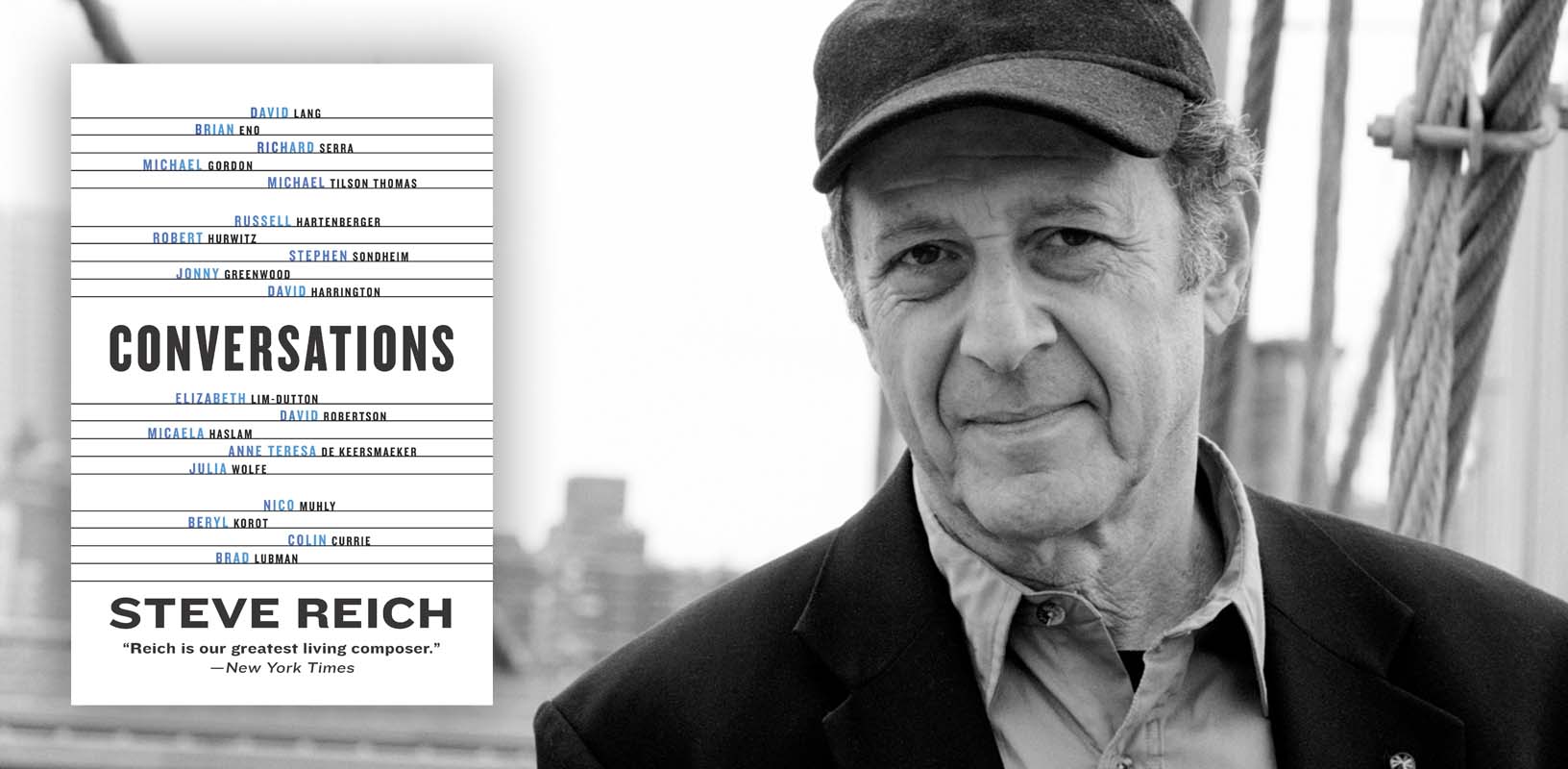 Releasing on March 8, 2022, Steve Reich's Conversations reflects on his career and music through a series of conversations with some of the world's greatest artists, including Stephen Sondheim, Brian Eno, Richard Serra, Anne Teresa de Keersmaeker, and Jonny Greenwood.
"The shoptalk is a thrill to read … A rewarding journey through the career of one of the pioneers of minimalist music." —KIRKUS REVIEWS
"Iconoclastic American composer Steve Reich is singular in his own right, and when he is in conversation with other equally iconoclastic composers, conductors, sculptors, musicians, percussionists, and video artists, sparks not only fly, they sparkle." —BOOKLIST
"Avant-garde composer talks shop with friends and colleagues in these intimate discussions….intriguing lore and insights" —PUBLISHERS WEEKLY
"It's always a delight to read interviews conducted by those thoroughly familiar with their subject, and this collection is no exception, with its conversations between composer Reich (known for his contributions to minimalist music) and his many collaborators, performance partners, and friends over six decades of music. Most interesting is when Reich reflects on his philosophy, which is to make the creative process audible in his music … The playlist of Reich's music is an excellent accompaniment to the reading. An enjoyable series of insights into an artist's creative process." —LIBRARY JOURNAL
Living legend and music pioneer Steve Reich has created works that have become the backbone of contemporary classical music today. He has influenced generations of artists and musicians around the world, including David Bowie, Radiohead's Jonny Greenwood, and Brian Eno. Today, Reich's music is performed around the world, from Carnegie Hall and Lincoln Center to London's Barbican Centre and Tokyo Opera City.
In Conversations (Hanover Square Press Hardcover; on sale March 8, 2022), Reich reflects on his 50 plus–year career through a series of conversations with past collaborators, fellow composers, and musicians influenced by his work. The insightful and wide-ranging interviews give readers not only an intimate glimpse into Reich's music, influences, student days, and the current pandemic, but also into these other incredible artists.
The list of interviews are as follows:
David Lang • Brian Eno • Richard Serra • Michael Gordon • Michael Tilson Thomas • Russell Hartenberger • Robert Hurwitz • Stephen Sondheim • John Schaefer • Jonny Greenwood • David Harrington • Elizabeth Lim Dutton • David Robertson • Micaela Haslam • Anne Teresa de Keersmaeker • Julia Wolfe • Nico Muhly • Beryl Korot • Colin Currie • Brad Lubman
These artists, musicians, and producers helped shape the unique musical and artistic environment in which Reich composed his works for the last six decades years. As he notes in the introduction to Conversations, "Every conversation inhabits a world of its own."
==========
CONVERSATIONS
by Steve Reich
Hanover Square Press | Hardcover
ON SALE: March 8, 2022
Page Count: 352 | ISBN: 9781335425720 | PRICE: $27.99 (CAD $34.99)
Contact:
Leah Morse | Senior Publicist
[email protected]

Boosey & Hawkes Composer News