Steve Reich: WTC 9/11 and Mallet Quartet released by Nonesuch Records
(September 2011)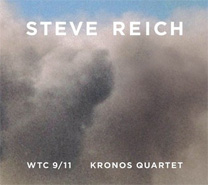 New Nonesuch Records album features three Reich works: WTC 9/11 performed by the Kronos Quartet, Mallet Quartet performed by So Percussion, and Dance Patterns performed by Steve Reich and Musicians
Steve Reich's WTC 9/11, a powerful memorial to the victims of the September 11, 2011 attacks, written for the Kronos Quartet, has been released by Nonesuch Records (2-528236). The album also includes Dance Patterns, performed by members of Steve Reich and Musicians, and the hypnotic Mallet Quartet, performed by So Percussion, as well as a separate live performance of Mallet Quartet on DVD. The title track, WTC 9/11, will be available via digital download (such as iTunes and Amazon) on September 6; the entire album will be available on September 20 in the U.S. and September 26 in the U.K. and Europe.

> Buy the CD from our Online Shop

WTC 9/11, Reich's latest musical creation, integrates a live quartet performance with two additional pre-recorded quartets and pre-recorded voices using stop action sound as a "means of connecting one person to another – harmonically," in the composer's words. Reich and his family lived only four blocks away from the site of the attack. According to the composer: "On 9/11 we were in Vermont, but our son, granddaughter, and daughter-in-law were all in our apartment. Our phone connection stayed open for six hours and our next-door neighbors were finally able to drive north out of the city with their family and ours. For us, 9/11 was not a media event," he added.

In its review of a concert performance WTC 9/11 in May, The Guardian noted the work as "…a restrained, taut piece in three continuous movements, almost ritualised in its plainness, and tremendously powerful in effect." National Public Radio commented: "Reich's [WTC 9/11] crystallizes some of the anxiety and searching that characterized not just the chaos and pain of the attack and its immediate aftermath, but the great unknowns that have characterized the last decade for all of us…"

So Percussion performed Mallet Quartet to much acclaim at celebratory Reich festivals in April and May 2011. Hailed the New York Times: "So Percussion's energetic account…pointed up one of Mr. Reich's current modes of propulsion: a two-tiered approach in which the rhythmically repetitive backdrop that listeners hear as Minimalist (and as the music's distinctively Reichian signature) is offset by restless, melodically adventurous top lines. There were other contrasts here: the repeating figures, for marimbas, were dark and subdued, with a warm, wooden tone; the themes, played on vibraphones, were cool, bright and lively." Mallet Quartet was co-commissioned by four leading international percussion groups: Budapest Palace of Arts for Amadinda Percussion Group, Stanford Lively Arts for So Percussion, NEXUS and Synergy Percussion.

Several composers contributed to the film Counterphrases of Anne Terese de Keersmaeker's Choreography by Thierry de Mey, including Reich with Dance Patterns. Performed on this album by members of Steve Reich and Musicians, the six-minute work features three keyboard instruments in its score: two vibraphones, two xylophones, and two pianos.

Reich's 75th birthday will be celebrated by several international festivals and performing groups, including:

September 11-18
Krakow, Poland
Sacrum Profanum festival
Seven concerts including Ensemble Modern, Synergy Vocals and Bang On A Can All-Stars performing Three Tales, Music for 18 Musicians, Double Sextet, Jonny Greenwood playing Electric Counterpoint, and music by John Adams, among others. Six works will have their Polish premieres.

September 30-October 16
Dresden-Hellerau, Germany
Tonlagen
Two day festival features The Cave, a documentary video opera exploring the roots of Judaism, Christianity and Islam, and the German premiere of Double Sextet, performed by Ensemble Modern and Synergy Vocals.

October 11-18
Cité de la Musique, Paris, France
Reich at 75
Concert series to celebrate Reich's birthday on October 3, including Drumming, Music for 18 Musicians, Different Trains, and Triple Quartet performed by Reich, Ensemble Modern, Synergy Vocals, and others.

October 15
Barbican, London, U.K.
75th birthday concert
The London Symphony Orchestra's all-Reich program featuring Synergy Vocals conducted by Kristian Järvi includes The Desert Music, Three Movements and The Four Sections.

October 18
Melbourne, Australia
Kronos Quartet on Tour
As part of a larger Kronos Quartet tour, the ensemble will perform the Australian premiere of WTC 9/11.

More performances listed here.

Cover Courtesy: Nonesuch Records

Boosey & Hawkes Composer News