Steve Reich Wins 2009 Pulitzer Prize for Double Sextet
(April 2009)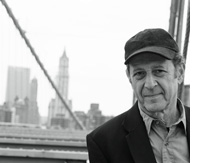 Steve Reich Wins 2009 Pulitzer Prize for Double Sextet
Steve Reich Wins 2009 Pulitzer Prize for Double Sextet (2007)

Steve Reich has won his first-ever Pulitzer Prize for the 2007 work, Double Sextet. Commissioned by eighth blackbird, the 22-minute piece received its world premiere on March 26, 2008 at the University of Richmond's Modlin Center for the Arts in Virginia. Scored for two each of flutes, clarinets, vibraphones, pianos, violins and cellos, Double Sextet can be played in two ways; either with twelve musicians or with six playing against a recording of themselves.

Since the world premiere, eighth blackbird has toured the piece extensively throughout the U.S. to places including Ann Arbor, San Francisco, New York City, Washington, DC, Chicago, Easton (PA), Cincinnati, Orange County (CA), St. Cloud (MN), Tallahassee, and Kennesaw (GA). Internationally, they have performed it in Rotterdam, Liverpool, Melbourne, and Berlin.

Future performances of the piece are scheduled for April 26, 2009 in Los Angeles by eighth blackbird and the Colburn School Ensemble and June 14, 2009 by eighth blackbird and friends at the Ojai Music Festival.

Says Reich, "It was a completely unexpected surprise. I think Double Sextet is definitely one of my best pieces and I'm glad the Pulitzer committee felt the same way."

Click HERE for an excerpt from the live recording of Double Sextet as performed by eighth blackbird and the Oberlin Contemporary Music Ensemble.
 
Steve Reich has been called "America's greatest living composer." (The Village VOICE), "...the most original musical thinker of our time" (The New Yorker) and "...among the great composers of the century" (The New York Times). The Guardian has said "There's just a handful of living composers who can legitimately claim to have altered the direction of musical history and Steve Reich is one of them."

His music has been influential to composers and pop musicians all over the world. It is known for steady pulse, repetition, and a fascination with canons; it combines rigorous structures with propulsive rhythms and seductive instrumental color. It also embraces structures and harmonies of non-Western and American vernacular music (especially jazz)--his studies have included Balinese Gamelan, African drumming (at the University of Ghana), and traditional forms of chanting the Hebrew scriptures.

Different Trains and Music for 18 Musicians have each earned him Grammy awards, and his "documentary video opera" works--The Cave and Three Tales, done in collaboration with video artist Beryl Korot--have expanded the boundaries of the operatic medium, and may well set a trend for opera of the future.

Steve Reich has an exclusive recording contract with Nonesuch Records and is published by Boosey & Hawkes.
> Further information on Work: Double Sextet
Photo credit: Jeffrey Herman

Boosey & Hawkes Composer News