Thom Willems: Impressing the Czar restored to the stage
(May 2017)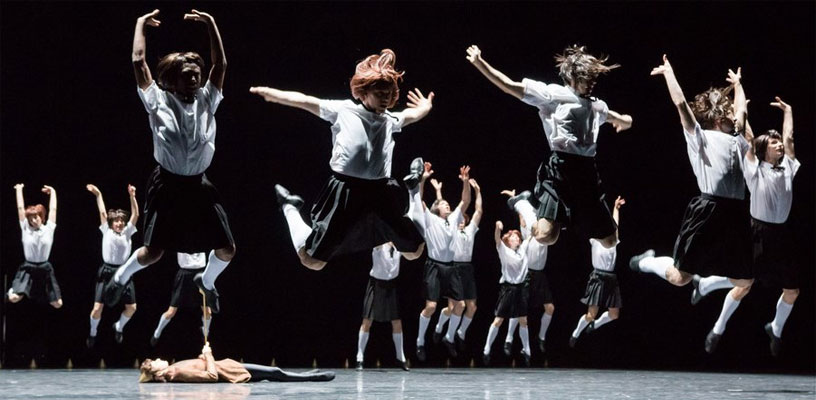 Impressing the Czar, one of the classic dance collaborations between choreographer William Forsythe and composer Thom Willems, has returned to the stage in Dresden, Antwerp and Paris.
The music of Thom Willems, inextricably linked with the classic choreography of William Forsythe, continues to travel the world as their collaborations enjoy frequent revivals or are added afresh to the repertoires of ballet companies. One of their largest-scale achievements, the full-evening Impressing the Czar, was restored to the stage by the Semperoper Ballet in Dresden in 2015, toured to Antwerp last year and Paris this January, and will return to Dresden in January next year.

"…William Forsythe's 1988 masterpiece, Impressing the Czar, a riotous deconstruction of ballet's history, technique and performance practices… The first part, Potemkine's Signature, is an absurd collage of characters and references that turns ballet history on its head. Lush historical costumes cohabit with sleek leotards and a faun-like figure, just as phrases from Raymonda suddenly morph into stretched neoclassical lines…

"Forsythe's real trick is to combine postmodern disruption with a thorough understanding of the classical technique, and the second act, In the Middle, Somewhat Elevated, is an exhilarating demonstration. Originally created as a stand-alone piece for the Paris Opéra Ballet, it got a hero's welcome back at the Palais Garnier…

"Impressing the Czar ends with a mock auction for the arts and a blast of energy in the form of a two-part finale. Thirty-eight men and women in 'catholic schoolgirls'' wigs and uniforms, as Forsythe puts it, return for a hilariously unhinged ritual. Here, The Rite of Spring meets MTV music videos and twerking…"
Financial Times

In the Middle, Somewhat Elevated continues to enjoy an independent life as one of Forsythe's most popular ballets for triple bills, returning to English National Ballet at Sadler's Wells in March and scheduled by Zürich Ballet in November. The Daily Telegraph described it in London as "a bold regeneration of the classic dance vocabulary and instantly recognised as a contemporary masterpiece. It's a dazzling spectacle, performed with fierce intensity by the company… who rise to the challenge of the choreography's technical demands and the thrusting electronic score."

Other recent Forsythe ballet productions with music by Thom Willems include the complete Herman Schmerman at the Paris Opéra Ballet and its pas de deux in Lisbon and New York. Enemy in the Figure ended a Forsythe triple bill in Madrid and Pas./Parts, recently given its US premiere by San Francisco Ballet, will also be staged next year by Boston Ballet.
> Further information on Work: Impressing the Czar
Photo: Ian Whalen

Boosey & Hawkes Composer News