Tod Machover: Schoenberg in Hollywood travels to China
(October 2023)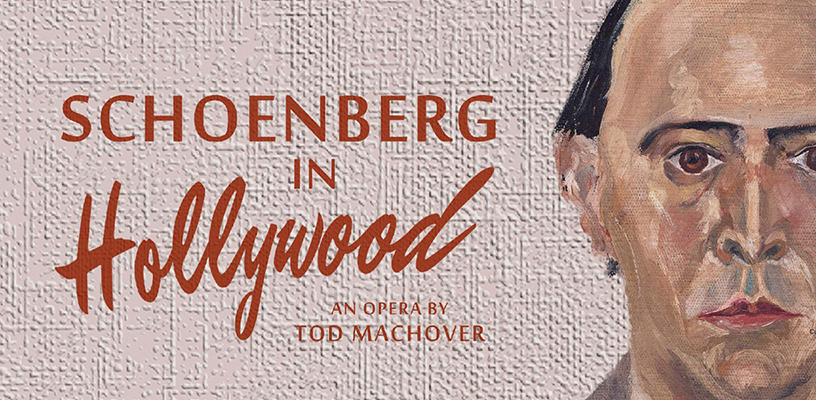 The Asian premiere of Tod Machover's chamber opera Schoenberg in Hollywood is presented on 4 November by the Chinese University of Hong Kong, as part of a celebratory series of events for Schoenberg's 150th anniversary.
Tod Machover's opera Schoenberg in Hollywood, completed in 2018 after a 20-year gestation period, is performed for the first time in Asia on 4 November. The staging at the Grand Theater of Longgang Cultural Center in Shenzen follows successful productions by Boston Lyric Opera in 2018 and by the Vienna Volksoper in 2022. The opera's economical scoring for three singers and small orchestra makes it ideal for chamber opera companies or conservatoire productions.
The performance in Shenzen is part of a series of events hosted by the School of Music of the Chinese University of Hong Kong, celebrating the 150th anniversary of the birth of composer Arnold Schoenberg, including an academic conference and live performances (3-5 November). The opera's cast and creative team is Chinese, apart from baritone Marco di Sapia as Schoenberg who sang the title role in the Vienna production last year. Shi Jinfu directs the staging and Deng Zhuorui conducts the singers and instrumentalists.
> Visit the CUHK website for further information
Tod Machover tells the life story of composer Arnold Schoenberg, who escaped Nazis during World War II by fleeing to Los Angeles. After being offered a chance to write a score for an upcoming blockbuster film, the composer faces an identity crisis and looks back on various events in his life, played out in a pastiche of Hollywood film styles – Schoenberg's childhood is portrayed in a silent film, while a scene re-enacting his wife cheating on him is stylized as a film noir detective flick.
This imaginative treatment for the opera – based on a scenario by the late Braham Murray with a libretto by Simon Robson – led the Boston Globe to exclaim in its review of the premiere: "Schoenberg in Hollywood is a composer biography like no other". The Wall Street Journal praised the well-crafted narrative of the opera as well, concluding, "In Schoenberg in Hollywood the fun is in the journey".
Machover's score often makes references to Schoenberg's own music, as well as music from other Hollywood films, as the Boston Globe detailed: "Full of the spiky dissonances Schoenberg loved, Machover's score references a plethora of the earlier composer's works, as well as films including Psycho and Singin' in the Rain."
Other operas by Tod Machover include Valis (1987) based on the Philip K Dick novel which received a new production at MIT this summer, Skellig (2008) adapting the children's book by David Almond, and Death and the Powers (2010), exploring the integration of man and machine.
> Further information on Work: Schoenberg in Hollywood

Boosey & Hawkes Composer News