Turnage at 60: celebrations and new works
(June 2020)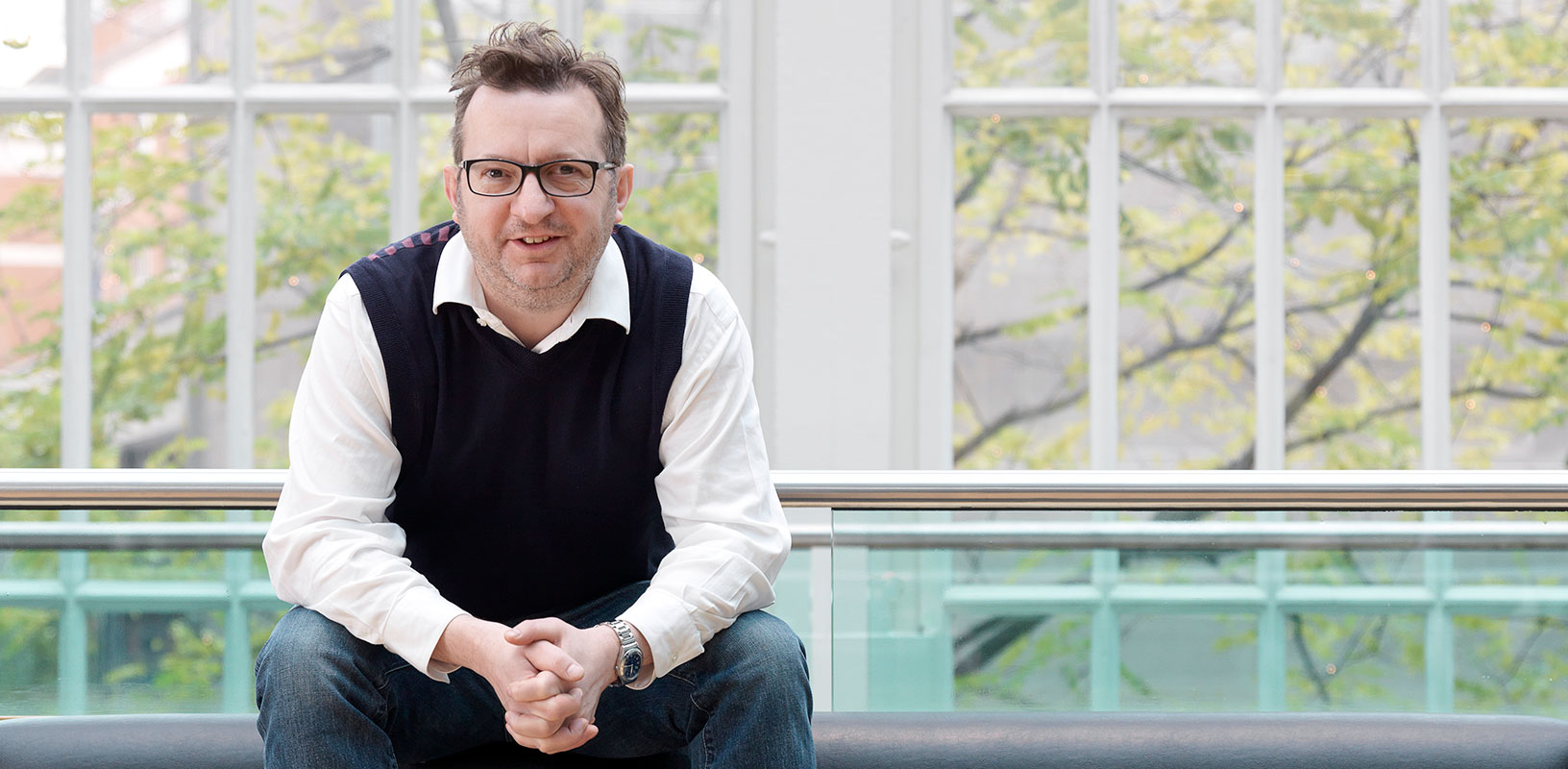 A survey of Mark-Anthony Turnage's new works, composed for premiere in his 60th birthday year, ranges from tributes to his teacher and mentor Oliver Knussen to a major new orchestral score, Time Flies.
Looking at the output of composer Mark-Anthony Turnage in his 60th year, the versatility of his oeuvre goes far beyond his early tag as an 'angry young man' and his fêting as a skilled blender of jazz with classical idioms. There are still social and political events that anger and Turnage's love of the jazz masters remain undimmed, but his music today can just as likely be introspective, lyrical or elegiac and his range of interests can stretch widely across art, history, poetry and literature.
> Listen to a birthday interview with Turnage on BBC Radio 3's Music Matters
Turnage's 60th birthday, celebrated on 10 June 2020, provided a focus for a wide selection of new works, specially commissioned for premiere at home and abroad, but most of the performances have sadly had to be postponed due to the COVID-19 pandemic, including a major feature in June at the Aldeburgh Festival.
The birthday year was launched with the premiere of his new horn concerto Towards Alba, featuring Richard Watkins and the Philharmonia Orchestra under Esa-Pekka Salonen. The Guardian described how the concerto "effectively depicts contrasting images of dawn and sunrise, and its inspiration is in part literary. The long central Aubade, with its elegiac solo writing and penumbral pedal points, derives from Philip Larkin's poem of the same name, in which the returning light also brings with it a bitter awareness of mortality. The outer movements are brief and tautly structured. The first, simply called Alba, is an assertive call to action, while the finale, based on Donne's The Sun Rising, is all closely woven counterpoint and snappy syncopations. It's a fine vehicle for Watkins, who played it with great warmth of tone, lyrical refinement and understated virtuosity."
As lockdown in the UK took force, two new Turnage works for voice and ensemble remained unheard. Owl Songs, written for soprano Claire Booth and eight instrumentalists, was commissioned by the Nash Ensemble and the Wigmore Hall. It sets poetry featuring the owls that so personified Oliver Knussen, the composer who was a vital teacher and mentor for Turnage, as a schoolboy aged 16 through to Knussen's death in 2018. The collected texts range from Tennyson and Baudelaire to Emily Dickinson and Edward Thomas, with a refrain asking "Why can't we all be like that wise old bird?" Black Milk was commissioned by Psappha for acclaimed jazz singer Ian Shaw and an ensemble of 16 players. It fulfils Turnage's long-held ambition to create a new setting of Paul Celan's celebrated Death Fugue poem, which was penned in the darkest final days of World War II and contrapuntally wove themes of life and death in the camps with elusive tango metres. Turnage's title refers to Celan's image of the "Black milk of dawn" that opens each of the poems sections. The scores for both Owl Songs and Black Milk can be viewed at our Online Scores website.
The premiere of a major new orchestral work, Time Flies, has also had to be postponed because of lockdown restrictions. Co-commissioned by the Tokyo Metropolitan Symphony Orchestra, BBC Radio 3 and the NDR Elbphilharmonie Orchestra, the first performance in Tokyo was originally linked to the now postponed Olympiad with the TMSO under the baton of Kazushi Ono. Cast in three movements, the 20-minute work flies between the cities of the commissioners, taking time out in London, Hamburg and Tokyo, ironically finding an unexpected topicality in a period of global travel restrictions. Scored for large orchestra with a prominent part for soprano saxophone, one of Turnage's favourite instruments, Time Flies opens in the British capital, throwing a syncopated theme around the orchestral sections. The central Hamburg movement is broader and more chordal with the orchestra working as a whole, while the final Tokyo movement is an energetic celebration of an Olympic city with jazz band scoring predominating.
Turnage's 15-minute orchestral work, Last Song for Olly, is due to be premiered in the London Symphony Orchestra's season opening livestream concert on 13 September, conducted by Simon Rattle who has long had a close working relationship with the composer. On his recent BBC Radio 3 Music Matters interview Turnage discussed possibilities of a reduced version of Last Song for Olly to meet social distancing requirements at the Barbican, "thinking of the role of composers after a big crisis, like Stravinsky after the First World War with The Soldier's Tale, creating works for reduced forces. I think, like Britten, that composers should be useful and as a professional composer I should create versions that are of use to people." Whatever form Last Song for Olly takes, it promises to be a personal and significant work both for Turnage and Rattle, offering a final farewell.
> Watch a video interview with Mark-Anthony Turnage
> Further information on Work: Time Flies
Photo: Philip Gatward

Boosey & Hawkes Composer News